Business mission in tandem with 11th Joint Conference of the Japan-Egypt and Egypt-Japan Business Councils and Japan-Egypt Investment Forum
11th Joint Conference and Investment Forum in Cairo
From March 10 to 12, JETRO jointly sent a business mission to Egypt with the Japan-Egypt Business Council (JEBC), joined by 70 people from approximately 40 Japanese companies. On March 11, the 11th Joint Conference of the Japan-Egypt and Egypt-Japan Business Councils and the Japan-Egypt Investment Forum were held in Cairo. Established in 1978, this was the first time for the conference to be held in three years, since the 10th meeting on the occasion of President Abdel-Fattah El-Sisi's visit to Japan in March 2016. It was joined by approximately 460 people, including Minister Mohamed Shaker of Electricity and Renewable Energy, Minister Sahar Nasr of Investment and International Cooperation, Minister Amr Nassar of Trade and Industry, EJBC Chairman Ibrahim El Araby, and 350 people from public and private sectors on the Egyptian side, as well as JEBC Chairman Satoshi Ozawa and mission members on the Japanese side.
Venue
In addition to keynote speeches delivered by three Egyptian ministers, the forum consisted of discussions on new collaboration fields, trade and investment and the role of Egypt in TICAD 7. Themes covered a broad range, including improvement of power generation and other infrastructure; promotion of tourism, including through the establishment of the Grand Egyptian Museum; trends of special economic zones; and startup ecosystems in the country. In addition, a signing ceremony was held for memorandums of cooperation between the Japan Bank for International Cooperation and the Egyptian Ministry of Investment and International Cooperation (MIIC), and between JETRO and the Ministry of Trade and Industry.
The day after the forum, mission members took part in a tour of local factories of Japanese companies, the Grand Egyptian Museum under construction with Japanese assistance and the New Capital power plant, in order to deepen their understanding of Egypt's potential in a wide variety of fields.
Opening remarks by JEBC Chairman Ozawa
Keynote speech by JETRO Chairman and CEO Ishige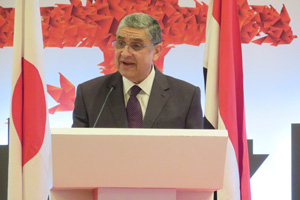 Keynote speech by Minister Shaker of Electricity and Renewable Energy
Meeting with President El-Sisi, Prime Minister Madbouly and cabinet members toward improving the business environment
Mission members met with President El-Sisi, Prime Minister Madbouly and cabinet members and engaged in a proactive exchange of opinions toward building a better business environment. JETRO Chairman and CEO Hiroyuki Ishige and JEBC Chairman Ozawa made suggestions to improve serious concerns regarding the actualization of an automobile industry policy, preferential tax treatment for imported parts and review of criteria for establishing local representative offices. In response, the Egyptian government expressed its willingness to take swift measures to improve the business environment. Chairman Ishige also hailed Egypt's role as the chair of the African Union (AU) this year and made clear his hope for Egypt to make the most of TICAD 7, to be held in Japan this August, as a venue for business exchange.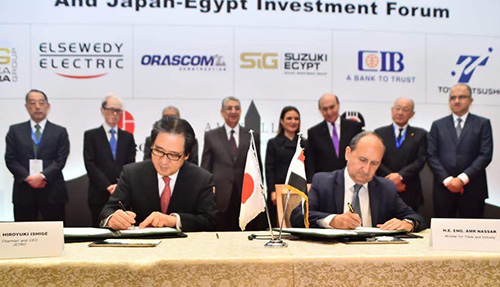 MOU between JETRO and Ministry of Trade and Industry
Outline of 11th Joint Conference of the Japan-Egypt and Egypt-Japan Business Councils and Japan-Egypt Investment Forum
Date and time
Monday, March 11, 2019, 14:00 - 18:20
Venue
Four Seasons Hotel Cairo at Nile Plaza, Plaza Ball Room
Organizers
JETRO, Japan-Egypt Business Council (JEBC), Egypt Japan Business Council (EJBC), Ministry of Investment and International Cooperation
Program

Opening remarks and guest speech:

Ibrahim El-Araby, Chairman, EJBC
Satoshi Ozawa, Chairman, JEBC
Masaki Noke, Ambassador, Embassy of Japan

Keynote speech:

Hiroyuki Ishige, Chairman and CEO, JETRO
Mohamed Shaker, Minister of Electricity and Renewable Energy
Sahar Nasr, Minister of Investment and International Cooperation
Amr Nassar, Minister of Trade and Industry
Mohab Mamish, Chairman of Suez Canal Authority and Suez Canal Economic Zone
Yasushi Hasegawa, Senior Managing Director, Japan Bank For International Cooperation
Mohamed El Sewedy, Chairman, Federation of Egyptian Industries

MOU signing ceremony:

Ministry of Investment and International Cooperation and JBIC
Minister of Trade and Industry and JETRO

Special session 1:


"Target Sectors for New Cooperation Between Japan and Egypt"

Special session 2:


"The Importance of Egypt in Africa from the Viewpoint of Investment and Trade Policy/TICAD7"

Closing remarks:

Kazuo Nishitani, Secretary General, JEBC
Fadl Abdel Hamid, Secretary General, EJBC