Japan Business Seminar in Madrid held on the day the Japan-EU EPA enters into force
On February 1, JETRO held the Japan Business Seminar in Madrid, Spain. With the Japan-EU Economic Partnership Agreement (EPA) entering into force on the same day as the seminar, it was joined by approximately 150 business people from Spanish companies with interest in working with Japanese companies or expanding business in Japan.
Big hopes for the Japan-EU EPA to expand business opportunities
In her opening remarks, CEO María Peña Mateos of the ICEX Spain Trade and Investment explained that Japan is an important partner for Spain and that two-way trade and investment between the countries has recently grown more prolific. She continued that the Japan-EU EPA will give momentum to business expansion in Japan by Spanish companies in a variety of fields including automobiles, energy, food and textiles. In his message to Spanish and Japanese business people that followed, Narciso Antonio Casado Martin, Director of the Chairman's Office of CEOE and Director General of CEOE International, spoke on the three points of promotion of trade, vitalization of investment and mutual cooperation, and stated his desire to help facilitate alliances and exchange between companies of both countries. During the guest speech, Masashi Mizukami, Ambassador of Japan to Spain, took the podium and explained that the two countries, which celebrated their 150th year of diplomatic relations the previous year, reached an agreement on strengthening ties through a strategic partnership described in the Joint Statement at the Japan-Spain Summit Meeting. As many big events drawing attention from the world, including the 2020 Olympics and Paralympics in Tokyo and World Expo 2025 Osaka-Kansai, are awaiting in Japan, he expressed his hope that business opportunities would increase for both Japanese and overseas companies and that Spanish companies would increase investment into Japan.
Venue
In his keynote speech, JETRO President Yasushi Akahoshi introduced the latest policies of the Japanese government, such as its promotion of Society 5.0 and deregulations like the Regulatory Sandbox System. In a call for Spanish companies to do business in Japan, he encouraged participants to enhance business collaboration between the two countries and touted the business opportunities which will increase in line with the effectuation of the Japan-EU EPA. Emphasizing that the agreement will bring about tremendous benefits to companies, including elimination of tariffs and simplification of procedures, María del Coriseo González-Izquierdo, Economic and Commercial Counsellor of the Embassy of Spain in Japan, pushed the advantages of the Japanese market, declaring, "A market as sophisticated as Japan's is a showcase for all of Asia." Álvaro Rodriguez Ruiz, Assistant Director of Trade Policy with Europe and Industrial Products, added that companies will benefit from the agreement not only in terms of the abolition of tariffs but also protection of intellectual property rights and geographical indication (GI), and stressed that for Spanish companies business opportunities are lying in the fields of automobiles, life science, textiles and food. In the following Q&A session moderated by María Aparici; Deputy Director for Trade Policy with Europe, Asia and Oceania of the State Secretariat for Trade; panelists spoke on business chances available to Spanish companies in Japan, including in the fields of tourism, energy and automobiles, the development of agriculture and railways through the agreement and expansion in third countries through corporate collaboration. Numerous questions were received, indicating great interest in doing business in Japan or with Japanese companies among participants.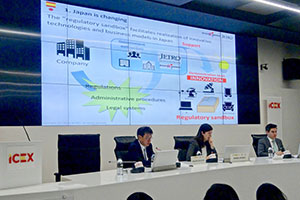 Keynote speech by JETRO President Akahoshi
Tips on doing business in Japan
In the latter half of the seminar, a panel discussion was held consisting of four Spanish companies. Álvaro Schweinfurth, Deputy Director of Foreign Policy and International Relations, acted as moderator and asked them about tips on doing business in Japan, the kind of business and innovation needed in the Japanese market and their future business plans. The four Spanish companies—Gestamp and Igenomix, which operate in Japan through local offices; everis, which received investment from a major Japanese company; and Active Gaming Media, launched in Japan by a Spanish entrepreneur—each gave advice on doing business in or with Japan based on their respective positions and experience in each industrial field where they are active.
Miguel López-Quezada; Communication and Institutional Affairs Group Director of Gestamp, a major Spanish car parts maker specialized in hot stamping technology; introduced the establishment of his company's new factory in Mie Prefecture in 2018. He also stressed that Spanish companies should not shy away from Japan as it is the world's third largest auto-manufacturing country and has significant influence in various aspects of car manufacturing such as production models and setting quality standards. What is most in demand in doing business in Japan, he said, are technologies and services able to contribute to "quality," "stability" and "reliability." Francisco Valor, CFO of Igenomix, which is providing genetic tests and diagnostic services for infertility treatment, expressed appreciation for JETRO's support on the occasion of starting business in Japan, reflecting on how his company was able to find success in Japan as no other company with the same technology existed at that time. He emphasized his company views Japan as a business hub in Asia, having set up a laboratory in the city of Kobe. After that, Eva Labarta, Head of Telecom Europe of the major Spanish telecommunications company everis, mentioned that her company has been expanding business internationally in the Latin American market in cooperation with NTT Data, which acquired everis in 2013, by leveraging everis's network and knowledge. Stating that "trust" and "commitment" are important keys in the business field with Japanese companies, she told participants that Japanese companies expect overseas companies looking to do business in Japan to provide professional solutions that do not exist in Japan yet. Ibai Vinas Ameztoy; CEO of Active Gaming Media, which started business in Japan and conducts localization of Japanese game and animation content for global distribution; said that while the standards of Japanese companies are high, meeting those standards is accordingly rewarded. Based on his experience, he continued that "being earnest" is a significant value for Japanese people and sincere attitudes toward commitment and sticking to contracts are imperative for Spanish companies aspiring to do business in Japan.
Panel discussion by Spanish companies
Promoting the advantages of regional investment environments
After that, Miku Uchikawa, a member of JETRO's Invest Japan Department, introduced JETRO's support for doing business in Japan in Spanish. At the pitch session by local authorities, presentations were made by the prefectures of Kanagawa and Mie and cities of Yokohama and Kobe in Spanish and English to promote their respective industrial hubs and investment environments. Michihiro Wakisaka, Group Leader of the Investment Promotion and International Business Division of the Kanagawa Prefectural Government, touted the existence of major Japanese global companies in his prefecture and gave an explanation on its subsidy framework, Select Kanagawa 100, prepared for overseas companies considering doing business there. Takeshi Tamai, Chief Representative of the City of Yokohama Frankfurt Representative Office, illustrated collaboration cases with Spain in the smart city field and its open innovation platform. Following him, Naoya Yoshizumi, at the International Strategy Division of the Department of Employment and Economy of the Mie Prefectural Government, emphasized the comparatively reasonable prices of land in his prefecture and the business-friendly environment for overseas companies. He added that the company Gestamp, which has a factory in Mie, has praised the strategic importance of the prefecture's location. The last speaker, Arisa Morihana of Kobe City's International Division within the Office of the Mayor, promoted her city as an investment destination by introducing its industrial hub of excellent companies in a variety of fields including logistics infrastructure, medicine and IT, as well as foreign-affiliated companies which have chosen Kobe to be their headquarters in Japan.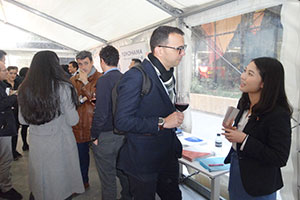 Individual consultation at JETRO booth
At the networking reception, consultation desks were set up by the four local governments and JETRO in order to respond to inquiries from local companies.
Outline of the seminar
Date and time
Friday, February 1, 2019, 10:00 - 13:30 (Networking reception: 12:30 - 13:30)
Venue
ICEX Spain Trade and Investment
Organizers
JETRO, ICEX
Sponsor
Spanish Confederation of Employers' Organizations (CEOE)
Visitors
152
Program

Opening remarks

María Peña Mateos CEO, ICEX Spain Trade and Investment
Narciso Antonio Casado Martin, Director of the Chairman's Office of CEOE and Director General of CEOE International

Guest speech


Masashi Mizukami, Ambassador of Japan to Spain

Keynote speeches and Q&A session


Moderator: María Aparici, Deputy Director for Trade Policy with Europe, Asia and Oceania, State Secretariat for Trade

Yasushi Akahoshi, President of JETRO
María del Coriseo González-Izquierdo, Economic and Commercial Counsellor, Economic and Commercial Office Tokyo, Embassy of Spain in Japan
Álvaro Rodriguez Ruiz, Assistant Director of Trade Policy with Europe and Industrial Products

Panel discussion by Spanish companies and Q&A session
Moderator: Álvaro Schweinfurth, Deputy Director of Foreign Policy and International Relations
Panelists:

Miguel López-Quezada, Communication and Institutional Affairs Group Director, Gestamp
Francisco Valor, CFO, IGENOMIX
Eva Labarta, Head of Telecom Europe, everis
Ibai Vinas Ameztoy, CEO, Active Gaming Media Inc.

Introduction of JETRO's services


Miku Uchikawa, Invest Japan Department, JETRO

Pitch session by local authorities

Michihiro Wakisaka, Group Leader, Investment Promotion and International Business Division, Kanagawa Prefecture
Takeshi Tamai, Chief Representative, City of Yokohama Frankfurt Representative Office
Naoya Yoshizumi, International Strategy Division, Department of Employment and Economy, Mie Prefecture
Arisa Morihana, International Department, Office of the Mayor, Kobe City

Closing remarks


Tatsuya Kato, General Director, JETRO Madrid

Networking reception


Consultation desks by prefectures of Kanagawa and Mie, cities of Yokohama and Kobe and JETRO