Dialogue between renowned African entrepreneur and JETRO Chairman
On January 28, JETRO Chairman and CEO Hiroyuki Ishige visited Lagos, the largest city in Nigeria, and had a meeting with Chairman Tony Elumelu of the United Bank for Africa (UBA), which is doing business in 20 African countries as well as Europe and the US.
Chairman Elumelu is a self-made business person who was selected as one of "The 20 Most Powerful People In African Business 2012

" by Forbs. He founded the Tony Elumelu Foundation (TEF) in 2010 and jointly started the TEF Entrepreneurship Programme with international organizations including the International Committee of the Red Cross and the United Nations Development Programme. With the aim of cultivating 10,000 entrepreneurs in Africa over a ten-year period, the program has been providing seed capital of 5,000 dollars each to 1,000 companies per year. Through this and the African Markets Internship Programme, which matches African SMEs and MBA students from the best business schools in Africa and other regions, he has been using business as a medium to solve various social problems faced by African countries.
Dialogue between Chairman Elumelu and Chairman Ishige
During the dialogue, Chairman Ishige explained that interest in African startups has been growing in Japan and introduced JETRO's efforts in matching Japanese companies and African startups through the creation and release of the List of 100 African Startups. This was followed by a proposal by Chairman Elumelu to use his foundation, which has a network of 400,000 entrepreneurs, to contribute to matching with Japanese companies. In response, Mr. Ishige brought up the Seventh Tokyo International Conference on African Development (TICAD7) to be held in Yokohama at the end of August, as well as a business event to be concurrently organized by JETRO, and requested Mr. Elumelu's participation.
After the dialogue, a networking reception was held by the UBA for Japanese and Nigerian companies, consisting of lively exchange by more than 100 people from both countries.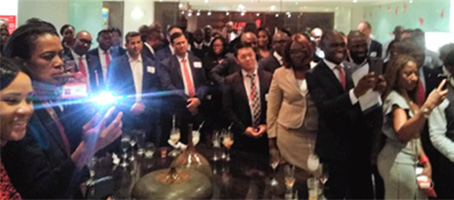 Networking reception
At the business forum to be held in tandem with TICAD7, JETRO is planning to use "collaboration with African startups" as one angle for Japanese companies to consider starting business in Africa.