Graduation ceremony held for JETRO Course for University Students at Foreign Trade University Hanoi

-First attempt at connecting Vietnamese students and Japanese companies-
On January 22, JETRO held the graduation ceremony of JETRO Course for University Students "Introduction about Business Model from Japanese Companies" (referred to as the "JETRO Course") at Foreign Trade University (FTU) Hanoi.
With the aim of strengthening the cordial relationship between Vietnam and Japan and creating smart and affluent societies, FTU Hanoi and JETRO concluded a memorandum of cooperation in January 2018. With the aim of supporting the recruitment, fostering and settling of global talent, JETRO has long been developing collaboration with universities and concluding comprehensive partnership agreements with Japanese universities. However, this is its first such agreement with an overseas university. The same is true for FTU Hanoi in terms of relations with an overseas government affiliated organization.
FTU Hanoi and JETRO Hanoi jointly held a course geared toward students from November to December as a concrete cooperative activity with assistance from 14 Japanese companies active in Vietnam. This is also the first time for JETRO to set up a course where university students are able to earn formal credits for graduation. Presentations were delivered by representatives from Japanese companies in Vietnam on their aims for entering the county, current business conditions, strategies, challenges, desired human resources and future prospects, and always followed by lively question-and-answer sessions with students.
Lively discussion at lectures
Lively discussion at lectures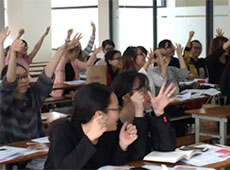 Lively discussion at lectures
Lively discussion at lectures
Certificates were handed to 48 highly performing students in the presence of President Bui Anh Tuan of FTU, representatives of contributing Japanese companies and Chief Representative Hironobu Kitagawa of JETRO Hanoi.
At the ceremony, President Tuan said, "FTU is the first university to teach Japanese in Vietnam. The 3300 alumni of the Japanese language course are active in the Vietnamese government, organizations and companies." He also expressed his appreciation, saying, "FTU focuses on cultivating highly skilled professionals, and we appreciate the cooperation provided by Japanese companies and JETRO in helping and evaluating the success of this course."
Chief Representative Kitagawa extended appreciation to the Japanese companies and FTU, which committed efforts to preparing and running the course, and offered encouragement to the students, saying, "The JETRO Course certificate is a testament to your efforts and a valuable addition to the portfolio you will use to publicize yourself in searching for employment. Have confidence in yourself and play an active role in the growth and prosperity of Vietnam as well as the world."
In his guest remarks, General Director Minoru Niimura of Canon Vietnam Co., Ltd. stated that the course allowed Vietnamese students to understand the corporate philosophy and business outlook of Japanese companies as well as the fact that each company works not only for itself but also for the growth of the country of Vietnam and cultivation of its Vietnamese staff. He expressed his hope for the students' future success and the continuation and development of relations between the two countries, saying, "It is important to keep in mind the importance of persistence and patience as you set out into the world. As the Japanese proverb goes, 'Three years on a cold stone will make the stone warm.'"
Taking the podium to deliver words of gratitude on behalf of the graduating class, the top student Bui Pham Cam Ly said, "Through this course we were not only able to learn about business models of Japanese companies; we were able to acquire knowledge necessary as members of society." She finished by expressing her resolve for the future in fluent Japanese: "I will strive, day in and day out, to become a bridge between Vietnam and Japan."
After the ceremony, interviews were held with participant Japanese companies and students. One manufacturer said, "Our hope is to secure director-level human resources who can be responsible over 23,000 employees," while a contractor stated, "We are seeking various personnel for positions including engineering, sales, administration and human resources." Among students came requests that job fairs and factory tours be held in the future.
JETRO will continue to facilitate the utilization of global talent by Japanese companies.
Graduation ceremony
Congratulations by Chief Representative Kitagawa of JETRO Hanoi
Graduation photo