Regional Business Conference Program held in Fukuoka
From October 16 to 18, JETRO jointly held a Regional Business Conference (RBC) in Fukuoka Prefecture with the prefectural government and the Ministry of Economy, Trade and Industry. The RBC program provides opportunities for local governments to invite representatives from overseas companies, enabling officials like governors to directly promote their regions and local companies to seek potential overseas partners. On this occasion, eight IoT-related companies were invited from Sweden and Finland to see firsthand the attractiveness of Fukuoka, which is home to a concentration of manufacturing companies, and the business opportunities lying in the prefecture.
Presenting the allure of Fukuoka
At the seminar on October 17, Fukuoka Deputy Governor Seitaro Hattori promoted the prefecture's excellent investment environment and support programs geared toward overseas companies, touching on the region's network with Sweden and Finland. Director-General Tomohiro Takashima of JETRO Invest Japan Department gave an explanation on the high profitability of the Japanese market and activities conducted by the government for deregulation. President Magnus Raberg of Mycronic Technologies from Sweden emphasized that Fukuoka has an ideal environment for manufacturing, mentioning the technological capabilities of suppliers active in the prefecture. Professor Shigeru Kuchii of the National Institute of Technology at Kitakyushu College, speaking from the perspective of human-resource development, stated that companies could expect to be able to recruit industry-ready human resources with advanced skills. Associate Director Toshihiro Kose of Yaskawa Electric, with its headquarters located in Kitakyushu, Fukuoka, promoted the allure of investment into Fukuoka by introducing his company's activities for open innovation, such as investment in overseas ventures.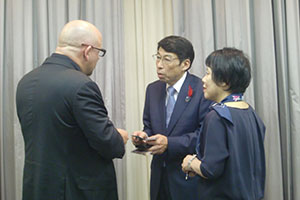 Exchange between Vice Governor Hattori and a representative from an overseas company
JETRO Director-General Takashima
Visit to factories and Kyushu University Academic City
On October 17, a tour of the prefecture was held and invitees visited Fukuoka's leading manufacturing companies TOTO and Yaskawa Electric. At TOTO they were given an explanation on the company's products as well as the history of its technologies. At Yaskawa Electric, they toured a factory utilizing robots, and had a chance to inspect a robotic arm capable of performing the same fine operations as that of a human. Invitees enthusiastically asked question, such as on differences between Japanese and European integrators.
On October 18, they visited the Ito Campus of Kyusyu University and heard accounts of how the university utilizes its spacious site to conduct experimental studies for next-generation technologies like AI and IoT and collaborate with companies and research institutes to create new business. Illustrating the cooperative activities conducted with the aim of promoting open innovation between industry and academia, Director Eiji Iwashige of the Organization for Promotion Academic City by Kyusyu University (OPACK) and Professor Yuichi Harada of Kyusyu University called attention to the dedicated environment where one-stop support can be provided should any of the invited companies aspire to conduct joint studies with the university.
Yaskawa Innovation Center
Networking with local companies at the Manufacturing Fair
On October 18, the invitees took part in Monozukuri (Manufacturing) Fair 2018, Kyushu's largest trade fair, which was joined by more than 300 Japanese and overseas companies, and where a pitch event as well as a corner for individual business talks with exhibitors were arranged. A number of promising meetings took place at the business-talk corner, with participants discussing concrete specifications, prices and delivery schedules. At the pitch event, which was joined by 46 people from local companies, RBC invitees presented on their business and technologies. The event was highly praised by invitees, with one saying "It was a good opportunity to understand demand for our technology in Fukuoka," and everyone stating that their interest in doing business in Fukuoka had increased.
Individual business talks
A pitch event
Outline of RBC Program in Fukuoka
Date
From Tuesday, October 16 to Thursday, October 18, 2018
Venue
Fukuoka prefecture
Organizers
Japan External Trade Organization (JETRO), Fukuoka prefecture, Ministry of Economy, Trade and Industry (METI)
Invitees
8 companies, including 2 Swedish companies and 6 Finnish companies
Program
Tuesday, October 16: Tour of TOTO and Yaskawa Electric
Wednesday, October 17: Tour of Kyusyu University Ito Campus, seminar and reception
Thursday, October 18: Participation in Monozukuri (Manufacturing) Fair 2018 (Individual business talks and a pitch event)