Side event of TICAD Ministerial Meeting – Introducing attractiveness of Japanese SMEs to African Ministers
Taking advantage of a ministerial-level meeting held in preparation for the Tokyo International Conference on African Development (TICAD), JETRO jointly organized a side event with the Japanese Ministry of Foreign Affairs and the United Nations Development Program (UNDP) from October 5 to 6.
Disseminating information toward both Japan and Africa through a two-day meeting
The side event of the TICAD Ministerial Meeting was held with the aim of deepening understanding between the government officials and business people from Africa and Japanese companies, and through that setting the stage for more successful cases of business between them, toward facilitating growth under the initiative of the private sector, a prioritized field in the TICAD process.
The side event was divided into two days. The first day, October 5, was organized under the leadership of the UNDP under the theme of "Showcasng Business Opportunities in Africa." Presentations were delivered by representatives of chambers of commerce and industry and business circles from countries such as Kenya, Senegal and Ghana from the perspectives of the investment environment and business opportunities, as well as four Japanese companies active in Africa from their perspectives of future prospects and challenges.
On the second day, October 6, led by JETRO under the theme of "Showcasing the Potential of Japanese SMEs to Africa," 11 Japanese SMEs publicized their plans and future prospects for business toward the African ministers and ranking government officials.
Suggestion of technologies and solutions toward Africa by 11 Japanese companies
At the beginning of the event, touching on the technological capabilities and imagination possessed by Japanese SMEs, Kiyoto Tsuji, Parliamentary Vice-Minister for Foreign Affairs of Japan, mentioned how greatly they will be able to contribute to Africa in solving problems. This was followed by Hironori Shibata; Deputy Director-General for International Trade Policy of the Trade Policy Bureau of the Ministry of Economy, Trade and Industry of Japan; who emphasized the importance of increasing the number of business players, including SMEs, operating in Africa.
On the second day, 11 Japanese SMEs with unique technologies and products explained their own business plans aimed at utilizing resources in Africa or solving problems. Their ingenious presentations, which included distribution of samples and demonstrations, drew great interest from the ministers and ranking officials.
Presentations were also delivered by two large Japanese corporations (Marubeni and Toyota Tsusho) on the topics of contribution of Japanese companies to improving infrastructure and cultivating human resources. Companies large and small worked as one in sending a strong message to Africa.
High hopes for Japanese SMEs from Africa
Following the series of presentations, Dr. René N'Guettia Kouassi, Director of Economic Affairs of African Union Commission, expressed his hope that Japanese SMEs which have been assisting Japan in achieving economic success will further enter Africa. Introducing business opportunities in Africa such as untapped resources, a range of problems to be solved, and developments in ongoing market integration as seen in the African Continental Free Trade Area (AfCFTA), he encouraged Japanese SMEs to help Africa achieve economic growth by taking advantage of these opportunities.
In his closing remarks, JETRO Executive Vice President Katsumi Hirano said that participation of Japanese SMEs is imperative for Japan to be deeply committed in Africa, and made a strong call for Africa's assistance toward Japanese SMEs taking on the challenge of doing business as well as producing successful cases.
Promotion toward inviting Expo 2025 to Osaka
A presentation promoting the candidacy of Osaka for Expo 2025 was also delivered by Chairman Sadayuki Sakakibara of the 2025 Japan World Expo Committee, and Ichiro Matsui, President of the same committee and Governor of Osaka Prefecture.
While introducing activities toward Society 5.0 in line with sustainable development goals (SDGs), Chairman Sakakibara stressed that Expo 2025 in Osaka will be implemented based on these activities. In addition to that, Governor Matsui presented on what would make Expo 2025 in Osaka unique and the attractiveness of the Kansai region as well as the contribution to Africa by companies from the region.
Opening remarks by Parliamentary Vice-Minister Tsuji
Opening remarks by Deputy Director-General Shibata of METI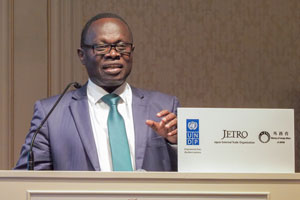 Dr. N'Guettia Kouassi of AIU
Venue
Chairman Sakakibara of 2025 Japan World Expo Committee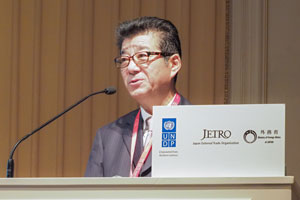 Osaka Governor Matsui
Outline of the second section of the TICAD Ministerial Meeting side event
Date
Saturday, October 6, 2018, 8:45 - 13:00
Venue
Magnolia Hall, Tokyo Prince Hotel
Organizers
Ministry of Foreign Affairs of Japan
Japan External Trade Organization (JETRO)
United Nations Development Programme (UNDP)
Attendees
Approximately 150 people including African ministers and ranking officials
Add

Opening address

Kiyoto Tsuji, Parliamentary Vice-Minister for Foreign Affairs, Japan
Hironori Shibata, Deputy Director-General for International Trade Policy, Trade Policy Bureau, Ministry of Economy, Trade and Industry, Japan

Special Presentations: Contribution of Japanese Multinationals to Africa

Shigeru Yamazoe, Vice Chairman, Marubeni Corporation
Takashi Hattori, Senior Representative of Africa Division in Japan, Toyota Tsusho Corporation

Presentations from Japanese SMEs

Masaaki Uesugi, COO, Tromso Co., Ltd.
Tomoki Yokoyama, Representative Director, TMT.Japan Co., Ltd.
Kenji Fukuda, Member of Board of Directors, Director (Electricity & Oil Production), CFP Corporation
Tadao Azuma, Chief Director, Ebersberg Co., Ltd.
Tetsuya Iida, Vice President, A-One Co., Ltd.
Norikatsu Ohishi, President, Nextech Co., Ltd.
Naoyoshi Mizuno, CEO, M.S.K. Inc.
Shinji Inoue, Director, Otowa Electric Co., Ltd.
Yoshikatsu Tsuji, Director, Tsuji Plastics Inc.
Tomokazu Yamada, Managing Director, Tsujikawa India PVT. Ltd. (Tsujikawa Co., Ltd.)
Mayumi Takahashi, Management Associate, Tsujikawa India PVT. Ltd.
Akira Sakai, General Manager, Operational Headquarters, Cosmos Corporation

Questions & Answers
Comments from African Union Commission

Dr. René N'Guettia Kouassi, Director of Economic Affairs, African Union Commission

Special Presentation

Dr. Sadayuki Sakakibara, Chairman, 2025 Japan World Expo Committee; Honorary Chair, Keidanren (Japan Business Federation)
Ichiro Matsui, President, 2025 Japan World Expo Committee, Osaka Prefectural Governor

Closing address

Dr. Katsumi Hirano, Executive Vice President, JETRO
Summary of the TICAD Ministerial Meeting on the website of the Ministry of Foreign Affairs of Japan