Conclusion of MOU for cooperation with People's Government of Zhejiang Province
On August 29, JETRO Chairman and CEO Ishige met in Tokyo with Governor Yuan Jiajun of the Zhejiang Provincial Government.
As Governor Yuan has been promoting the reform of his province centering on the improvement of efficiency of administrative procedures and economic and innovative development in the private sector, and as part of this he has been devoting efforts into cultivating and supporting SMEs.
His visit to Japan was part of a mission composed of approximately 120 people, including from SMEs, with the aim of conducting exchange with Japanese companies.
Chairman Ishige made the following proposals to Governor Yuan:
Expansion of exchange between companies for innovation
Expansion of mutual trade
Cooperation with JETRO, particularly focusing on the fields of elderly needs and health care
In line with this, he emphasized the importance of further deepening the relationship between Zhejiang Province and JETRO, saying, "While the primary role in economic activity is played by companies, the role in offering an environment which facilitates business and matches partners should be played by government-affiliated organizations such as ours. Innovation is not created within a single country or company, but under Cooperation between various companies or in cooperation between industry, government and academia."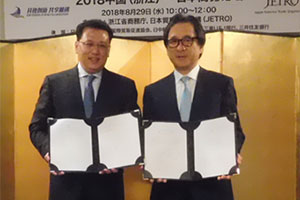 After the meeting, Governor Yuan and Chairman Ishige signed an MOU regarding cooperation between the People's Government of Zhejiang Province and JETRO.
JETRO will take advantage of this MOU to further expand cooperation with Zhejiang through enhancement of economic ties and promotion of industry between the province and our country.
The following main activities have been agreed upon through the MOU:
The two parties shall promote business exchange, particularly in the fields of smart manufacturing, environment and energy-saving, healthcare and elderly needs and IoT.
In order to create innovation, the two parties shall work together in facilitating exchange of technologies of SMEs, particularly those possessed by start-ups, as well as human resources between China and Japan.
The two parties will jointly promote projects related intellectual property rights protection, and assist each other in enlightening and educating people about the concept of intellectual property rights, as well as cultivating human resources in the field.
The two parties shall work to solve problems faced by companies from each side by jointly holding meetings with those companies in order facilitate business operations in the other country and create a good business environment.