Opening of JETRO's 46th domestic office in Gunma Prefecture
JETRO opened its 46th domestic office in Gunma on July 2, 2018, holding the opening ceremony on August 1. Gunma has robust industries from agriculture and livestock to automobile manufacturing, processed food and textiles. In addition to that, it possesses abundant tourism resources; such as its history and culture as exemplified by the Tomioka Silk Mill and related sites as the World Cultural Heritage, nature and the geographical advantage of being located within 100 km from the metropolitan area. All of these elements are a boon to the prefecture in terms of business potential.
JETRO Gunma, which was opened in response to the requests of the local governments and economic circles, is determined to play an earnest role in assisting local companies in expanding business overseas as well as vitalizing the local economy under its motto; "From JETRO Gunma to the world."
High expectations by Governor Osawa and Takasaki Mayor Tomioka
The opening ceremony was joined by approximately 90 people from local economic institutions and ranking officials including Governor Masaaki Osawa of Gunma Prefecture; Mayor Kenji Tomioka of Takasaki City; Director-General Nario Kadono of Kanto Bureau of Economy, Trade and Industry, Director Yasushi Iwata of the Policy Planning and Coordination Division of the Trade Policy Bureau in Ministry of Economy, Trade and Industry; Chairman Takayuki Soga of Federation of Gunma Prefecture Chambers of Commerce and Industry; and Kazuo Saito, Chairman of Gunma Association of Corporate Executives and JETRO Gunma; and a ribbon-cutting ceremony was also held. Governor Osawa expressed his expectation, saying, "We would like to work together with JETRO Gunma in supporting companies to expand business overseas as well as in vitalizing local economy."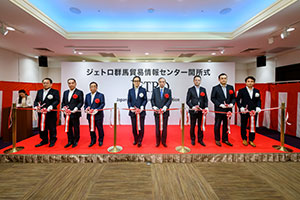 Launching ceremony
Greeting by Chairman and CEO Ishige
Greeting by Governor Osawa
Greeting by Takasaki Mayor Tomioka
Compliments by former Prime Minister Fukuda and six Diet members at reception
At the reception, which was joined by approximately 200 people from the industrial circles, greetings with high hopes for JETRO Gunma were delivered by Former Prime Minister Yasuo Fukuda as well as Diet members including Tatsuo Fukuda, Hiroyoshi Sasagawa, Asako Omi, Hiroshi Ueno, Kaichi Hasegawa and Keinin Horikoshi. JETRO Gunma will conduct activities focusing on the following five pillars:
Assisting in expanding sales channels overseas for agricultural, forestry and fishery products and food
Assisting in expanding sales channels overseas for local products and traditional crafts
Drawing overseas investment
Facilitating inbound flow
Promoting the utilization of overseas human resources
Greeting by former Prime Minister Fukuda
Greetings by Diet members
Sake cask breaking ceremony