Opening of Business Support Center Ahmadabad and Bilateral Meeting with PM Modi
On July 5, JETRO held an opening ceremony for the Business Support Center Ahmadabad (BSCA), which aims to assist Japanese companies in entering India, especially into the state of Gujarat. BSCA is a facility which offers office space to Japanese companies considering investing in the state. It assists them in doing necessary research, finding local partners and obtaining the various approvals up until the time of entry into industrial parks as a comprehensive support center. The facility was set up with the aim of bolstering support for Japanese companies entering the state of Gujarat, which is expected to become a leading hub in the automobile industry in India. It is JETRO's fourth BSC in India following those in New Delhi, Mumbai and Chennai.
Chief Minister Rupani and Chairman Ishige at BSCA
High hopes for BSCA by Chief Minister Rupani
The ceremony was joined by approximately 100 business people from India and Japan—including Vijay Rupani, Chief Minister of Gujarat; as well as Ryoji Noda, Consul-General of Japan in Mumbai; and M. K. Das, Principal Secretary to the Chief Minister and Principal Secretary for Industries and Mines Department—and a ribbon-cutting ceremony was also held. Chief Minister Rupani presented congratulations on the opening of BSCA in his guest speech, saying: "In Gujarat, the amount of investment by Japanese companies to date is about 1 billion USD (about 110 billion yen), and the goal is to draw an additional 3.3 billion USD by 2021. The establishment of this facility will facilitate entry to our state by Japanese companies, and what is more, it will further boost "Make in India," promotion measures for the manufacturing industry in India advocated by the Modi Administration. In this light, JETRO set up the BSCA in a very timely manner."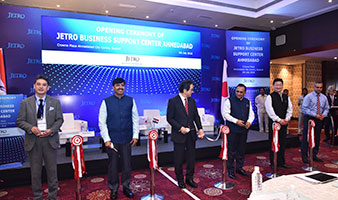 Ribbon-cutting ceremony
Opening remarks by Chairman Ishige
Guest speech by Consul-General Noda
Inaugural speech by Chief Minister of Gujarat Rupani
During the ceremony, memorandums of understanding (MOUs) and letter of intent between the Government of Gujarat and 10 Japanese companies assisted by JETRO were presented. On a related note, JETRO has been contributing to assisting Japanese companies in investing into and creating jobs within the state through the coordination of MOUs between the Govenment of Gujarat and 15 Japanese companies, as announced in the event held at the time of the visit to India by Prime Minister Abe in September 2017.
Bilateral meeting with Prime Minister Modi
Chairman Ishige had a dialogue with Prime Minister Modi at the PM's Office on July 6th in New Delhi. He reported on the opening of the BSCA to the Prime Minister as well as JETRO's contribution to industrial accumulation by Japanese companies in Gujarat. PM Modi had high praise for the activities.
Based on the MOU with the Government of Gujarat, JETRO Ahmadabad has facilitated Japanese Industrial Park GIDC Mandal in Vithalapur by offering assistance in occupancy and various procedures since 2013. In addition to that, through the BSCA, JETRO will also be involved in the various business activities in Gujarat by Japanese companies as well as collaboration between Indian and Japanese companies.
Dialogue between Prime Minister Modi and Chairman Ishige