Japan-Canada Innovation Partnership Forum in Toronto - Re-conclusion of MoC with Global Affairs Canada for investment promotion -
On May 10, in commemoration of the 90th anniversary of diplomatic relations between Canada and Japan, JETRO held the Japan-Canada Innovation Partnership Forum in Toronto, Canada. Under the theme of collaboration in the innovation field between Canadian and Japanese companies, and expansion of business into Japan following that collaboration, this forum offered an opportunity for participants to learn about the attractiveness of doing business in Japan and taking part in technical collaboration with Japanese companies.
Keynote address
Ninety years of diplomatic relations: Relationship between Canada and Japan deepens as collaboration in innovation grows stronger
Following welcoming remarks by Executive Director Takuji Sakai of JETRO Toronto, Japanese Ambassador to Canada Kimihiro Ishikane gave opening remarks. He touched on the CPTPP, on which 11 countries, including Canada and Japan, reached an agreement this March, stating that the accord will offer free and fair common investment rules and promote two-way investment. He also expressed his hope that this forum will be a catalyst for vitalizing business between the two countries.
Executive Vice President Shigeki Maeda of JETRO and Head of Open Innovation and Business Incubation Kotaro Zamma of NTT Data, each delivered a keynote speech. Mr. Maeda introduced examples of Canada-Japan joint projects from the perspective that collaboration between Canadian and Japanese companies is important, with the former garnering attention from the rest of the world in the fields of artificial intelligence (AI), deep learning and self-driving systems for automobiles, and the latter possessing high capability in developing products. He also illustrated the activities conducted by the Japanese government such as a regulatory sandbox system with the aim of assisting companies in creating innovation, and made a passionate call to Canadian companies, saying "Talk to JETRO first, if you are interested in investment into Japan."
Warming up the venue while wearing a happi coat, Mr. Zamma and Senior Expert Kazuya Okada of NTT Data, explained trends in Japanese innovation, saying: "The era of large companies only investing in themselves or in other large companies has ended. How swiftly a leading company can commercialize ideas through tie-ups with small companies is crucial." With that, they emphasized the potential of business collaboration between Canadian technology companies and Japanese companies from their viewpoint that open innovation will continue to thrive. They also introduced the International Open Innovation Contest organized by their company in 15 cities around the world as a means of connecting companies in Japan and overseas.
During the PR session by local entities, a representative from Kanagawa Prefecture introduced incentives offered by the local government for innovation companies, while a representative from the East Japan Railway Company (JR East) presented its development project "Global Gateway Shinagawa" in Tokyo. Each speaker encouraged participants to invest into each local region in Japan. Following that, Assistant Director Tyson Garbe of JETRO Toronto took the podium and elaborated on JETRO's activities drawing overseas companies to Japan and the support services available for each phase of investment.
Presentation by Mr. Zamma of NTT Data
Re-conclusion of MoC covering innovation field
A signing ceremony for the re-conclusion of an MoC between the Global Affairs Canada and JETRO was also held during the forum. The new MoC includes a section on the innovation field added for the purpose of facilitating two-way investment. Before the signing, Timothy Sargent, Deputy Minister of International Trade at Global Affairs Canada, spoke on the mutually beneficial relationship which has been established between Canada and Japan in terms of economy and business, and how the CPTPP will further deepen cooperative ties. He also expressed his expectation that the MoC will add momentum to two-way investment between the two countries.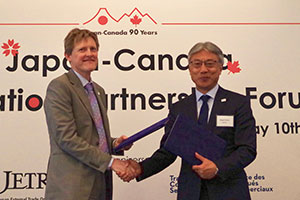 Conclusion of MoC
Experiences shared by three Canadian companies
During the panel session, presentations were made by representatives from three Canadian companies already operating in Japan. Founder and CEO Ron Di Carlantonio of iNAGO, an AI company from Toronto developing next generation communication tools, introduced the advantages Canada and Japan each possess as destinations for business, saying, "Japan is a suitable place for primary marketing and has potential as a bridge to the Asian market." Chairman and CEO Todd Gray of autonomous_ID, which is developing biometric systems in Ottawa, emphasized that establishing a subsidiary in Japan and obtaining the brand power guaranteeing high quality inherent in products made in Japan is very effective for overseas companies. He added that they truly relied on JETRO's speedy services when entering Japan. VP Global Sales & Business Development Charles Marsh of mnubo—a provider of IoT and smart house solutions—announced that his company is now going forward with the establishment of a subsidiary in Japan in June 2018 under the support of JETRO.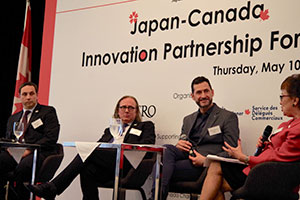 Panel discussion
Lively discussions were seen in the following open Q&A session moderated by Executive Director Christine Nakamura of the Asia Pacific Foundation of Canada. Numerous concrete questions were recieved, including on issues to be faced and points to keep in mind when doing business in Japan, indicating great interest in investing in the country. Responses from the panelists included: "There is a deficiency of experts in the AI field in Japan, meaning there are opportunities for business there," and "The Japanese market offers big returns if you dedicate the effort."
In the closing remarks, President and CEO Toby Lennox of Toronto Global, a local investment promotion organization, wrapped up the day's events by saying that the forum and MoC signing ceremony would be a memorable stepping stone toward a new phase of cooperation, and delivered his hope that active collaboration and innovation will continue in the future.
At the networking reception, consultation desks were individually set up by Kanagawa Prefecture, JR East and JETRO. JETRO staff responded to inquiries from Canadian companies interested in collaborating with Japanese companies or expanding business in Japan.
Outline
Date and time
Thursday, May 10, 2018, 14:00 - 18:00
Venue
Toronto Marriott City Centre Hotel (at Rogers Centre)
Organizer
Japan External Trade Organization (JETRO)
Co-organizer
Global Affairs Canada (Trade Commissioner Service)
Supporting Organizations
Embassy of Japan in Canada, Consulate-General of Japan in Toronto, Ontario Government, Asia Pacific Foundation of Canada, Toronto Global, Canadian Chamber of Commerce, World Trade Centre Toronto, Toronto Region Board of Trade, MaRS, Japan Society, Japan-Canada Chambers Council
Participants
91 companies (120 people)
program

Welcome remarks from MC


Takuji Sakai, Executive Director, JETRO Toronto

Opening remarks


Kimihiro Ishikane, Ambassador of Japan to Canada

Keynote address


Shigeki Maeda, Executive Vice President of JETRO

Keynote Speech


Kotaro Zamma, Head of Open Innovation and Business Incubation Section, NTT Data

Attractive towns in Japan
Kanagawa: Taisuke Higuchi, Representative in US for Kanagawa Prefecture
Shinagawa project: Yoshiya Amanai, Deputy Manager of Shinagawa and Large-Scale Developments Department, East Japan Railways Company
Introduction of JETRO Service


Tyson Garbe, Assistant Director, Business Development, JETRO Toronto

MoC signing


Greetings: Timothy C. Sargent, Deputy Minister of International Trade, Global Affairs Canada

Panel presentation and open Q&A
Moderator: Christine Nakamura, Executive Director, Asia Pacific Foundation of Canada
Ron Di Carlantonio, Founder and CEO, iNAGO
Todd Gray, Chairman, CEO, autonomous_ID
Charles Marsh, VP Global Sales & Business Development, mnubo
Closing remarks


Toby Lennox, President and CEO, Toronto Global

Networking reception