29th Asian Trade Promotion Forum CEO Meeting in Lahore, Pakistan –For fostering globally competent human resources
On Sunday, September 25, the Asian Trade Promotion Forum (ATPF) CEO Meeting was held in Lahore, Pakistan, joined by 14 trade promotion organizations (TPOs) in Asia and Oceania. JETRO President Yasushi Akahoshi co-hosted the meeting with Chief Executive of the Trade Development Authority of Pakistan (TDAP) SM Muneer.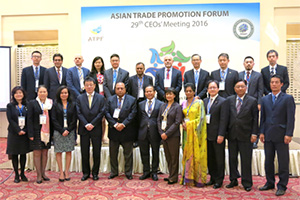 Members of CEO Meeting
Under the theme of the role of TPOs in fostering human resources, a discussion was held on the topics of "promotion of women's economic empowerment" and "effective use of globally competent human resources." President Akahoshi introduced some programs conducted by JETRO, including internships and a collaborative activity with the Hong Kong Trade Development Council (HKTDC). Through his presentation, he encouraged other TPOs to collaborate with one another by taking advantage of the network of the ATPF and the strengths of fellow TPOs. Some participants also introduced examples such as a training program provided for other TPOs and capacity building in the field of e-commerce. At the end of the session, it was confirmed that all member TPOs would share various practical examples and be prepared to cooperate with one another in the future.
On September 24, the day before the forum, President Akahoshi had a dialogue in Islamabad with Finance Minister Mohammad Ishaq Dar, Chairman Dr. Miftah Ismail of the Board of Investment and the Deputy Minister of Commerce, on a wide range of subjects including economic growth, energy, business environment and the activities of JETRO in Pakistan.
Co-hosts Chief Executive Muneer and President Akahoshi
The ATPF was established in 1987 based on a proposal by JETRO. The object of the forum is to effectively implement activities for promoting trade through the free exchange of information among member TPOs from Asia assembled in one place. Currently, it has 24 member organizations. Working-level and CEO meetings are each held once a year.
Outline
Theme
"Enhancing the Role of TPOs in Human Resource Development"
Date
Sunday, September 25, 2016
Venue
Lahore, Pakistan
Host
Trade Development Authority of Pakistan (TDAP)
Participating organizations
Australian Trade and Investment Commission (AUSTRADE)
China Council for the Promotion of International Trade (CCPIT)
Directorate General of National Export Development (DGNED), Indonesia
Department of International Trade Promotion (DITP), Thailand
Export Promotion Bureau (EPB), Bangladesh
Hong Kong Trade Development Council (HKTDC)
Japan External Trade Organization (JETRO)
Korea Trade-Investment Promotion Agency (KOTRA)
Malaysia External Trade Development Corporation (MATRADE)
Myanmar Trade Promotion Organization (MYANTRADE)
Sri Lanka Export Development Board (SLEDB)
Trade Development Authority of Pakistan (TDAP)
Taipei World Trade Center (TWTC)
Vietnam Trade Promotion Agency (VIETRADE)