Invest Japan Seminar in Brussels with Prime Minister Abe
On May 4, 2016, JETRO held an Invest Japan Seminar in Brussels, marking the first large-scale seminar of this kind in Belgium.
Japanese Prime Minister Shinzo Abe and Belgian Deputy Prime Minister Kris Peeters took to the podium to encourage greater investment in Japan by Belgian companies. With 129 attendees from Belgian companies, public organizations and groups, the seminar served as an opportunity to disseminate information on the advantages Japan provides to businesses and the untapped economic growth of Japan's local regions.
Strong messages from both governments
In his address at the onset of the seminar, PM Abe explained how the Japanese business environment had improved through his economic policy, Abenomics, citing how the corporate tax rate was reduced to the 20% level. He also emphasized his commitment, stating "I will push reforms forward from the perspective of companies to make Japan the most business-friendly country in the world." Belgian Deputy PM Kris Peeters followed PM Abe's remarks by saying "Investment in Japan will bring benefits not only to the investors but also to the entire Belgian economy. The federal and regional governments will work together to closely support Belgian companies looking to invest in Japan."
Japan's attractiveness as investment destination
JETRO Chairman Hiroyuki Ishige gave the keynote speech and expressed his expectations by stating "Belgian investment in Japan is still limited. I hope for the 150th anniversary of diplomatic relations between our countries to mark a turning point, and begin fueling further investment from Belgium into Japan." He mentioned advantages that the Japanese market offers to businesses, such as its size and business infrastructure. He also touted the largely improved business environment, giving details on lowered business costs and deregulations brought by Abenomics.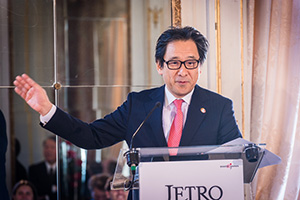 Leading Belgian companies share their experiences in Japan
Presentations were given by three Belgian business pioneers in Japan: Godiva, UCB and Umicore. From the high-end chocolate maker Godiva, Guy Rddell; General Manager for Europe, the Middle East and Africa; called Japan "an important market that produces one third of our sales in the world" and explained that "thanks to the high standards of Japanese consumers, we have many examples of our products finding success in other countries after first becoming hits in Japan." The next speaker was Mark McDade, Chief Operating Officer of UCB, a world leading pharmaceutical company known for medication for diseases related to the central nervous system and inflammation. He said "Medical products developed to the standards of Japan are accepted by other markets without exception. This has allowed our company to unify the standards for our products to fit those of Japan." The third speaker was Denis Goffaux, Chief Technology Officer of Umicore, one of the world's largest automotive catalyst manufacturers. He said "Japan's high standard of education makes it easy to secure excellent human resources. And Japan is an ideal location for R&D sites because it has a culture which highly values leading-edge products."
Kobe City, Tsukuba City and National Institute of Advanced Industrial Science and Technology calling for investment
The Mayors of Kobe and Tsukuba delivered speeches on the investment environment of their respective cities. Mayor Kizo Hisamoto of Kobe explained about the "Kobe Medical Industry Development Project" and mentioned his city's goal to become the top industrial cluster in Asia in the life science field. From Tsukuba, Mayor Kenichi Ichihara emphasized the fact that the city's population of researchers exceeds 20,000 and that a vast number of pioneering projects are conducted under the support of government schemes such as the National Strategic Special Zone. Next, Ryoji Chubachi, President of the National Institute of Advanced Industrial Science and Technology, took the podium and explained Japan's efforts to facilitate innovation, referring to examples such as the signing of an MOU with IMEC (Interuniversity Microelectronics Centre), an international R&D institution located in Belgium.
Networking reception for participants from both countries
Participants actively exchanged information in the after-seminar networking reception. Kobe City and Tsukuba City respectively set up a PR booth to promote the investment environment of each city. JETRO also set up a booth to give onsite consultation on investment in Japan.
Outline of Invest Japan Seminar in Brussels
Date & time
May 4, 2016 (Wed.) 9:30 - 13:30
Venue
Egmont Palace ( Place du Petit Sablon, 8, Brussels)
Organizers
Japan External Trade Organization (JETRO)
Co-organizer
Ministry of Economy, Trade and Industry (METI), Kobe City, Tsukuba City
Supporters
Japanese Embassy in Belgium, Ministry of Foreign Affairs of Belgium, Brussels Invest & Export (BIE), Belgium Wallonia Foreign Trade and Investment Agency (AWEX), Flanders Investment & Trade (FIT), National Institute of Advanced Industrial Science and Technology (AIST)
Attendees
129 (Belgian companies, organizations and the press)
Program
[ Invest Japan Seminar ]
Greetings from Shinzo Abe, Prime Minister of Japan
Greetings from Kris Peters, Deputy Prime Minister of Belgium
Keynote address: Hiroyuki Ishige, Chairman of JETRO
Speech: Guy Riddell, General Manager for EMEA of Godiva
Speech: Mark McDade, Chief Operating Officer of UCB
Speech: Denis Goffaux, Chief Technology Officer of Umicore
Speech: Kizo Hisamoto, Mayor of Kobe City
Speech: Kenichi Ichihara, Mayor of Tsukuba City
Speech: Ryoji Chubachi, President of the National Institute of Advanced Industrial Science and Technology
[ Networking reception ]