Online Trade Fair Database (J-messe)
Tokyo Health Industry Show 2016
Japan's Biggest Health Products Exhibition and Conference
Tokyo Big Sight, Tokyo, Japan
March 16-18, 2016
A Thousand Paths to Health and Healing at Tokyo Health Industry Show 2016
The Japanese population, the world's longest living, is also one of the world's fastest aging. The rising number of senior citizens has made Japan acutely aware both of the need for prevention of life-style-related diseases, and the advantages of beauty and anti-aging strategies for middle-aged and senior citizens alike. This intense interest is well reflected in the Tokyo Health Industry Show 2016 (THIS 2016), held on March 16-18, 2016, at Tokyo Big Sight. The show offered 5 major health-and-beauty-related sections: Health Food & Supplements, Health Check and Health Care, Beauty and Anti-aging, Fitness and Sports, and Organic and Natural Products.
The Japan Market is in the Forefront for Health and Fitness
Rapidly aging Japan is one of the best places in the world to market health and aging related products, and attending or exhibiting at the Tokyo Health Industry Show can quickly put foreign firms into the action. The Japanese public closely follows the latest trends.
Says Mr. Yuji Tsuruta, of Seiko Limited (Japan), which markets imported Ayurvedic medicine from Sri Lanka, "Today's visitors are highly knowledgeable, and are eager to sample everything. Ten years ago, they were reluctant to try samples, and nobody had even heard of 'metabolic syndrome', but now everybody knows what it means."
Mr. Cezar Ramos Junior of Natucentro (Brazil), a maker of natural apiary products, agrees. Speaking of the main product of his company, propolis – a substance produced by bees from which they construct their hives – he notes: "The Japanese are very health conscious, and Japan is the number one market for propolis in the world!"
Japan is also a natural gateway to the growing health markets throughout East Asia. Said Mr. Jeffrey Hwang, of the Best Care Elder Welfare Corporation (Taiwan), "though we came to exhibit in Japan, we have found lots of Chinese and Asian companies here, including firms from Singapore, mainland China, and Thailand."
A Different Story Behind Every Product, a Unique Culture Behind Every Exhibitor
Personal health care is a concern for everyone, young or old, male or female, and stories told from a personal perspective can be very persuasive. Much of the show featured small and medium-sized firms from around the world with some very interesting stories to tell.
One such firm was Northen Treats, Limited, a family-owned honey-making business from Latvia. While offering delicious samples of his honey products, Mr. Oskars Mickevics asserted, "our honey is not an industrial product, but is a healthy food made from the pollen of over 100 different wildflowers" that bloom profusely in the Latvian countryside. "Everything you see here is real," he said, pointing proudly to the picture of his grandfather, who started the business. "None of this is just marketing." The appeal of authentic Latvian honey was apparent from the crowd of people thronging his booth.
As mentioned above, Mr. Cesar Ramos Junior's Natucentro firm produces "propolis", the hive building material collected by bees. Amazingly, propolis is a natural antibiotic, and is also useful in treating the side effects of chemotherapy for cancer patients. "The medicinal properties of our propolis derive from the plants from which they gather it. We take great pains to make sure the bees have access to the potent plants."
If your own company has a good product with a fascinating story behind it, THIS is an ideal place to share it with the health-conscious Japanese public.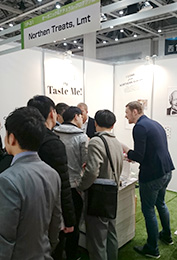 Keeping on Top of Health and Beauty Trends
Trends in this industry rapidly come and go, and it is crucial to stay up-to-date. This show is one place where industry insiders can quickly check what's hot, and what's not. In addition, the clear focus on the theme of health keeps the quality of visitors high. Said Mr. Hiroaki Saitou of Shirakami Farmers (Japan), an agricultural collective that makes garlic products, "it's good that this show focuses on health. We have exhibited at food-related shows before, but visitors here have a clear health focus and are very knowledgeable, and better yet they are inclined to discuss business in very specific terms."
Mr. Young Sam Yun of Il Hwa Japan Co., Ltd. (Japan), an importer and seller of Korean ginseng products, a classic health food, noted how quickly things can change. "The cycle in this industry is only about 2 or 3 years long," he said. "For example, a couple of years ago, coconut oil was all the rage. Now, 'superfoods' is what everybody seems to be talking about." Indeed, the Japan Superfood Association sponsored its own pavilion this year, showcasing the products of 13 producers of superfoods such as spirulina, goji berries, and chia seeds. Things really do move fast!
It's also important to keep track of the competition. Mr. Marc Netten is Executive Partner of Naturkost Ubelhor GmbH (Germany), a firm that grows and processes chia seeds, one of the "superfoods". Mr. Netten noted how rapidly new competitors arise: "Last year we were the only company offering chia seeds. Now, as you can see, there are 5 or 6 more companies offering the same product." To stay competitive, Naturkost Ubelhor has already moved into chia seed specialty products such as muesli, health drinks and even oils.
As Japan and the East Asian health markets expand and diversify, the Tokyo Health Industry Show will continue to be a great resource to keep track of the trends.
EXHIBITION DATA
Exhibition Name
Tokyo Health Industry Show 2016
Dates
March 16-18, 2016
Frequency
Annually (34th time in 2016)
Venue
Tokyo Big Sight, Tokyo, Japan
Exhibitor Totals
about 600 exhibitors (Overseas: 47)
Visitor Totals
38,317 visitors
Ticketing
3,000 Japanese Yen (free admission with online registration)
Organizers
UBM Media Co., Ltd.
Contact
Tokyo Health Industry Show Organizer Office
UBM Media Co., Ltd.

Tel: +81-3-5296-1025
Fax: +81-3-5296-1018
E-mail: h-expo-jp@ubm.com