Online Trade Fair Database (J-messe)
N-EXPO 2015
A Unique Exhibition Promoting Environmental Business and Ecological Awareness
Tokyo Big Sight, Tokyo, Japan
May 26-29, 2015
The N-EXPO Environmental Show Brings Together Business, Technology, and Activism to Address a Major Social Issue
The 24th New Environmental Exposition, known as "N-EXPO", was held at Tokyo Big Sight from May 26-29, 2015. N-EXPO has evolved a unique framework that combines traditional business and technology interests, from demolition and recycling, pollution control, and new energy fields including biomass, with a deep environmental awareness and support for activism, as shown by inclusion of the 7th Global Warming Prevention Exhibition, which helps raise awareness of global warming, one of the major environmental issues of our time.
The Best Show in Japan to Make an Impact on Environmental Business
Make no mistake about it, N-EXPO 2015 was, for most exhibitors, first and foremost a business show. Mr. Boben Kalappurayil, Sales Engineer at Doppstadt Systemtechnik GmbH (Germany), offering chippers, shredders, and screening technology, explained why his company needed to exhibit here. "Japan is a stable, good market for us, still the major market in Asia," he declared. Mr. Mitch Yokoi, Asia Sales Manager for SSI Shredding Systems, Inc. (USA) sells shredding systems to the recycling industry, who has attended 12 times, held a similar opinion. "This is the main Japan waste handling show" he comments, "and the only show we attend because the fit is very good. And we're also seeing a lot more Asian visitors this year."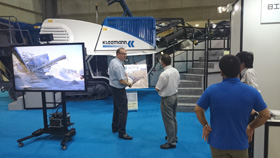 N-EXPO has certainly evolved over the years to meet the changing needs of business and society. One of those who has seen this clearly is Mr. Clive McKeown, Asia-Pacific Sales Manager of Kleeman GmbH (Germany), who was exhibiting mobile crushers and screening equipment. He also has attended 12 times. "This is the only show worth going to. I've seen it grow from just a demolition show to recycling and other things as well. It now covers everything from the sorting of bottle caps to the demolition and removal of entire buildings!"
A Well-Run Business Show That Draws a Steady Stream of Visitors
Many exhibitors expressed appreciation for the ample and steady visitor flow at this exceptionally well-organized exhibition. Mr. Padraig McDermott, Regional Sales Manager of Telestack Ltd. (Northern Ireland), a bulk material handling equipment maker, pointed out that "it's been very busy, with constant visitor traffic over all 4 days. It's just as busy at 10AM as it is at 2PM – there are no dead times."
Ms. Rita Calebotta, Sales and Marketing Manager for MG Recycling S.r.l. (Italy), exhibiting in the SEDA JAPAN booth, noted that she saw "many more visitors here than at shows in Europe or Australia," and her colleague Mr. David Pownall of JMC Recycling Systems Pacific (New Zealand) appreciated one salient detail: the color-coded visitor badges. "This can make a big difference. Big shows need a way to distinguish visitors, else you don't know who you're talking to and you miss potential customers."
N-EXPO Also Aims to Raise Awareness of a Pressing Social Issues – Global Warming
With the incorporation of the Global Warming Prevention Exhibition (GWPE) in 2010, the N-EXPO organizers have shown a welcome willingness to commit to the fight against global warming. Even among exhibitors here mainly to do business, awareness of this concern was quite high. For example, Mr. Tomonori Kimura of Nihon Senki KK (Japan) was at the show to promote his company's color sorters. As they import from Korean as well, they may very well attempt to enter the Korean market soon, but he carefully noted that "ecological awareness varies by country, and changes year by year, depending on what people read in the news and media."
Mr. Tomohiro Miyata, Group Head of Public Relations, of Japan CCS Co., Ltd., which is involved in government projects for carbon dioxide (CO2) containment and storage, noted that many members of the general public, including families, had attended. He said "it's good to find regular people visiting. At this point, it's meaningless to talk to other experts, who are well aware of the need to capture and contain carbon dioxide emissions. Better to educate regular people – even children – about the problem."
Not only did the show offer the GWPE section for businesses developing anti-global warming solutions, they also provided, entirely free of charge, a booth for one small country whose very existence is threatened by global warming.
In the booth of the Embassy of the Republic of the Maldives, Ambassador Ahmad Khaleel, Ambassador to Japan of the Republic, explained the dire future his country faces if warming is not halted. "As the smallest developing island country, with a land level only 1.5 meters above sea level, we are in the front lines of climate change. Rising sea levels will be a huge problem for us."
Having exhibited at the show 4 times already, Ambassador Khaleel was always ready to discuss possible business opportunities with eco-friendly corporations as well. "We invite interested countries to visit us to discuss possible projects. We are very eco-friendly – even the fishing methods used in our country have been declared sustainable by the Marine Stewardship Council!", he declared.
The N-EXPO exhibition is a very special venue with a unique dual focus, where both environmental business and ecological awareness can work together.
EXHIBITION DATA
Exhibition Name
N-EXPO 2015
(The 24th New Environmental Exhibition 2015)
Dates
May 26-29, 2015
Frequency
Annually (24th time in 2015)
Venue
Tokyo Big Sight, Tokyo, Japan
Theme
Deployment & Expansion of Environmental Business
Exhibitor Totals
627 exhibitors
(including the 7th Global Warming Prevention Exhibition 2015)
Visitor Totals
167,540 visitors
(same as above)
Ticketing
1,000 Japanese Yen
(free admission with online registration)
Organizer
Nippo Business Co., Ltd.
Contact
N-EXPO 2015 TOKYO SECRETARIAT
TEL: +81-3-3262-3562
FAX: +81-3-5214-6633
E-mail: event@nippo.co.jp