Online Trade Fair Database (J-messe)
IFFT/Interior Lifestyle Living
The Leading Trade Fair for the Japanese High-End Interior Market
Tokyo Big Sight, Tokyo, Japan
November 26 - 28, 2014
The Interaction of World Cultures Leads to New Directions in Interior Design at IFFT/Interior Lifestyle Living 2014
As the world grows smaller, the encounters of people from different regions and cultures grow ever more intense. While this may cause problems elsewhere, in the world of interior design, the results of these cultural interactions are almost wholly positive. This was vividly shown at this year's IFFT/Interior Lifestyle Living show held in Tokyo.
The Search for the New in Interior Design
The energetic hunt for new ideas was apparent throughout the show. Mr. Greg Dry of Egg Designs Cc, in the South Africa Design Emporium, said that even though Japan is not necessarily a direct market for him, a prospective buyer asked him directly for a furniture design because "we don't want a local designer, we want something new." The organizers of the show itself were not immune to the fever. Said Mr. Peppe Trulsen of Fuglen (Norway), "we hadn't thought of participating, but IFFT (International Furniture Fair Tokyo) approached us. They were looking for something new to put in the show's Hotel area."
Most of all, the stunning new designs brought to the show by the exhibitors bore witness to this urge. Mr. Yoshitou Miyajima, president of MANAKA, Ltd (Japan), was showing off his newest concept, a kind of home memorial box made of beautifully finished wood. "This differs", he explained, "from traditional Japanese Buddhist altars, because you place special objects in it that recall your memories of the departed loved one. Though religions may be different, mourning and remembrance are the same the world over."
Encounter of Cultures Leads to New Ideas and New Markets
Mr. Miyajima's unique inspiration illustrates how this show was as much about the interactions of cultures as it was about the business of design. Many exhibitors were deeply aware of themselves as cultural spokesmen. Mr. Peppe Trulsen brought his Vintage Norwegian Icons exhibit to raise awareness of Norwegian design. "We are half business, half culture promoter," he stated. Mr. Trulsen and his partner had been originally motivated for their retro Norwegian design exhibit by buying an old coffee shop in Oslo filled with classic 20th century Norwegian furniture.
Mr. Yusuke Inaguma of Inaguma Furniture & Cabinetry, exhibiting in the Creative Nagoya section of the NIPPONSAN booth, said his company won an assistance grant from the Nagoya International Design Center in Japan. "I applied for and got a spot in this booth. My most popular product is the round cutting board with a steel handle just like a frying pan. The overseas visitors really like it too. Exhibitions are the best place to introduce new concepts." And Mr. Seppo Raijas, Managing Director of Hukka Design Oy (Finland) was at pains to explain the special features of his Finnish soapstone products: "ours are not mass-produced items, you must first understand the uniqueness of the product to want to buy it."
Chance Encounters and Unexpected Discoveries Lead to Orders!
In spite of the need to explain the uniqueness of his products, Mr. Raijas was delighted to inform us that we made a real sale at the show, which is not a common thing!" The IFFT/Interior Lifestyle Living show is small, but smallness also has its advantages. Ms. Renee Pompen of J-Port is the Dutch distributor for Zero Japan (Japan) and was in their booth guiding international visitors. "In my opinion, although the show is small, it's not noisy and people have time for real conversations."
Although there were many interesting concept areas, such as Home, Kitchen, and Creative Resource, the compactness of the exhibition area meant that very different products were displayed close together. This facilitates a kind of cross-fertilization that leads directly to actual orders from unexpected quarters. Mr. Peppe Trulsen mentioned that a buyer for a ryokan (a traditional Japanese inn) had already ordered a set of cutlery. "There are important connection points here," he said, "if you have good products this show is a good way to meet department store buyers and even the media." As noted above, a high-end luxury hotel buyer asked Mr. Greg Dry of Egg Designs for a chair design, "even though I'm only exhibiting light fittings this time. Why me? I asked them. They liked the way the natural materials we use age and acquire a patina." The structure of the show seems to encourage these kinds of serendipitous encounters.
Most enthusiastic of all was Mr. Bill Beleck of Nichibei Global LLC (USA), in the Pioneer Millworks booth. Mr. Beleck coordinates activities between Pioneer Millworks, a seller of reclaimed and sustainable wood products, and its Japanese distributors. "On the first day, we gave away all 600 of our brochures!" he explained with delight. "All my business cards are gone too. We will be back."
The stunning designs and productive activities of the IFFT/Interior Lifestyle Living show seemed to inspire that last thought in quite a few exhibitors. They will be back.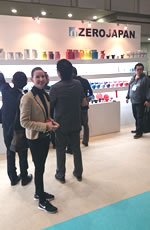 EXHIBITION DATA
Exhibition Name
IFFT/Interior Lifestyle Living
Dates
November 26-28, 2014
Frequency
Annually (7th time in 2014)
Sister Fair
Interior Lifestyle Tokyo (held annually in June)
Venue
Tokyo Big Sight, Tokyo, Japan
Theme
Japan's International Fair for High-End Lifestyle Ideas
Exhibitor Totals
391 exhibitors (Overseas: 63)
Visitor Totals
15,872 visitors
Ticketing
JPY 2,000 / Trade only
Visitors can enter free of charge with online registration or admission tickets.
Organizers
Japan Furniture Industry Development Association
Mesago Messe Frankfurt Corporation
Contact
Mesago Messe Frankfurt Corporation
TEL: +81-3-3262-8443
FAX: +81-3-3262-8442
E-mail: info@ifft-interiorlifestyleliving.com