Online Trade Fair Database (J-messe)
SPORTEC 2013
Japan's Largest Sports, Fitness Show and Conference
Tokyo Big Sight, Tokyo, Japan
December 5-7, 2013
Thematically Balanced, Well Organized, Energetic Show Delights Exhibitors and Visitors Both
SPORTEC is a well-known show and conference in Japan focusing on sports, fitness, health, rehabilitation and nutrition, and visitors at the show include sports equipment buyers, fitness club owners and managers, athletes and personal trainers, as well as fitness and sports enthusiasts of all ages. This year, SPORTEC was combined with the Sports Food Expo 2013, a specialty show featuring foodstuffs, drinks, supplements and related food ingredients for the health support and athletic performance markets.
A Good Mix of Themes - Sports, Fitness, Health, Nutrition, and Rehabilitation
Many exhibitors have been attracted to the show by its multi-theme focus. Mr. Gregory Zink, President of Nautilus Group Japan, remarked that "the show has a broader them than a standard fitness show because it combines fitness, wellness, nutrition, physical therapy, etc." The opinion of Mr. Souta Kikuchi of Otaru Fisherman's Kitchen was practically identical: "sports, health, nutrition are all covered so this makes the impact of exhibiting at SPORTEC much greater." Mr. Jason Wu of I-Ming Sanitary Materials Inc. (Taiwan) found the mixture perfect: "SPORTEC is a good chance for us because our distributors and agents work in two distinct channels - our products overlap both the sports and medical fields."
High Energy As Usual, but an Increasing Focus on Seniors
SPORTEC is known for its boundless high energy, with groups of young enthusiasts performing vigorous exercises to loud music, and trainers putting visitors through rigorous demos on their sports and fitness equipment. "Lots of energy" was a typical comment from many exhibitors, and Ms. Joy Wang of Infotrade Media Company (Taiwan) said that "SPORTEC is much bigger now with even greater energy."
Yet, the growing seniors market in Japan is becoming just as important. Ms. Sherry Huang of Floriey Industries International (Taiwan) noted that after 25 years of experience in the US and Europe markets, her company has finally targeted the Japanese market because "we have switched our focus from exercise to healthcare, particularly the senior market, and Japan has the biggest growing seniors market in the world. Yesterday we found a customer who said, 'your product is just what we were looking for!'" And Mr. Gregory Zink, demonstrating his company's new line of exercise equipment, explained that the line was "aimed at seniors; this is a big market in Japan." We are sure that Mr. Zink knows the Japanese people are very aware of the importance of disease prevention and health promotion.
Well Organized and Growing Show Smoothly Brings Exhibitors and Customers Together
There was almost universal praise for the faultless operation of the exhibition and conference. Mr. Jeff Libengood of Posturology said, "the support of the show directors has been great, and the seminars were well attended. Our firm will definitely attend next year". "Seamless organization", said Mr. Gregory Zink of Nautilus Group, and added "SPORTEC continues to grow every year, broadening the topics it covers." Mr. Matt Truscott, after a vigorous demo of his Vipr product (USA), caught his breath long enough to say, "the show has a good variety and balance of themes." Mr. Stephen Cooperstock of BP Body Plus (Japan) said that SPORTEC "has wider lanes than other shows, so we have more interactions with customers this year." Mr. Tim Yeh of Kinyo Taiwan thinks "this show is more professional than the ones we usually attend", and in a very specific detail, Ms. Winny Lin of Jiahao Plastics Factory (Taiwan) said "we especially like the badges which distinguish types of visitors like distributors, press, etc. We don't have that in shows back home."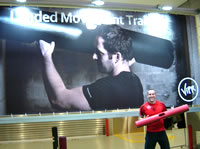 From a business standpoint, the show seemed to be a great success for exhibitors. Mr. Souta Kikuchi of Otaru Fisherman's Kitchen mentioned that "visitors at SPORTEC come to make concrete business proposals, so there are few window shoppers." Mr. Jeff Libengood again remarked that "the show is a good business opportunity. Japan is our first step to launch into Asia." Mr. Zengen Bernd of Creative Lifestyle, Inc. said "the quality of visitors is high, and a lot of target customers and potential distributors show up." Mr. Tim Yeh said, "this show is focused on my customers," and Ms. Winny Lin added, "there were many visitors and we could meet target customers, even though this is our first time at SPORTEC." Mr. Gregory Zink felt the same: "Absolutely great responses from customers and potential customers." Finally, Mr. Mark Chen of Evergym (Taiwan) had a sign on his counter announcing they were searching for distributors in Japan. When we asked him about it, he replied "yes, we got the distributor we were looking for." Similar comments were heard from quite a few other exhibitors as well.
From these favorable comments, it's safe to say that SPORTEC has managed to walk that fine line between having a broad enough theme to attract a wide variety of business visitors, while offering enough focus to satisfy the specific targets of their exhibitors.
EXHIBITION DATA
Exhibition Name
SPORTEC 2013
Dates
December 5-7, 2013
Frequency
Annual (6th time in 2013)
Venue
Tokyo Big Sight, Tokyo, Japan
Theme
Products and services related to fitness, training, rehabilitation and sports for a healthy life
Exhibitor Totals
301 Firms/Organizations
Visitor Totals
32,259 visitors
Ticketing
JPY 2,000 per person
(free admission with Admission Ticket or Advanced Registration Form)
Organizer
SPORTEC Co., Ltd.
Special Cooperation
FIA (Japan Fitness Industry Association)
JSHIF (Japan Sports Health Industries Federation)
Supporter
Ministry of Education, Culture, Sports, Science and Technology
Ministry of Economy, Trade and Industry
Ministry of Health, Labour and Welfare
Tokyo Metropolitan Government Bureau of Sports
National Agency for the Advancement of Sports and Health
JAFA (Japan Fitness Association)
JATI (NPO Japan Association of Training Instructors)
JCCA (Japan Core Conditioning Association Foundation)
NSCA (NPO National Strength and Conditioning Association)
NESTA JAPAN
and more.
Contact
SPORTEC Co., Ltd.
TEL: +81-3-6273-0403
FAX: +81-3-5363-0301
E-mail: info@sports-st.com