Singapore - Japan COVID-19 Tech Live: "Digital Transformation Platform" Breakout Sessions
*日本語は英文説明の後に記載
JETRO and ESG jointly present
Singapore - Japan COVID-19 Tech Live: "Digital Transformation Platform" Breakout Sessions
We warmly invite you to the breakout sessions of Digital Transformation Platform (DXPF). A total of three (3) breakout sessions will be held in June and July to discuss on how companies can come together to enact digital transformation that can help to overcome the business challenges resulted from the Covid-19 situation.
The theme and date for each session are as follows:
3. Living and Work Environment
1st Breakout Session – Local Businesses
The 1st breakout session will focus on Local Businesses. Local Businesses are defined as businesses that rely on a local community or locally present customers to be sustained. Examples are retailers, restaurants, local transport providers, etc. The impact of Covid-19 has been large on these types of businesses, from being forced to shut down operations temporarily to being unable to reach customers through traditional means.
2nd Breakout Session – Global Businesses
The 2nd breakout session will focus on Global Businesses. Global Businesses are defined as businesses that are reliant on other global stakeholders, such as businesses operating in the global supply chain. Examples are manufacturing, international logistics, aviation, etc. The impact of Covid-19 has been significant on these types of businesses, from disruption in global supply chain to not being able to operate at maximum capacity due to restriction in labour, etc.
3rd Breakout Session – Living and Work Environment
The 3rd breakout session will focus on Covid-19 impact on societal norms, as people have to limit physical interaction and begin to work and interact remotely. Almost all industries are affected, and businesses will need to adapt to the changes in living and work environment post Covid-19.
Event timeline for all 3 events
14:00-14:10 Introduction of DXPF and explanation of problem statements
14:10-14:55 Business pitching by problem solvers + panel discussions + Q&A
14:55-15:00 Explanation of the next theme and problem statements
※this program is subject to change

About the COVID-19 Tech Live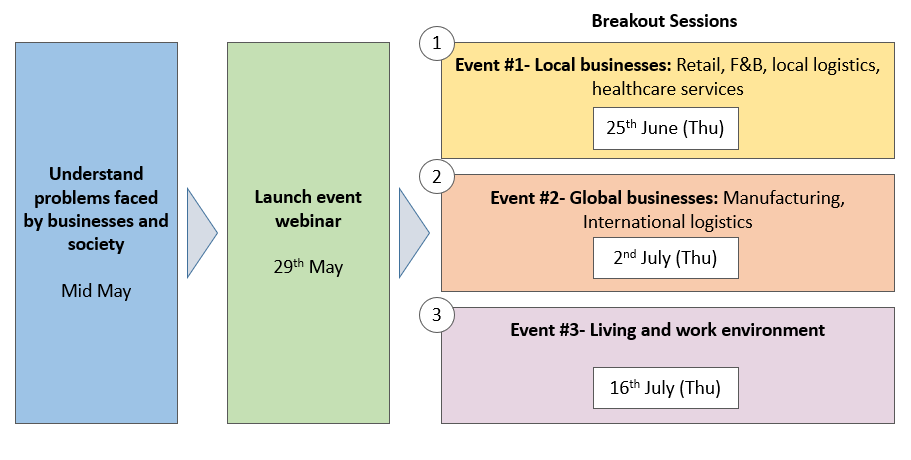 COVID-19 Tech Live will have three "breakout sessions" to discuss problem statements of the three different themes based on the current Covid-19 situation. Business pitching sessions by companies that aim to provide solutions to these problem statements and discussions between Japanese and Singapore companies will be held online. The objective of this effort is to create specific new businesses and enable digital transformation to foster collaboration and cooperation.

About the Digital Transformation Platform (DXPF)
JETRO, in partnership with Enterprise Singapore, have built this DXPF to facilitate the promotion of open innovation collaboration between Japanese corporations and ASEAN based start-ups and tech companies. The corporates and start-ups or tech companies will work together on solutions or create new business ideas that solve a specific problem or tackle a specific opportunity area. These collaborations will ideally lead to long term and significant collaborations.

About JETRO
JETRO is a government-related organization promoting mutual trade and investment between Japan and the rest of the world. Originally established in 1958 to promote Japanese exports aboard, JETRO's core focus in the 21st century has shifted towards promoting foreign direct investment into Japan and helping Japanese SMEs maximize their global business potential. Following the advancement of technology and the digital sphere, JETRO is also pursuing growth in the digital and innovation sectors.

About Enterprise Singapore
Enterprise Singapore is the government agency championing enterprise development. We work with committed companies to build capabilities, innovate and internationalise.

We also support the growth of Singapore as a hub for global trading and start-ups, and build trust in Singapore's products and services through quality and standards.

----------------------------------------------------------------------------------------------------------
JETRO

・

ESG

共催
日星コロナテック・ライブ

:

「

DX

プラットフォーム」ブレイクアウトセッション
この度JETROとESGはDXプラットフォーム(DXPF)を立ち上げ、テーマごとに3回に分けたブレイクアウト・セッションを開催致します。現状の経営課題を解決するために、企業とスタートアップが一丸となって、如何にデジタルトランスフォーメーションを実現できるかについて提案・議論します。各セッションのテーマと日時は以下のとおりです。
【第1回ブレイクアウトセッション: ローカルビジネス】
第 1 回目のブレイクアウトセッションでは、新型コロナウィルスの影響を受けたローカルビジネスの課題に関する議論を実施します。ローカルビジネスとは、地域社会や地元の消費者に支えられているビジネスを指します。例として、小売店、レストラン、運送業者・交通機関などが挙げられます。
【第2回ブレイクアウトセッション: グローバルビジネス】
第2回目のブレイクアウトセッションでは、新型コロナウィルスの影響を受けたグローバルビジネスの課題に焦点を当てます。グローバルビジネスは、国際的なサプライチェーンを有するなど、世界各国での製造や取引を実施しているビジネスを指します。例えば、製造業、国際物流、航空業界が挙げられます。
【第3回 ブレイクアウトセッション: 生活・仕事環境】
第3回目のブレイクアウトセッションでは、ほとんど全ての産業が新型コロナウィルス後の新しい生活・仕事環境に適応していく必要があり中、ソーシャルディスタンスやリモートワークの導入といった新型コロナウィルスが与える生活・仕事環境への影響に焦点を当てます。
【各イベントのプログラム】
14:00~14:10 DXPFの紹介ならびに課題のご説明
14:10~14:55 スタートアップによるプレゼンテーション + パネルディスカッション + Q&A
14:55~15:00 次回のテーマならびに課題のご説明(第3回では総括を行います。)
Q&Aではスタートアップにご質問をいただけます。
言語:英語(通訳なし)
※このプログラムは変更になる可能性があります。

日星コロナテック・ライブ

について

日星コロナテック・ライブ
における「ブレイクアウト・セッション」では、コロナ禍の現状を踏まえた3つの課題テーマを設定し、それに対し解決を目指す企業によるピッチ、日星企業間でのディスカッションをオンラインで実施し、連携・協業に向けた具体的新規ビジネスの創出、デジタルトランスフォーメーションを目指してまいります。

DXプラットフォーム (DXPF)について
JETROはEnterprise Singaporeと協力して、DXPFを構築し、日本企業とASEANに拠点を置くスタートアップおよびハイテク企業との間のオープンイノベーションを促進しています。日本企業とスタートアップおよびハイテク企業は、課題を解決する新しいビジネスモデルをともに創造し、また長期的かつ意義のあるコラボレーションにつなげていくことを目指しています。

JETROについて
https://www.jetro.go.jp/jetro/

ESGについて
https://www.enterprisesg.gov.sg/about-us/overview
Contact Us:
問い合わせ先:
JETROシンガポール事務所イノベーションチーム spr_innov@jetro.go.jp
JETRO本部対日投資課DX推進チーム DXPT@jetro.go.jp