Japanese Wagyu by the Embassy of Japan, Part 4: Chef Laurent Gras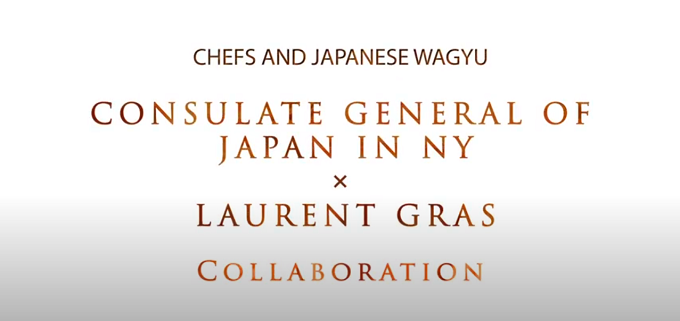 The Embassy of Japan, in partnership with the Consulate General of Japan in New York, is currently creating a 4-part video series on the essence of enjoying premium Japanese Wagyu beef. The videos will introduce viewers to world-renowned chefs as they bring out the best flavors of Japanese Wagyu beef, including its highly prized fat marbling.

The fourth and final video of the four-part series features the world-renowned Michelin-starred chef Laurent Gras, who shows off his elegant culinary approach to Japanese Wagyu beef by combining European and Japanese cooking styles together. Chef Gras first experienced Wagyu beef about 20 years ago in Japan, which influenced his culinary thinking and led to his focus on creating dishes that could fully capture the savory, soft textures of premium Wagyu.
In the video, Chef Gras showcases his technique by curing, dicing, and searing Wagyu beef using Kombu, house-made chili miso, coffee, and cocoa to enhance its luxurious flavor. Check out his step-by-step cooking technique learn how to cook with luxurious Japanese Wagyu beef, and explore the exquisite culinary world of Wagyu beef.




To see the three previous videos on Japanese Wagyu restaurants, please click the links below:

minibar: https://www.jetro.go.jp/usa/topics/japanese-wagyu-by-the-embassy-of-japan-part-3-minibar.html
Sushi Taro: https://www.jetro.go.jp/usa/topics/wagyu-part-2-sushi-taro.html
Nasime: https://www.jetro.go.jp/usa/topics/new-video-series-japanese-wagyu-by-the-embassy-of-japan.html