The certification program of Japanese Food and Ingredient Supporter Stores Overseas
Interview of Supporter Stores

Peko

Farm-Direct Produce from Hokkaido
Spreading beef culture in Thailand

Bangkok / Thailand
Beef Specialty Restaurant—A Rarity in Thailand
Dried lavender flowers and antique furniture—this cozy restaurant with a warm wooden décor seems to have more female customers than male, which is somewhat unexpected in a beef specialty restaurant. According to Ms. Mariko Kawai, "I wanted a restaurant where women can come alone and enjoy eating beef." Ms. Kawai grew up in a family-owned farm, Ohira Ranch, surrounded by the nature of Tokachi, Hokkaido. She runs Peko in Bangkok, a restaurant that serves beef delivered directly from the farm.
The opportunity to open Peko came three years ago. Beef was never a big part of the Thai food culture, but with the relaxing of beef import regulations and the improvement of the quality of Thai beef, consumption started to rise in the country. Ms. Kawai also imported and sold her own company brand beef and found that "some people used sirloin for stewed dishes and overall they did not know how to handle beef. So I decided to give cooking advice according to the different cuts, which is when sales started to pick up. That was when I realized that I would like to create an 'antenna shop' that would link production management with food service."
Beef Produced with Great Time and Care Is Popular among Thai People
Ms. Kawai had lingering concerns from some time ago: "The traceability system (through individual identification numbers) allows consumers one to access the history of beef cattle, but for the producers, once the product leaves the farm there is a lot of information that we do not have access to. I wanted to get feedback on whether our products are tasty, and if they're not, we can use that information to identify what we're doing wrong. We are proud of our products." The passion and dedication poured into the beef cattle at Ohira Ranch is quite extraordinary. They have done everything they can to create a stress-free environment for the beef cattle, the clean water and air of Tokachi, the soft pasture, providing comfortable cowsheds for the beef cattle to sleep in, and managing their physical condition throughout the seasons. Through these methods and great care, "Ohira-gyu," with a robust yet clean flavor, was born. It matched the needs of the Thai people, who are looking for premium-flavored wagyu beef.。
Ninety Percent of the Ingredients, Including Hokkaido-Produced Rice, Are from Japan
Peko's signature dish is the sumptuous beef stew, which contains big cuts of beef cooked until it reaches melting tenderness. The stew is left simmering for five days, creating a depth of flavor that has captured the hearts of many Japanese residents in Thailand. Roast beef prepared with different cuts depending on the day is also a popular dish. One can savor the different textures and flavors, as well as enjoy the various colors of the meat, in this elegant-looking dish. The dish also makes a lot of appearances on social media, which is widely utilized in Thailand.
A recent hit is the beef jerky, which is prepared by drying out meat until most of the moisture is removed and is loaded with umami. The producer's hope that every part of the cow is enjoyed is conveyed in each dish. Ninety percent of the ingredients used are from Japan. Even the rice is from Hokkaido. Ms. Kawai comments, "Beef from Hokkaido has to be accompanied by rice from Hokkaido. You will be able to taste the difference in every aspect, including the flavor and aroma. I would also like to increase our offerings of Japanese vegetables. I would like my customers to enjoy the seasonal flavors in a country where the four seasons are not so distinct."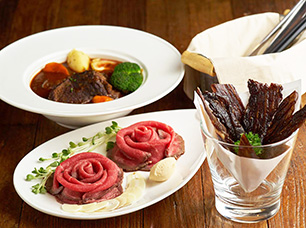 Responding in Thai to Questions regarding the Ingredients and Alcohol
Regarding Japanese alcohol, two types of Japanese sake and three types of shochu are served at Peko. Ooyuki junmaiginjo sake from Asahikawa in Hokkaido is served in a champagne glass, which allows the aroma to intensify. The Thai customers find it enjoyable to drink sake like you are drinking white wine. Ms. Kawai responds in Thai to questions regarding the sake. When talking to her Thai customers, she often discovers that they have visited Hokkaido and is surprised to learn that they know a lot about the region. "They know about the Furano lavender farm, Sapporo ramen, hot springs, and the seafood in Hokkaido. Thai people are known to easily lose interest in things, but it seems that their fascination with Japanese food and Hokkaido has continued to remain strong."
Spreading the Appeal of Wagyu to the Rest of Asia
"My father always used to say that when people become more affluent, they start to indulge in wine and beef. Thailand is no exception. Recently, celebrities from Cambodia and Myanmar come to Thailand in search of fine dining. Thailand is Asia's hub where culture and information converge. The appeal of wagyu is spreading to its neighboring countries." Ms. Kawai continues in a firm tone, "Beef is a luxury ingredient, but it's also accessible. It's not necessarily good just because it's expensive. Ohira Ranch has been running for 40 years with the aim of offering high-quality meat at a reasonable price. I don't want our products to be out of reach for ordinary people. Especially for the people who enjoy eating our beef." For Ms. Kawai, the challenge continues.
Peko

5/15 Soi 49, Sukhumvit Rd. Khlong Tan Nua, Watthana, Bangkok
(+66)083-542-3199
www.facebook.com/pekokitchen