The certification program of Japanese Food and Ingredient Supporter Stores Overseas
Interview of Supporter Stores

MITSUKOSHI FRESH

Long-established department store, with a prominent presence in a popular area in the Philippines, is engaging with the changing needs of the consumers

Bonifacio Global City / Philippines
Mitsukoshi, a long-established department store that was founded in 1673, opened its first store in Southeast Asia that has its brand name, MITSUKOSHI BGC, in Bonifacio Global City (BGC) on November 18, 2022. This new commercial facility, created by the venerable department store that continues to be loved throughout time by people of all ages, has a supermarket on its first basement floor called MITSUKOSHI FRESH. We spoke with Takato Ishimoto, the Finance and Administration Head of this supermarket.
Providing products as a lifestyle
BGC is a functionally organized district with sophisticated condominiums, commercial facilities, office buildings, and five-star hotels, as well as a hospital, parks, and schools. Because of its public security and convenience, it is becoming increasingly popular as a place where everyone would wish to live in. Many of the wealthy make their home here, such as people who work for major local firms and foreign companies, as well as the expats. Mr. Ishimoto says, "Most of our customers have a good impression about Japanese products, but they're not familiar with how to enjoy them. So, we thought we should promote the appeals of the products as something that people could incorporate into a part of their lifestyle. This is what our store's concept is based on." People can go to restaurants to enjoy Japanese sashimi and sake, but many feel hesitant to do so because of the price and the formality of such places. But this supermarket, designed with the brightness and warmth of wood, allows customers to casually come in contact with such products, offering an informal atmosphere where people can comfortably make the rounds of various gourmet delicacies, just as you would be able to when you visit the basement food area of a Japanese department store.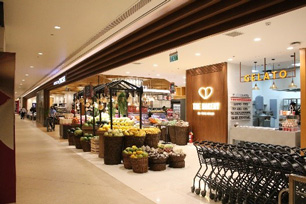 Stimulating the five senses with excitements and discoveries
The supermarket operates under the unique concept of "A Feast of Your Senses." What is particularly striking about this place is their open kitchen, where customers can enjoy the sounds and aromas to whet their appetite. They are not only able to watch the culinary process in live action, but they can also feel reassured in terms of hygiene and the quality of the ingredients being used. Mr. Ishimoto commented, "We want the customers to begin by eating and drinking the products. It's more important for them to experience the actual tastes, than to hear about them described in words." Many people use the open eat-in space to dine on not only sushi but to enjoy sake with Japanese sashimi such as yellowtail, tuna, oyster, and clams. The concept of stimulating the five senses matches perfectly with the Filipino lifestyle that prefers to eat on the spot rather than taking things home to be consumed later. Mr. Ishimoto not only provides the Japanese lifestyle, but is also continuing to update the local food culture by constantly remaining aware of what is being consumed and how, such as by watching how the local staff enjoy the presents of food that he brings back from Japan.
Communicating the story behind the products
Mr. Ishimoto, who loves sake himself, is a certified sake sommelier. In the Philippines, people prefer highly aromatic sake with a strong ginjo taste. During the holiday season, customers become attracted to sparkling sake that can be enjoyed in wine glasses. The store is lined with a highly selective choice of sake including popular brands like Dassai, in addition to various liqueurs such as those made by blending rice shochu and micro-brewed sake with roasted coffee beans, as well as shochu that has been matured in a barrel like whisky. The recent popularity of manga is leading some people to purchase sesame shochu that was made in collaboration with the manga artist Hisashi Eguchi, with customers being drawn to the product because of its label featuring an illustration created by that manga artist. Mr. Ishimoto says, "These days, we don't know what will trigger a boom, whether its anime or SNS or some online services, which makes our job both difficult and interesting. What's important for us is to use our strength as a department store in being able to offer a broad range of products, and increase the opportunities for customers to come in touch with the products and hear the detailed storyline behind them, and discover what strikes the hearts of the local people. As for people who are already well versed in sake, we hope they will join us in delving deeper into the world of sake." The added value offered by a department store is in being able to provide the kind of shopping experience that couldn't be had during a few days' visit to Japan.
Getting connoisseurs of the best items in the world to acknowledge the exceptional items that Japan has to offer
Mr. Ishimoto has studied consumers in the three countries of Japan, Singapore, and the Philippines. He says, "The people who are interested in our department store are those who are sensitive to the latest global trends, and have a high level of discernment in knowing what the good things are in the world. We are recently seeing a culture of enjoying brands that are considered to be truly good, whether they are products from other countries or those grown locally. In this situation, department stores need to continue utilizing the abilities we have cultivated thus far and work closely with the changing needs of the consumers." Mr. Ishimoto continues, "It's important for our customers to enjoy Japanese food in scenes that are removed from everyday life, but in order to have the Japanese food culture take root, we also need to educate people about Japanese food, such as in the ways of using Japanese seasonings. I envision a future where Japanese food will be appearing on the family dinner tables in the Philippines." We look forward to seeing a new lifestyle being born in the near future that blends the cultures of Japan and the Philippines.
---
List of shops
MITSUKOSHI FRESH

MITSUKOSHI FRESH Basement-1, MITSUKOSHI BGC, 8th Ave. Corner 36th St. Grand Central Park, BGC, Taguig, 1635
https://www.mitsukoshifederal.com/
https://www.facebook.com/easycookasiaMitsukoshi_Fresh
https://www.instagram.com/furoshikistore/mitsukoshi_fresh