JETRO Global Connection -Accelerate Innovation with Japan-
Interview


The Privacy Tech Firm Making Waves in Japan and Beyond

(Japan)
Apr 17, 2023
Acompany's journey from Blockchain to Privacy Tech
Acompany

provides privacy tech products for large enterprise companies in Japan, but now they are expanding to the US and Europe. We spoke with co-founder and EVP(Executive Vice President) Takeharu Kondo to hear his story and how the company started.
It all started when Takeharu and the CEO, Ryosuke Takahashi, were college students in 2018, and they were interested in blockchain. They found that kind of technology very fascinating, but at that time, it was not easy to monetize in the Japanese market. Deciding to pivot, they explored secure computing before finally deciding to build a privacy protection product. Secure computing is the technology for computation that can be used to compute encrypted data.
Takeharu's own personal passions led him to become a startup founder. When he was a college student, he researched companies hiring students, but none of them interested him. He wondered what he should do with his life, and then met an entrepreneur who also graduated from his alma mater. As they talked about the startup business, he thought it would be a good fit for his way of thinking and working.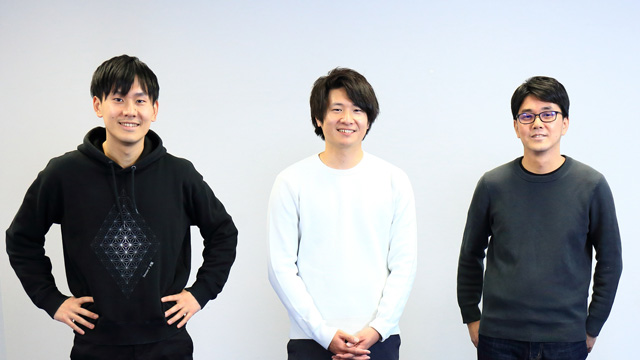 Acompany officers - EVP Kondo, CEO Takahashi, and COO Sato (Photo provided by Acompany)
Protecting Privacy While Driving Business Growth
Nowadays, Acompany focuses on data utilization. Companies have a lot of customer data and want to utilize it for business purposes. Still, it has to be local privacy laws like GDPR or CCPA (California Consumer Privacy Act) compliant. Companies must comply with privacy protection laws in a trade-off between privacy compliance and data utilization. Acompany offers a product that is a good fit for digital marketing companies, but it can also have uses in other industries like healthcare, mobility and finance.
Large companies, especially in the marketing industry, are interested in Acompany's privacy protection solution. Advertising agencies like working with the product and the Acompany team because of their expertise in technology and legal knowledge. This area of privacy protection isn't a mature market yet, but Takeharu estimates by 2029, the market for privacy protection will be $30 billion in the US. Acompany closed a Series A funding round in December 2022 of $5 million, and the funding will be used to run a pilot and for business development in Japan and the US.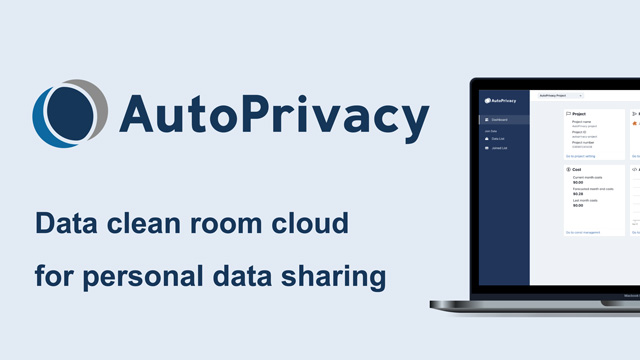 AutoPrivacy (Image provided by Acompany)
Building Networks and Expanding Globally
A startup has many challenges at the beginning of global expansion. For Acompany, the primary challenge is building a network. Their product is for large enterprises, and it's not easy to access business managers in large companies, so Takeharu and Ryosuke needed to expand their network of potential customers.
Attending in-person events to talk and exchange ideas helped build their network. Another method was to ask investors to introduce potential clients in the US and Europe. Working with JETRO, or with other prefecture governments, through acceleration programs has also been a benefit to Acompany. Now, they are participating in the Global Acceleration Hub hosted by JETRO in San Francisco. In the future, they would like to connect with VCs in the US.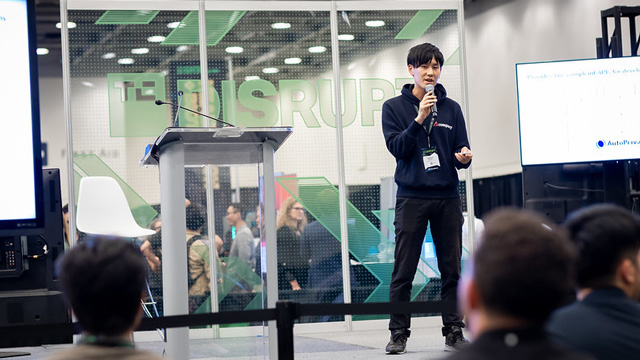 Mr. Takeharu Kondo Pitching at DISRUPT (Photo provided by Acompany)
Taking on Global Competitors in the Privacy Protection Industry
Acompany recently attended Web Summit and Slush 2022. They had just started their global expansion, so the main focus was to get feedback on the product, especially from European countries. Germany and the Nordic countries have a high demand and interest in privacy protection. The startup received a lot of valuable, productive feedback on its product. They heard from companies that GDPR is hard to navigate and difficult to share personal data between companies.
In contrast, in the US and Japan, privacy protection laws are not as strict compared to Europe. However, privacy law and the privacy protection industry are still different in each country. Mainly, the law is different. In the US, there is no federal privacy law, but each state has disparate privacy laws, and companies must comply with each. On the other hand, Japan has APPI (The Act on the Protection of Personal Information) that applies uniformly to all companies. Acompany is working on reconciling these differences in its products.
Companies like Snowflake, Google and Amazon could be called global competitors, but the top competitor in the US marketing industry is LiveRamp. LiveRamp (previously Acxiom) is a data broker focusing on data exchange in the United States market. It's a leading competitor in the US. Privitar is another competitor doing data exchange between companies in the UK. As Acompany expands into the US market, they will focus on de-identification, a term for removing personally identifiable information from a data set. They have patented de-identification technology, which is exactly what enterprise companies are looking for in a data privacy solution.
Mr. Takeharu Kondo Pitching at DISRUPT (Photo provided by Acompany)
Young Founders, Strong Mindset, Tough Startup Life
Both Takeharu and founder Ryosuke are young startup founders, and Ryosuke was recognized by Forbes 30 Under 30 Asia in 2022. Takeharu believes the main difference in being a young founder is your mind. He explains, "As a young person, the direction of your life is not fixed, so some younger founders might be more likely to change their mind. The choice to commit to one path and stay with it is difficult." Another issue is that startup life is tough. You need to have a strong mind and make sacrifices, like less social time, which might be different from your peers.
Profile of Mr. Takeharu Kondo

While a graduate student at Nagoya Institute of Technology, he interned at DUO Inc. (now ZIZAI) and co-founded Acompany with the current CEO, Takahashi. As CTO, he led R&D and developed MPC-type secure computing software "QuickMPC" from scratch, which was released as open source software in 2022. In graduate school, he did research on machine learning and image recognition; he graduated from the Department of Information Engineering, Graduate School of Engineering, Nagoya Institute of Technology in 2019.
Report by:

KATO Yuka, Innovation Promotion Division, JETRO