JETRO Global Connection -Accelerate Innovation with Japan-
Interview


Tackling the Sustainability in the B2B Industry with Pineapple Leather

(Japan)
Apr 20, 2023
This interview features Jim Huang

, a serial entrepreneur now involved with Osaka-based PEEL Lab

, a green technology startup.
Could you introduce yourself and your business?
My name is Jim Huang

, and I live here in Japan, but I grew up in the US. My background is mainly in finance and investment. About four years ago, I got into startups, starting with investing and mentoring, and then decided to co-found my other ventures in Japan. PEEL Lab

is a B2B green technology company focused on sustainability. We manufacture pineapple leather from the leftover leaves, which are usually burned or sent to landfills by the farmers. We were able to find a way to upcycle them into a higher-value material.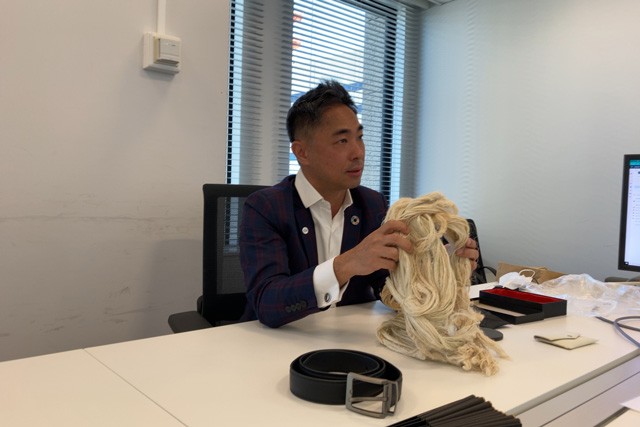 Jim Huang, PEEL Lab Inc. CEO (Photo by JETRO)
What made you come to Japan, specifically Osaka, to start a business?
This is not my first venture in Japan. I started another food tech startup in Japan in Osaka in 2019, making craft beer from leftover bread and rice. I was here in Japan to expand the market, and we got great traction because back in 2019, the world of upcycling wasn't very common.
I realized that there is a lot of food loss in Japan that could be addressed, and we needed to elevate the awareness of how different types of foods can be utilized. In the US, there's an upcycling food association. We are a member of that group and can bring that knowledge here, so people will understand how valuable food waste can be. So my first venture was in Japan, and I had a great experience running my food tech startup here in Japan before, so I wanted to continue my second business here.
Regarding Osaka, I have family members here in the Kansai region, but this is also a manufacturing hub compared to Tokyo. If we were to explore any factory building or processing, this could be an excellent area for us to create a prototype.
How did PEEL Lab get started?
After the beer startup, I was still very interested in sustainability. I was researching insect protein as pet food, and that was my second startup focused on sustainability. I ended up selling that business about six months ago to focus on my third startup, PEEL Lab

. I decided to focus on it because the fashion and material industry is the second most polluting industry in the world, after oil and petrochemicals. It's very important to know that there is a third choice for leather. It's not just animal leather and plastic leather.
Our company's mission is threefold: to upcycle food loss, prevent animal cruelty, and reduce carbon footprint. Our platform is compatible with carbon credits and net zero. Producing one unit of plant-based leather is about 90% less carbon footprint than animal leather, so it's eligible for carbon credits. We're working with the US government on quantifying that amount and getting certification. The US government has huge incentives and budgets for net zero and circular economy projects.
It will be a five-year project, and we will be working with pineapples and potentially coconut husks. What do you do with the coconut husk? Probably throw it away or burn it for charcoal, creating carbon emissions. We already have a coconut leather prototype, and the next step is to refine the texture. We plan to test the strength and durability of coconut leather so that it is just as good as other types of leather and price competitive.
PEEL Lab collaboration with overseas (Provided by PEEL Lab)
Where can we find PEEL Lab products?
We are primarily a B2B company, working with car and marine manufacturers, but we'd love to get more traction with the furniture or shoe industries. Leather is used everywhere. We even created our own "PinaSeru", the pineapple Japanese schoold backpack (randoseru).
People constantly ask us where to buy the products, and we have to turn them away because we're not B2C. So we're thinking about how we want to satisfy these categories of customers. We need to find a partner to help us do that in the e-commerce market.
PEEL Lab products made from pineapple leather (Provided by PEEL Lab)
What's the startup environment like for green technology in Japan?
I think we are definitely in the early days. The green technology industry in Japan is definitely in the blue ocean stage right now. There's a lot of interest from people looking for materials or textiles using green technology. It's early days, but the momentum is there.
The pace of innovation should probably speed up if we can because we are seeing a whole new era of innovative companies. In the plant-based leather industry, 12 months ago there were very few players in the market. This year, there are at least half a dozen new players. The growth of plant-based leather this year is forecast at double digits growth, continuing for the next five to ten years. The global leather industry is $400 billion, and the plant-based leather market went from $5 billion to $10 billion in the last year.
PEEL Lab's impact on the green industry (Provided by PEEL Lab)
Are your customers mainly in Japan, or are they in other countries?
They are both in Japan and overseas. We have furniture makers overseas and even Red Bull in Thailand as one of our customers. They're making cases and tote bags for VIP customers and employees, so we also make leather merchandise for B2B customers. We have three sources of revenue: selling leather to manufacturing factories, selling merchandise or giveaways for events (like business card cases), and producing leather aprons. The aprons are sold to bartenders at the Intercontinental Hotel in Osaka. They like our material because it feels premium, waterproof, and lightweight. It's also the same price as animal leather aprons.
I just returned from Vietnam because we're also looking to partner with a furniture factory in Vietnam. They produce chairs for restaurants using our pineapple leather. We're also considering offering that as a service to customers here in Japan. Maybe in the future, you can customize the color, texture, and shape, and we can make it and deliver it to Japan. That's something we're working on.
Profile of Jim Huang, CEO, PEEL Lab Inc.

Jim Huang is a seasoned investment professional with extensive experience in the Asia Pacific region. He has held leadership roles at Oaktree Capital's Singapore office, Credit Suisse's Real Estate platform, ANZ Private Capital, HSBC Securities, and Fitch Ratings. Jim received his BA from Cornell University and his MBA from the University of Chicago. Currently, Jim is the CEO of PEEL Lab, a Japanese B2B startup that upcycles food loss by creating sustainable plant-based leather using fruit peels from juice factories. By reducing waste, emissions, and pollutants, PEEL Lab is on a mission to promote sustainability and enable every corporate to create personalized products using plant-based leather.
Report by:

YAMAZAKI Yusuke, Startup Support Division, JETRO
Report by:

KAGA Yusuke, Startup Support Division, JETRO