Companies Interested in Highly-Skilled Foreign Professionals

Micro MIM Japan Holdings Inc.

Global monozukuri leaders in metal products manufacturing tech
MICRO MIM JAPAN HOLDINGS possesses global leading technology in the MIM field, a type of metal product manufacturing technology.

Our technical expertise has resulted in high praise at exhibitions in Europe and America, which we have been doing for over a decade, with overseas inquiries increasing every year.

We already have a development and manufacturing base in Thailand and a marketing base in Germany and are looking to expand further overseas.

We are recruiting management candidates who will support our overseas expansion and, in the future, lead our overseas offices. We are looking forward to those with a zeal to learn Japan's world-class monozukuri (manufacturing) technology and propagate it to the rest of the world.
Only English
Language
Skills Required
No
Role Expected of Highly-Skilled Foreign Professionals
Bridge Builder with Foreign Enterprises, such as in Expanding Overseas (Bridging Resource)
Innovation and Planning from the Perspective of People Overseas
Management of Overseas Bases
Humanities (Language)
Humanities (Sales/Marketing)
Sciences (Technical Sales)
Sectors
Iron and Steel/Non-Ferrous Metals/Fabricated Metal Products
Information and Communication Electronics Equipment/Electronic Parts and Devices
Precision Machinery
Business Content
MICRO MIM JAPAN HOLDINGS is aiming to become the world's No.1 research and development company centered on the 4 technologies of ultra-precise MIM, multi-pore MIM, resin development, and entrusted measurements.

In particular, our strength lies in ultra-precise MIM, which is used in fine and highly precise products such as medical equipment and automobile parts, as well as space development.

MIM (metal injection molding) is a technology used to manufacture metal products by mixing metal powder with a polymer binder, injecting the mixture into a mold, removing the binder, and sintering.

We use this advanced technology and our desire to take on challenges as set forth in our action plan to proactively engage in developing products that were difficult to realize until now.
Countries/Areas of Interest
North America as a whole
Europe as a whole
See more details
Go to the web site of Micro MIM Japan Holdings Inc.

Contact
Inquiries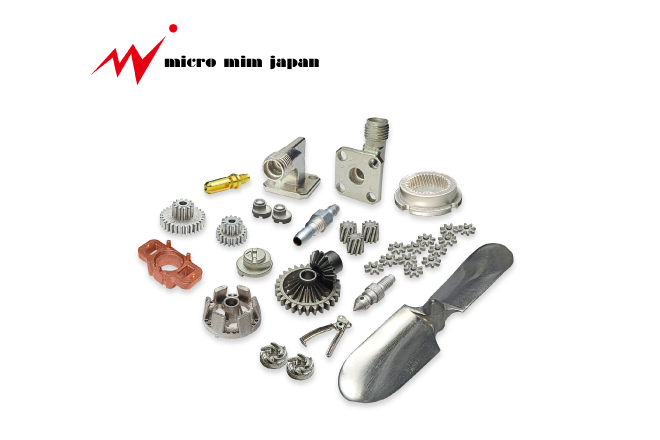 Address
26-1 Ikeda-kitamachi Neyagawa Osaka 572-0073
Tel : 072-830-2588
Company Info
Capital:10 million yen
Amount of sales:660 million yen
Number of employees:40 people
Year of establishment:December 2017
https://micro-mim.eu/