---
---
Mission dispatched to Ireland to support open innovation
JETRO sent a mission to Dublin on November 29-30, 2022, to get an overview of the Irish startup ecosystem and to network with local stakeholders. Innovation officers from five Japanese companies in various fields from European countries participated in the mission.
On the first day, an event was held at Dogpatch Labs, an incubation facility in Dublin. After an introduction of the ecosystem in Dublin, Japanese companies introduced their companies and reverse pitched their technologies, then eight local startups gave pitches, and a panel discussion was held with local ecosystem stakeholders. After the event, there was a networking event and a demo of a car equipped with a safety sensor from Provizio, a next-generation sensor company from Ireland.
First, Mr. Yasuyuki Ozeki, JETRO's Resident Agent in Dublin, introduced the ecosystem. He noted that the country's business-friendly environment, with a high percentage of foreign companies, is beneficial for startups. In the report "State of European Tech 22" by Atomico, a leading UK venture capital firm, the country is characterized by government financing for startups and preferential tax treatment for investors and entrepreneurs.
This was followed by pitches by a software company that calculates carbon footprints to suggest reductions, a company that measures soil health on farms, and a company that provides artificial intelligence (AI)-based sidewalk and obstacle detection technology for electric kickboards and other micro-mobility devices.
The panel discussion featured representatives from the Industrial Development Agency, the Government Commerce Office, the startup support hub Portershed (West Galway), and the RDI hub (Southwest Kerry). The close collaboration among the country's agencies and companies was cited as a strength of the country's ecosystem. They noted that industry and academia are collaborating in various ways, focusing on initiatives such as entrepreneurial support and joint research with research institutions. They mentioned that investors are also cooperative, albeit on a smaller scale, and that the entrepreneurs who have raised funds are generous in providing support to other startups. The panelists also commented that the geographical characteristics of the region are also a strength in that it can serve as a bridge between the U.S. and Europe, and between the U.K. and the EU.
On the second day, the Japanese companies visited local R&D and administrative organizations in response to the interests of the participating companies, which were well received by them.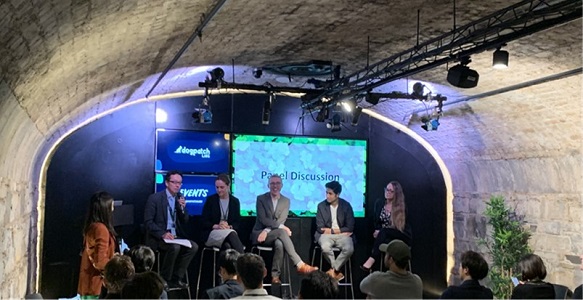 Scene of panel discussion (photo by JETRO)