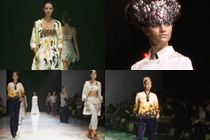 Japan is well known for its love affair with high fashion and luxury goods. Flagship stores of the world's most famous brands line Tokyo's glitzy shopping streets and Japan's well-healed consumers have an unending thirst for designer labels and the latest fashions. However, these days, it is Japan that is setting new trends and making a name as a global trendsetter in fashion and textiles.
Japan's emerging designers and fashion houses are building reputations outside the country with nine Japanese designers showing at the June 2008 Paris collection. Textile makers too are also generating increased attention abroad, as can be seen in the high interest shown in Japanese exhibitors at Paris' "Premier Vision", a leading textile fair. Moreover, in the fast-growing market in China, translation of Japanese fashion magazines account for two-thirds of all the fashion magazines sold, and the fashion buzzword is "kawaii", meaning "cute" and defining a style popular among girls and young women, which originated in Japan.
To give further momentum to these trends, JETRO helps small and medium-sized firms take part in prominent overseas events like Premier Vision, and invites foreign buyers and journalists to "Japan Fashion Week in Tokyo (JFW/TYO)",a Government-private sector collaboration held in Tokyo and aimed at spotlighting Japan's fashion and textile industries.
Japanese Fashion Shows
The following are Japanese fashion shows for Autumn 2012/Winter 2013 season.
- MERCEDES-BENZ FASHION WEEK TOKYO
Mercedes-Benz Fashion Week TOKYO is one of the most prominent fashion weeks, which is held in the fashion-forward cities around the world. Tokyo is renowned as the center of fashion business in Asia and it is here you get to see the cutting-edge designs, innovative textiles and unique styling in the shops as well as on the street. Every season, over 40 brands participate and showcase their collections rooted in Japan's unique fashion culture. JFWO provides you with an opportunity to witness the "creativity" and "craftsmanship" of Japanese fashion industries.
- TOKYO GIRLS COLLECTION
TGC is a biannual fashion festival of unparalleled scale held since August 2005 under the theme of "bringing Japan's 'real clothes' to the world." TGC not only opens its doors to buyers, journalists, and the fashion industry, but also to consumers who are mainly fashion-conscious F1 population - women aged between 20 and 34. TGC is unique in that it is linked with mobile e-commerce where the audiences at the fashion show can purchase clothes donned by models on the runway in real time. As such, TGC has become a new type of fashion show - one of the largest in Japan and an unparalleled event in the world and is attracting attention both in Japan and abroad.
Japanese Fashion Market Information
The following are Japanese fashion shows for Autumn 2012/Winter 2013 season.
-
TRADE SHOWS IN JAPAN
(Apparel, Textile, Footwear, Jewelry)
-
TEXTILE INDUSTRY IN JAPAN - Statistics 2010-2011
[PDF]