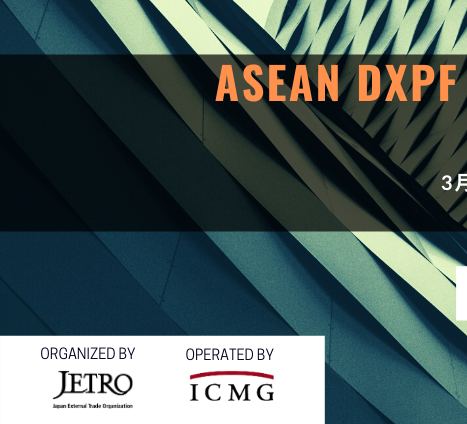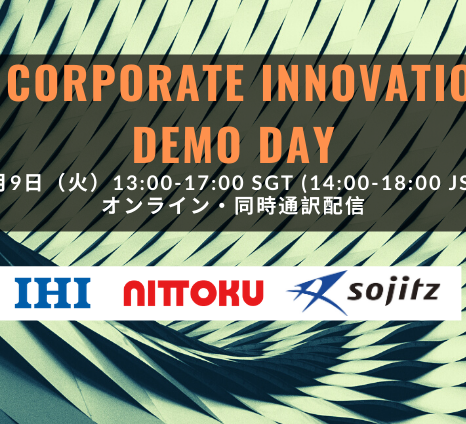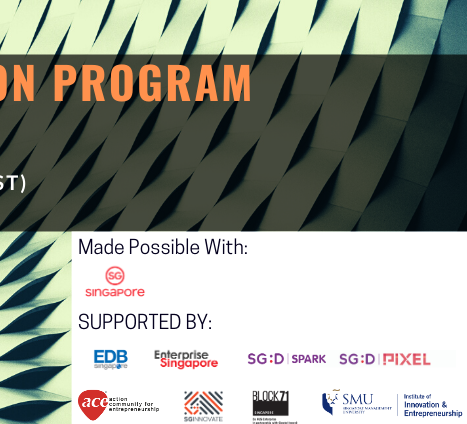 JETRO Singaporeは、日本企業のASEANを起点としたデジタルトランスフォーメーションの加速を目的とした共創型プログラム「ASEAN DXPF Corporate Innovation Program」を実施中してきました。100社以上の応募を受け付け、チャレンジオーナーによる選考を経て、9社がDEMO DAYにて最終発表を行います。
チャレンジオーナー
IHI Corporation is a comprehensive

heavy-industry manufacturer since 1853.

IHI is deeply committed to contributing

to society through technology, combining

diverse engineering capabilities to meet

expanding global needs for energy,

urbanization and industrialization, and transportation efficiency.

IHI will provide PoC opportunities in

South East Asia region. Upon PoC

successful implementation, IHI will

consider commercialization and promotion

of this application world widely.

NITTOKU is a Japanese manufacturer and

distributor of coil winding machines and

has installed many of its products in overseas factories.

NITTOKU provides appropriate scale and

necessary resources to study, explore

and simulate the remote support using

technology including real platform to

test the market.

Sojitz engages in a wide range of

businesses globally, including buying

& selling, importing & exporting, etc.

It also invests in various sectors such

as automobiles, energy, chemicals,

mineral resources, etc.

Data from various countries and

industries can be provided after

successful PoC. Sojitz will also

consider expanding its application

to subsidiary offices after successful PoC.
チャレンジ
IHI Challenge

「Smart Cloud Data Platform for

IHI Future Smart City」

To co-create solutions that can support

traffic monitoring & management to

realise IHI Future Smart City Vision

NITTOKU Challenge

「Enhancing Industrial Customer Value in

'New Normal' Remotely」

To utilize immersive technologies

(3D images, AR, VR, etc.) to enable technicians to collaborate with local employees remotely for product set-up and advisory

Sojitz Challenge

「Building New Synergies by Digitalization

of Human Resource Model」

To utilize HR data through DX and

HR Tech to create digital infrastructure

scalable for future cross-country

implementation of Strategic HR Management
イベントスケジュール
3月9日(火)13:00-17:00 SGT (14:00-18:00 JST) オンライン・同時通訳配信
時間

コンテンツ

(SGT)13:00-

(JST)14:00‐

「ASEANのパートナーと進める共創型デジタルトランスフォーメーションとそのアプローチ」

by JETRO and ICMG

(SGT)13:20-

(JST)14:20‐

IHI Challenge Session

「Smart Cloud Data Platform for IHI Future Smart City」

l チャレンジステートメント紹介、パートナーの選定のポイント

l Co-Creation Partnerによる最終プレゼン + Q&A

(SGT)14:20-

(JST)15:20‐

休憩

(SGT)14:30-

(JST)15:30‐

NITTOKU Challenge Session

「Enhancing Industrial Customer Value in 'New Normal' Remotely」

l チャレンジステートメント紹介、パートナーの選定のポイント

l Co-Creation Partnerによる最終プレゼン + Q&A

- ST Engineering Training & Simulation Systems Pte Ltd

- VooX

(SGT)15:30-

(JST)16:30‐

休憩

(SGT)15:40-

(JST)16:40‐

Sojitz Challenge Session

「Building New Synergies by Digitalization of Human Resource Model」

l チャレンジステートメント紹介、パートナーの選定のポイント

l Co-Creation Partnerによる最終プレゼン + Q&A

- BrioHR

- entomo (formerly KPISOFT Pte Ltd)

(SGT)16:40-17:00

(JST)17:40‐18:00

クロージング
こんな方におすすめ(推奨視聴者)
- ASEAN

における

DX

による新たな価値創造に関心がある日系企業

- 海外テック企業とのオープンイノベーションに取り組もうとする日系企業

- 日系企業の

DX

、オープンイノベーションへのアプローチに関心がある

ASEAN

企業
INFORMATION
| | |
| --- | --- |
| タイトル | ASEAN DXPF Corporate Innovation Program DEMO DAY |
| 日時 | 3月9日(火)13:00-17:00 SGT (14:00-18:00 JST) |
| 会場 | オンライン(ZOOMを予定) |
| 定員 | 300 名 (先着順) ※定員になり次第締め切りとさせていただきます |
| 参加費 | 無料 |
| お問合せ | JETRO SG Innovation Team (spr_innov@jetro.go.jp) |
参加申し込み (受付終了)
3月9日(火)13:00-17:00 SGT (14:00-18:00 JST) オンライン・同時通訳配信