Results of JETRO's 2019 Survey on Business Conditions of Japanese-Affiliated Firms in Africa
Market expectations become clear, 80% of companies have entered the market in Africa because of "future market potential"
-Momentum has increased since the 7th Tokyo International Conference on African Development (TICAD7)-
Between September and October 2019, the Japan External Trade Organization (JETRO) conducted its latest survey on business operations of Japanese-affiliated firms in 24 countries in Africa.
Survey outline:
Method
Questionnaire
Period
September 24 to October 25, 2019
Target
423 companies (responses from 315 companies, response rate of 74.5%)
Question items

Operating profit forecast
Future business outlook and its importance
Business management merits and challenges
Reasons for entering the African market
Competitors and collaborations in the African market
Promising countries and fields in the future
Key points of the results:
Although the ratio of profitable companies is 50%, which is lower than other regions, about 60% of companies are considering expanding their business with an eye on the future. In addition, with the growing business momentum of Africa following TICAD7, more than 60% of businesses believe that the importance of Africa to their global strategy will increase in the near term.
Although business management risks remain, companies seek to expand their business by avoiding risks through new methods such as coordination with third-country companies. Promising future collaborations include those with South African, French and Indian companies.
In terms of the reason for entering the market, 80% of companies answered "future market potential" and had clear expectations for the growing consumer market in Africa. Kenya, which has seen a remarkable rise in startups, has been at the top as a future investment destination for the fifth consecutive year.
Summary of survey results:
Following the 7th Tokyo International Conference on African Development (TICAD7) concluded in August 2019, the momentum for Japanese companies to expand into the African market was expected to increase. JETRO conducted a survey of 423 Japanese affiliated companies in Africa in September and October of the same year, and more than 60% of the respondents answered that the importance of Africa in their global strategy would increase. As a reason for entering the market, 80% of companies answered "future market potential." There was also significant interest in new trends such as the transition to a digital economy. Kenya considered promising country for fifth consecutive year.
1. Proportion of profitable companies remains at 50%, while about 60% consider business expansion. Importance of Africa to global strategies also increasing.
Regarding the operation forecast for 2019, the percentage of companies reporting a surplus slightly increased from the previous year(49.8%→50.3%). Looked at by country, about 70% of companies in South Africa showed strong performance. This is due to the anti-corruption measures and financial soundness expected of the new Ramaphosa administration, launched in the general election in May 2019, and business expansion due to the stabilization of the political situation. Nigeria has also shown a steady increase; over half of companies reported a surplus, surpassing the previous year (47.6%→50.0%). There was no major disorder brought by the presidential election in February 2019, and the re-election of President Buhari had only a limited effect on business. Meanwhile, only 20% of the companies in Cote d' lvoire were profitable. This might be due to concerns about political instability associated with the presidential election scheduled for October 2020, as some companies have pointed out.
The percentage of companies that reported they will expand their business in the next 1-2 years reached the majority for the past six consecutive years, and the business expansion trend has continued. Looked at by country, 80% of companies in Cote d'Ivoire reported business expansion. Multiple respondents reported that, despite concerns about political instability ahead of the presidential election, they are aiming to expand business to neighboring countries. In Mozambique, where rapid growth is expected due to natural gas development, the figure came to just under 70%, and in Morocco, which focuses on attracting companies through free zone development, it came to about 60%. A willingness to conduct new expansion in next-generation business development was also seen in Kenya (59.5%), Egypt (58.6%) and Nigeria (54.5%).
Since TICAD 7 held in August 2019, when asked about changes to Africa's position in their corporate global strategies, many companies responded that its importance will increase in the next five years compared to that of five years ago. The result suggests that Africa is seen to be more important for Japanese companies as a business partner. The next TICAD, which is held every three years, is scheduled for 2022 in Africa. Some companies said that their top management's visit to Africa for the conference will increase the importance of their African strategy.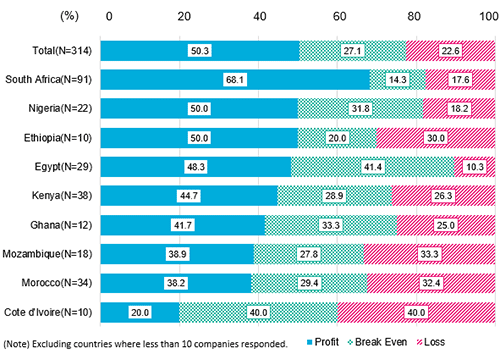 JETRO
JETRO
2. Development and implementation of legislation or regulations greatest risk. Risk aversion and business expansion aimed at through cooperation with third country companies.
While business momentum in Africa is growing, concerns about risks remain. In terms of management issues, "preparation/implementation of legal regulations" was the biggest risk. Approximately 80% of firms viewed this as a problem, indicating strong concerns about governance. However, its percentage dropped from 87.3% to 77.8% compared to the previous year. This was due mainly to reduced corruption following the transition to a new administration in South Africa (83.2%→66.7%) and simplification of the online tax payment system in Morocco (79.2%→64.7%).
Competitors in the market have changed compared to the previous year. European companies were ranked at the top of the list as the biggest competitors, surpassing Chinese companies, which were the top competitors in the previous year. In the competition with China, the overwhelming majority of companies cited price competition as a factor, while in the competition with European companies, the existence of substantial local networks and support from their governments—including finance and tax incentives under trade agreements—were pointed out.
At the same time, there are expectations for business expansion through collaboration with third-country companies. Approximately 70% of respondents cited "partner network utilization" as an advantage of third-country cooperation. Regarding cooperation with third-country companies, South Africa, France, India and China appear promising. As a regional base, South Africa was considered attractive because of the knowhow and market networks accumulated by local companies that now have a head start in regional development. Regarding France, expectations were heard regarding the potential for cooperation in French-speaking African countries. It was suggested that India's appeal lay not only in its excellent strategy in the African market, where there is much affinity for the country, but also in the fact that Japanese companies could launch operations in Africa utilizing their Indian bases. Regarding China, the possibility of collaboration as a supplier of goods and materials is indicated.
JETRO
3. 80% consider "future market potential" reason for market entry, expectations for consumer market clear. Kenya considered promising country for fifth consecutive year.
Among the reasons for entry to Africa, 81.7% of companies selected "market prospects" in what is believed to be pursuit of private consumption demand. This was the most common reason in previous surveys that included the same question (77.3% in FY2018, 76.4% in FY2017, 71.0% in FY2007). In terms of the advantages for investment in Africa, more than 70% of companies selected "market size and growth potential" as a reason. By country, this was selected by about 90% of respondents in Nigeria, Cote d'Ivoire and Egypt.
Among promising fields in the future, the consumer market has risen sharply from the previous year and ranked at the top (40.9%→53.6%). This was followed by infrastructure, service and digital industries, which surpassed fields given much attention until now such as resources and transportation equipment (motorcycles, automobiles, etc.).
Regarding the usage of FTAs, expectations are high for the African Continental Free Trade Agreement (AfCFTA), which came into effect in May 2019, and it has risen to the top among FTAs being considered for future use (by over 40% of companies).
The AfCFTA agreement came into effect in May 2019 with the aim of forming a free trade zone across the continent of Africa, but it was a framework agreement that did not immediately eliminate tariffs. Although liberalization with a 90% tariff line is promised, submission of schedules of tariff concessions, negotiations and approval processes prepared by each country only just began at the same time the accord came into effect. Operation is expected to start in July 2020 through this process, but some have expressed concerns that negotiations will take longer.
Regarding the current usage of FTAs, the FTA most used by Japanese companies was the Southern African Development Community (SADC). This was followed by the East African Community Customs Union (EAC), for which systematic operation is comparatively strong among FTAs in the region, and the Common Market for Eastern and Southern Africa (COMESA).
In terms of countries worthy of notice in the future, Kenya ranked top for the fifth consecutive year. Also for the fifth year in a row, Nigeria ranked second and South Africa ranked third. Although Kenya is the seventh largest economy in the region, the robust payment system infrastructure found in the high rate of mobile money usage (66% of the population in 2018, according to the Communications Authority of Kenya) is fueling the rise of startups. By country, Kenya ranked the top startup funder in 2018. Nigeria continues to be the continent's most populous country and biggest economic power, while South Africa continues to receive high marks for its economic infrastructure. Ethiopia ranked fourth on the back of hopes for the growth of the manufacturing industry through the development of industrial parks and having the lowest wages in the region, as well as reforms expected by Prime Minister Abiy Ahmed Ali (inaugurated April 2018), who won the Nobel Peace Prize 2019.
JETRO
【Table】Future investment destinations (N=340)

| Rank | Country | Share |
| --- | --- | --- |
| 1 | Kenya | 32.9% |
| 2 | Nigeria | 30.3% |
| 3 | South Africa | 28.3% |
| 4 | Ethiopia | 24.0% |
| 5 | Mozambique | 20.4% |
JETRO
Middle East and Africa Division, JETRO
E-mail: ORH@jetro.go.jp