Saudi-Japan Vision 2030 Business Forum in Riyadh
On December 26, 2022, JETRO co-hosted the 5th "Saudi-Japan Vision 2030 Business Forum" in Riyadh, the capital of Saudi Arabia, with the Ministry of Economy, Trade and Industry (METI); the Ministry of Investment Saudi Arabia (MISA); and Japan Cooperation Center for the Middle East (JCCME). Approximately 300 people, including government officials and corporate executives from both Japan and Saudi Arabia, participated.
The forum was held with the aim of further deepening relations under "Saudi-Japan Vision 2030," the strategic partnership between the two countries. It began with greetings from the ministers of both countries, followed by a presentation on Saudi Arabia's major policies for attracting companies and panel discussions in four areas (e-sports, manufacturing, decarbonization and innovation). During panel discussions in each area, the potential of new business cooperation and calls for investment were actively discussed. The forum also featured the exchange ceremonies of 15 new memorandums of understanding (MOU) between the two countries.
General view of the venue
Both countries mention importance and expectations of partnership
At the beginning of the forum, Minister of Investment Khalid Bin Abdulaziz Al-Falih expressed his hope for investment in areas where Japan excels, such as manufacturing, content and e-sports, decarbonization and tourism. Minister of Economy, Trade and Industry NISHIMURA Yasutoshi noted that Japan-Saudi relations are becoming more important amid the trend toward decarbonization, and that a variety of Japanese startups in fields such as mobility, water and AI, as well as major companies, were participating in the forum to further develop cooperative relations. NOBUTANI Kazushige, President of JETRO, explained JETRO's contribution to Saudi-Japan Vision 2030 and the expectations of Japanese companies toward Saudi Arabia, which is undergoing major changes.
Expanding business possibilities
Government officials and business people from Japan and Saudi Arabia at the forefront of collaboration appeared on the stage of each panel discussion. In Panel 1, the panelists exchanged opinions on the possibilities in the field of content, based on their experiences in joint production of manga and animation and friendly e-sports matches. In Panel 2, the future of manufacturing in Saudi Arabia, including of electric vehicles, was demonstrated through explanations of the efforts and experiences of each company. Panel 3 presented the public and private sectors' respective efforts to achieve a decarbonized society. In Panel 4, startups and investors exchanged views on their own initiatives and future directions in the field of innovation.
15 new MOUs and active networking
As a testament to the deepening and broadening of cooperation between Japan and Saudi Arabia, 15 new MOUs were concluded in various fields, including trade and investment promotion, energy and infrastructure, finance, food, biotechnology and sports, with not only major Japanese companies but also startups as signatories. With many Japanese and Saudi companies gathered in one place, there was active networking in search of new business opportunities, which is expected to lead to further collaboration and further development of Saudi-Japan Vision 2030.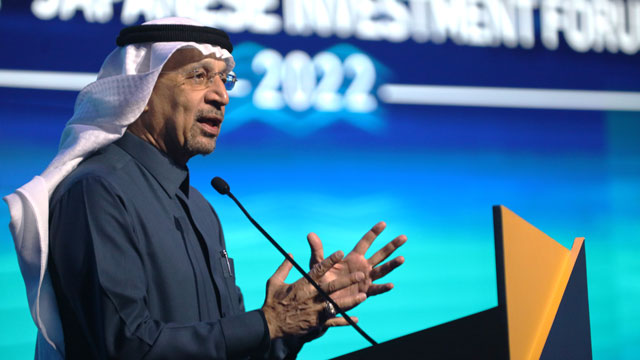 Greeting by Khalid Al-Falih, Minister of Investment of Saudi Arabia
Greeting by Economic Minister Nishimura
Presentation by Ministry of Investment of Saudi Arabia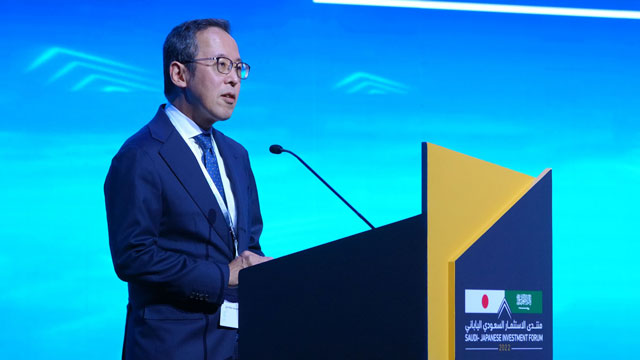 Presentation by JETRO President Nobutani
Session 1: Gaming, e-Sports and Beyond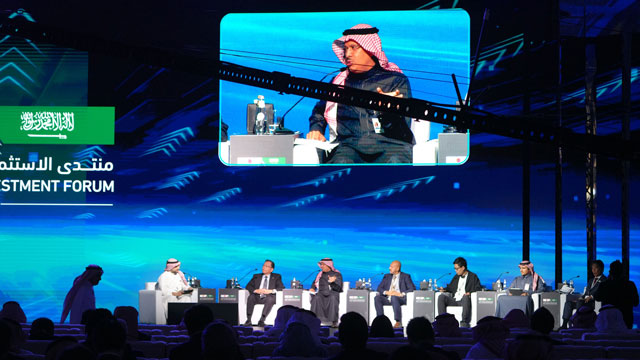 Session 2: Global Industrial and Automotive Projections
Session 3: Future Clean Energy, The Path to Net Zero Emissions
Session 4: Enabling Future Innovations
Networking between both countries
Forum outline
Date and time
Monday, December 26, 2022, 10:00 - 16:00
Organizers/co-organizers
Ministry of Economy, Trade and Industry (METI); Ministry of Investment of Saudi Arabia (MISA); Saudi-Japan Vision Office in Riyadh; Japan Cooperation Center for the Middle East (JCCME); Japan External Trade Organization (JETRO)
Program

Welcoming remarks


Khalid Al-Falih, Minister of Investment of Saudi Arabia

Opening remarks


NISHIMURA Yasutoshi, Minister of Economy, Trade and Industry

Presentations
Ministry of Investment Saudi Arabia (MISA)
Mohammed A. AlDahlawi, Japan Office Director
Mohammed Alfehaid, Industrial biotech director
Japan Cooperation Center for the Middle East (JCCME)


MIYANAGA Shunichi, JCCME Chairman

National Center for Privatization & PPP (NCP)


Hani Alsaigh, VP Strategic Marketing & Knowledge Management

Japan External Trade Organization (JETRO)


NOBUTANI Kazushige, President

Agreement and MOU exchange ceremony
Panel Sessions
Session 1: Gaming, e-Sports and Beyond


Moderator: AKIYAMA Shiro, MD of JETRO Riyadh

Essam Bukhary, CEO, Manga Productions
Omar Batterjee, Head of Communications, Marketing and Sponsorships, Saudi e-Sports Federation
OKAMURA Hideki, Chairman, Japan eSports Union (JeSU)
KUROTA Kaoru, Manager, GameWith, Inc.

Session 2: Global Industrial and Automotive Projections


Moderator: Bandar Zahran, EVP Advanced Manufacturing, National Industrial Development Center (NIDC)

Saad Alshareef, General Manager, Ministry of Industry and Mineral Resources
Mohammed Alzahrani, VP Chemicals Unit, SABIC
Faisal Sultan, VP and Managing Director of Middle East, LUCID
ITO Hitoshi, Vice President and Executive Officer, Hitachi, Ltd.
FUKUZAWA Tomohiro, CEO, SkyDrive Inc.
KAWAMOTO Kenichiro, Country Head, MITSUI & CO., LTD.

Session 3: Future Clean Energy, The Path to Net Zero Emissions


Moderator: Mazen Barnawi, Energy Managing Director, MISA

Zeid Alghareeb, General Manager of Hydrogen and Circular Carbon Economy
Ayad Almari, Business Development Director, ACWA Power
HOSONO Tetsuhiro, Chairman & CEO, Japan Organization for Metals and Energy Security (JOGMEC)
INABA Yutaka, Managing Executive Officer, Japan Bank for International Cooperation (JBIC)
OIKAWA Hiroshi, President, New Energy and Industrial Technology Development Organization (NEDO)

Session 4: Enabling Future Innovations


Moderator: HASEGAWA Hiroshi, Chairman, Vision Office Riyadh

Hattan Ahmed, Entrepreneurship Director, King Abdullah University of Science and Technology (KAUST)
Omar Alshaban, CEO, The Garage
Mohammed Aljarallah, GM of Investments, Riyadh Valley Company
KIRITANI Naoki, CEO, LocationMind Inc.
YAMAMOTO Kiyoshi, SVP, Preferred Networks, Inc.
SONODA Takashi, CEO, Uhuru Corporation

Closing remarks


Badr Albadr, Deputy Minister of Investors Outreach, MISA