JETRO Networking Event - Collaborate & Invest Japan
On December 15, 2022, JETRO held the "JETRO Networking Event - Collaborate & Invest Japan" as part of its proactive promotion to stimulate investment in Japan by global companies in response to the relaxation of COVID-19-related border measures. At the event, foreign-affiliated companies mainly those that have established bases with support from JETRO, Japanese companies including J-Bridge (*) members interested in open innovation with foreign companies, related organizations such as Japanese central and local governments, foreign diplomatic missions and agencies, as well as economic organizations were assembled and interacted with each other through networking. It was attended by 228 visitors from foreign-affiliated companies in Japan and Japanese companies including J-Bridge members as well as 53 visitors from embassies in Japan, foreign government agencies, and relevant Japanese ministries and local governments.
SASAKI Nobuhiko, Chairman and CEO of JETRO, who delivered an opening address as the organizer, introduced two new efforts now underway: "Do not stop" and "Create," in the COVID-19 pandemic. As the effort, "not to stop" the business development of foreign-affiliated companies in Japan, he explained how we assisted business people entering the country through the helpline launched in 2020, and provided information in response to COVID-19 infection in Japan. He also mentioned the launch of J-Bridge as the second effort to "create" businesses, and stated that we would contribute to the formation of innovation cycle and ecosystem to connect Japan with the rest of the world through the J-Bridge and business attraction.
Our Guest of Honor, NISHIMURA Yasutoshi, Minister of Economy, Trade and Industry, mentioned that the number of investment projects in Japan by foreign companies that JETRO supported has reached more than 20,000, of which more than 2,000 investments have been realized. In addition, he noted that interest in Japan is rising due to the depreciation of yen and G7 Hiroshima Summit to be held next year, and stated that the government will continue to attract outstanding foreign companies including startups. In order to accelerate innovation through collaboration and partnership, he stated that the Japanese government and JETRO will provide utmost support to realize various collaborations and partnerships in the Digital Transformation (DX) and Green Transformation (GX) fields through connecting Japanese companies with overseas startups and venture capitalists interested in Japan and holding networking events regularly in regions with well-developed startup ecosystems.
SUZUKI Eikei, Parliamentary Vice-Minister of Cabinet Office, who was also our Guest of Honor, stated that in order to realize the strengthening of the economic structure by taking advantage of the depreciation of yen and accelerate investment in the fields of science, technology, innovation, startups, DX, and GX, it is also important to attract investment from overseas, and that the "comprehensive economic measures to overcome rising prices and realize economic revival" approved by the Cabinet in October 2022 positions the expansion of foreign direct investment in Japan as an important pillar of the measures.
SASAKI Nobuhiko
Chairman and CEO, Japan External Trade Organization (JETRO)
NISHIMURA Yasutoshi
Minister of Economy, Trade and Industry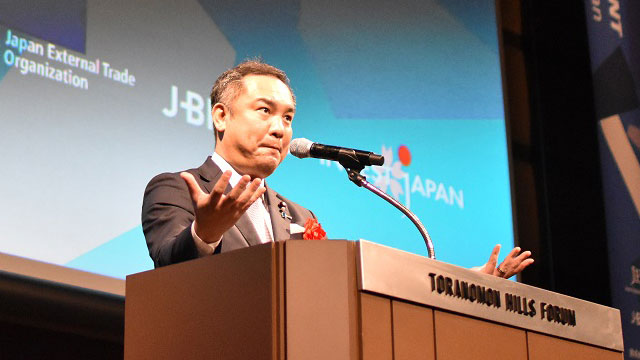 SUZUKI Eikei
Parliamentary Vice-Minister of Cabinet Office
In the special lecture titled "Quest for Collaboration and Organizational Transformation," HIRANO Miku, Co-CEO & Founder, Cinnamon AI. introduced the concept of MTP (Massive Transformative Purpose), which refers to a worldview that exists at least 30 years in the future and completely differs from the current situation. She emphasized the importance of transformation-oriented thinking and collaboration. Japanese people tend to have plan-oriented thinking (thinking about how to get the goal from the current situation), but she explained that having transformation-oriented thinking (thinking about how to change the current situation from the point of goal and MTP world) will create a sense of discomfort with the current situation and become a driving force for the transformation. She also explained that MTP can be achieved through true collaboration that transcends teams and roles, which can be described as "selflessness." She encouraged the attendees to collaborate across borders.
Special lecture
In the networking session, after the opening remarks by NOBUTANI Kazushige, President of JETRO, active discussions and information exchanges transcending countries, regions, and industries took place among attendees, mainly foreign-affiliated companies in Japan and Japanese J-Bridge member companies. Also, at the venue of networking, an AI-based translation service of a foreign-affiliated company in Japan was introduced, sustainable craft beer using otherwise wasted food as ingredients, and vegetables grown on urban-type farms were served, and also plates made of 100% biodegradable materials were used. Attendees gave various comments such as, "We were able to have networks with foreign government agencies and embassy officials, and others," and "We managed to create networks that may lead to future businesses, such as open innovation, collaboration and partnerships." The event was made a place to provide opportunities for cross-border matching as well as collaboration and partnership.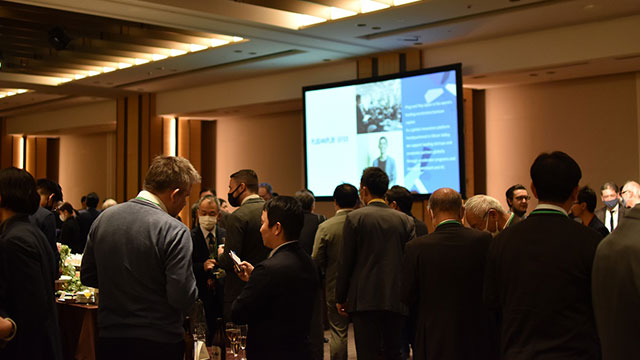 Networking session
* The Japan Innovation Bridge (J-Bridge) is a business platform for creating international open innovation in the digital and green fields by Japanese and foreign companies. J-bridge facilitates business and capital alliance between Japanese companies and overseas startups for the development of new business.
Outline of "JETRO Networking Event - Collaborate & Invest Japan"
Date and time
Thursday, December 15, 2022, 17:00-19:15
Venue
Toranomon Hills Forum
Organizer
Japan External Trade Organization (JETRO)
Visitors
281 people (228 from foreign-affiliated companies in Japan and Japanese companies including J-Bridge members, and 53 from embassies in Japan, foreign government agencies, relevant ministries and agencies, local governments, etc.)
Program

1. Opening Remarks


SASAKI Nobuhiko, Chairman and CEO of Japan External Trade Organization (JETRO)

2. Speech by Guests of Honor

a. NISHIMURA Yasutoshi, Minister of Economy, Trade and Industry
b. SUZUKI Eikei, Parliamentary Vice-Minister of Cabinet Office

3. Special Lecture


HIRANO Miku, Co-CEO & Founder, Cinnamon AI.

4. Networking Session