Hanoi University of Foreign Trade "JETRO Course" - Record number of 93 students complete course
On March 9, JETRO Hanoi held a certificate awarding ceremony for the "Introduction to Business Models in Japanese Companies (JETRO Course)" at Hanoi University of Foreign Trade and Industry and online. This course was established in 2018 based on a cooperation agreement between JETRO and Hanoi University of Foreign Trade, and is part of JETRO's efforts to support the promotion of global human resource utilization by providing regular credit classes for university students enrolled in the program. This year's course was held from November to December 2021, and a record 93 students completed it.
Due to the spread of the novel coronavirus, all lectures and presentation tests were conducted online. The lecturers were from major Japanese companies and startups, including OCG Technology [NTT eAsia] (IT services), ALSOK (crime prevention and security), Medring (telemedicine), TOTO (sanitary ware), JFE Steel (steel), ITOCHU (general trading company) and ENEOS (energy). A total of seven companies, from Hanoi and Ho Chi Minh City in the south, gave online lectures on the purpose of expansion, activities, desired human resources and future prospects. In the presentation test, students made group presentations, proposing ideas based on the content of the lectures.
Completion Ceremony (at the university's conference hall)
The completion ceremony was conducted in a hybrid format, simultaneously broadcasted online, with the number of participants at the venue limited to prevent infection. In his opening remarks, Vice President Dao Ngoc Tien said, "The lecturers provided us with the latest knowledge in various fields and industries, such as economics, management, production and services. I am confident that through this course, the students were able to enrich and deepen their understanding of the management philosophies and business models of Japanese companies."
Nakajima Takeo, Director-General of JETRO Hanoi, said, "All of the companies expressed deep thinking and high ideals, which support the long-term development, growth and strength of Japan. In Vietnam, there are many young, innovative and courageous companies, and Japan and Vietnam have a very good complementary relationship."
Taking the stage as a representative of the graduating students, Tran Tho Uyen expressed her strong aspirations, saying, "We were able to learn many things through the lectures by the heads of Japanese companies active in Vietnam. The experience of receiving comments from the top management of these companies in response to the students' presentations was very valuable. I would like to apply what I have learned in this program to my work after graduation."
JETRO will continue to contribute to the development of core human resources who will play a key role in strengthening Japan-Vietnam economic relations through efforts to connect outstanding Vietnamese human resources with Japanese companies.
(Hanoi University of Foreign Trade was founded in 1960 and is a public university located in Hanoi. It has approximately 16,000 students. It has a Japanese language department and focuses on business Japanese language education.)
Mr. Nakajima presents certificates to student representatives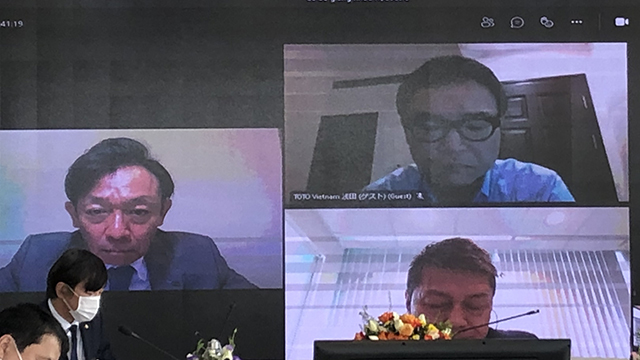 Message from the lecturer to the students