Opening ceremony of Accra (Ghana) office
On Friday, November 5, JETRO held an opening ceremony for its ninth office in Africa in Accra, the capital of the Republic of Ghana. The office was opened in March 2020, but the ceremony was postponed due to the spread of COVID-19.
About 80 people attended on the day of the opening ceremony, including His Excellency President Akufo-Addo, Minister of Trade and Industry Kyerematen and other government officials and business people from Ghana, as well as Japanese Ambassador to Ghana Himeno and representatives of Japanese companies in the country.
At the ceremony, following a speech by Japanese Ambassador Himeno, video messages were given on behalf of the Japanese government and Diet from Ishii Masahiro; State Minister of Economy, Trade and Industry; Aisawa Ichiro, Chairperson of the Japan-AU Parliamentary Friendship Association and Sakai Manabu, Chairman of the Japan-Ghana Parliamentary Friendship League, expressing their hope that the opening of the office will further expand business between Japan and Ghana as well as Africa.
In his speech, Chairman and CEO Sasaki of JETRO explained that "Ghana is becoming more and more important as a production and export base in Africa, with about 50 Japanese companies operating in the country and various automobile manufacturers starting or planning production." However, he also pointed out that the number of excessive tax audits against foreign companies is increasing in African countries, and urged the further improvement of the business environment and active utilization of JETRO Accra in order to vitalize business between the Ghana and Japan.
In response, President Akufo-Addo said, "The opening of JETRO's office will greatly contribute to strengthening economic relations between our two countries, and the timing is very good as the country recovers from Corona." He expressed his high expectations for the Accra office, saying, "By strengthening relations with Japan, Ghana will further promote industrialization, create jobs, expand exports and make Ghana a hub in Africa for Japanese companies to invest in.
In conclusion, JETRO and Ghana's Ministry of Trade and Industry (MOTI) signed a memorandum of cooperation(MOC) on a framework for cooperation to expand trade between Japan and Ghana and improve the business environment for Japanese companies, confirming that both sides will work together to contribute to the expansion of business between the two countries.
Chairman and CEO Sasaki of JETRO
President Akufo-Addo
Signing of memorandum of cooperation (MOC) with Ghana's Ministry of Trade and Industry (MOTI)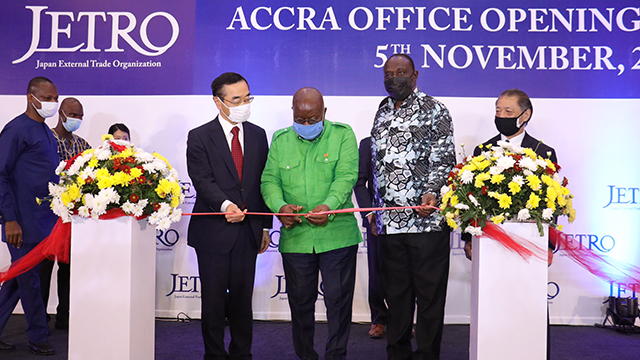 Ribbon-cutting ceremony with President Akufo-Addo