Direct dialogue between Vietnamese Prime Minister Phuc and Japanese companies
On September 7, a meeting was held between Vietnamese Prime Minister Nguyen Xuan Phuc and Japanese companies active in Vietnam at the Prime Minister's Office of Vietnam in Hanoi, with the participation of representatives from both JETRO Hanoi and JETRO Ho Chi Minh. On July 17, 15 of the 30 companies adopted for the "Program for Strengthening Overseas Supply Chains," for which JETRO plays the role of secretariat, were selected for Vietnam. The direct dialogue with Prime Minister Phuc was realized as the Vietnamese government has high expectations for investment from Japan toward the recovery of the Vietnamese economy. The meeting was joined by approximately 70 business people from the Japanese side, and requests for the improvement of the investment environment were submitted. In addition to the prime minister, it was joined by Chairman Mai Tien Dung of the Office of the Government, Minister Tran Hong Ha of Natural Resources and Environment and officials at the deputy-minister level of 11 ministries, including the Ministry of Planning and Investment, the Ministry of Foreign Affairs and the Ministry of Finance.
In convening this meeting, JETRO played the role of coordinating the requests from 15 Japanese companies to the Vietnamese government as the secretariat for the program. NAKAJIMA Takeo, Chief Representative of JETRO Hanoi, mentioned the following regarding the 15 Japanese companies adopted for the program:
The companies will expand investment against headwinds.
Vietnam is an indispensable partner for Japanese companies in diversifying their supply chains.
The 15 companies produce high-value added and next generation products.
He also notified the Vietnamese government of issues the 15 companies are facing in Vietnam regarding the following three points:
Deficiency of human resources and soaring labor costs
Differing and unclear operation of laws and regulations depending on the point of contact
Low local procurement rate
In response to these requests, Prime Minister Phuc said, "The success of Japanese companies is also our success," and stated that the Vietnamese government will support in solving issues.
At the end of the meeting, a memorandum of cooperation (MOC) was concluded between the Foreign Investment Agency (FIA) of Vietnam and JETRO. In the signing ceremony, FIA promised to "jointly provide appropriate support for investment facilitation in cooperation with relevant ministries as well as local municipalities" for Japanese companies involved in the "Program for Strengthening Overseas Supply Chains."
Dialogue between Vietnamese Prime Minister Phuc and Japanese companies
Signing ceremony of MOC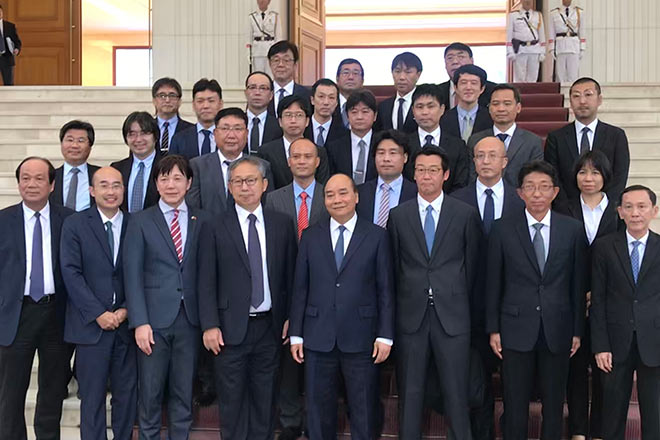 Prime Minister Phuc, 15 Japanese companies and JETRO