Vietnam-Japan MOU signing and exchange ceremony and "Vietnam-Japan Promotion Seminar for Investment and Human Resource Utilization" in Da Nang
From January 12 to 13, the Japanese Economic, Cultural and Tourism Exchange Delegation, hosted by the Japan Association of Travel Agents (JATA), visited Da Nang, Vietnam. On the occasion of the establishment of the Consular Office of Japan in the city, it was planned under the initiative of Nikai Toshihiro, Chairman of the Japan-Vietnam Parliamentary Friendship Association and Secretary-General of the Liberal Democratic Party, with the aim of promoting exchange between Vietnam and Japan. The delegation was joined by approximately 1,000 people from Japan, including from business circles, and numerous ranking officials from Vietnamese government, including Prime Minister Nguyen Xuan Phuc, and numerous events were held with the aim of deepening exchange in the fields of economy and tourism. In line with the delegates' visit to Vietnam, JETRO held a ceremony for signing and exchanging MOUs between the countries and the Vietnam-Japan Promotion Seminar for Investment and Human Resource Utilization.
At the ceremony held on January 12, a total of 12 MOUs—covering disaster prevention, tourism and interaction between local authorities in addition to the economic field, including human resource cultivation and expansion of investment—were signed and exchanged in the presence of Prime Minister Phuc, Chairman Nikai and JETRO Chairman and CEO Sasaki Nobuhiko. This was the fourth time for the ceremony to be organized by JETRO in the presence of Prime Minister Phuc since June 2017.
On January 13, the Vietnam-Japan Promotion Seminar for Investment and Human Resource Utilization was jointly held with the Ministry of Foreign Affairs; Ministry of Economy, Trade and Industry; Ministry of Health, Labor and Welfare; and Immigration Bureau of Japan and the Ministry of Planning and Investment of Viet Nam. In his opening remarks, JETRO Chairman Sasaki emphasized the geopolitical importance of Central Vietnam, which has been developing infrastructure as the point of origin of the Eastern Economic Corridor (EEC) and is growing as a gateway to ASEAN, and as well as the rise of its presence as an open innovation hub. Planning and Investment Minister Nguyen Chi Dung, who also delivered opening remarks, made a call for further investment by Japanese companies, stating that high quality investment contributing to the development of the Vietnamese economy and cultivation of human resources in particular is welcome. Representatives from the provinces of Nghean, Quangnam, Thanhhoa and Quangtri, as well as Da Nang City, participated in the panel discussion and publicized features and the attractiveness of Central Vietnam. The seminar was joined by over 400 Japanese business people, indicating a growing interest in doing business and utilizing human resources in the region, in the midst of deepening relations between the two countries.
Opening remarks by JETRO Chairman and CEO Sasaki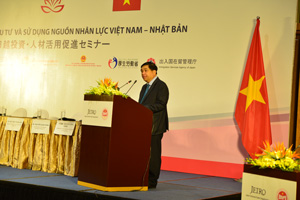 Opening remarks by Minister Dung
MOU signing and exchange ceremony