Regional Business Conference in Hokkaido
From January 14 to 17, JETRO jointly held a Regional Business Conference (RBC) in Hokkaido with the Hokkaido Government; the Ministry of Economy, Trade and Industry; and local governments, an event consisting of direct promotion by head of local governments and matching with local companies by inviting business people from overseas. While participants last June were invited from Hong Kong, this time six business people from five companies in Ireland, India, Taiwan, China and Germany, with capabilities of contributing to adventure tourism from a soft perspective, were invited with the aim of developing Eastern Hokkaido into a hub of adventure tourism and drawing inbound tourists from Central Hokkaido. Participant companies consisted of three travel agencies (from India, Taiwan and Germany), one 3D camera maker (from China) and one housing manufacturer (from Ireland).
Tour route
Direct promotion of business opportunities by vice governor and through business meetings with local companies
On January 14, invitees made a courtesy call on Vice Governor TSUCHIYA Shunsuke. He expressed his strong desire to draw investment that makes use of regional features into Eastern Hokkaido, a bastion for adventure tourism. From the perspective of vitalizing local regions, an important policy issue as abundant local resources go untapped by both Japanese and overseas companies, JETRO Executive Vice President NAKAJO Kazuya then extended his hope for overseas companies to use regional resources, and in this light requested invitees to show local citizens the allures of Eastern Hokkaido gone unnoticed by them from an overseas perspective. After the courtesy call, invitees headed to Asahikawa City, and divided into two groups to join tours and business matchings. Group A (the three travel agencies) visited a ski resort and learned about local issues and had business talks with local tourism operators. Group B (the 3D camera maker and housing manufacturer) visited the Asahikawa Design Center, which sells Asahikawa Furniture, and interviewed local housing makers which build houses with natural materials including solid wood made in Hokkaido.
On January 15, in his welcome speech Tsubetsu Mayor SATO Taichi promoted unique tourism efforts utilizing forests and community development made by his town. The networking reception with local authorities and tourist agencies was joined by Hokkaido Tsubetsu Town Management, a community trading firm playing an active role in vitalizing the town; a web broadcasting company which is streaming videos of local attractions; and a hotel management company. They presented local issues to the invitees and then actively exchanged opinions with them.
In the morning of January 16, invitees had business talks with local companies in Akan district within Kushiro City. As they had participated in a tour to the lakeside of Akan on the previous day, some of them were able to have specific talks regarding introducing tourism content to Lake Akan. In the afternoon, they headed to Teshikaga Town and made a courtesy call on Mayor TOKUNAGA Tetsuo. Mayor Tokunaga explained that in terms of tourism Teshikaga possesses numerous candidate locations for outdoor activities and is home to dairy farming using rich geothermal energy as well as year-around strawberry greenhouse production. He then made a call for invitees to utilize the natural resources within his town. After a city tour, participants had business talks with local tourist agencies and guest house operators.
On January 17, invitees officially visited Kushiro City, and were encouraged by Director YOSHIDA Hideki of the Industry Promotion Department as follows: "We would like for you all to be partners of our city, which was selected one of three Tourism-Oriented Country Showcases1 in Japan, in drawing tourists."
1. A Tourism-Oriented Country Showcase is a model city for drawing overseas tourists into local regions in Japan based on the Growth Strategy of the Japanese government. The cities selected for it are Kushiro, Hokkaido; Kanazawa, Ishikawa; and Nagasaki, Nagasaki. Source: Japan Tourism Agency
Direct promotion by Hokkaido Vice Governor Tsuchiya
Business talks
Experiencing adventure tourism resources in Eastern Hokkaido
On January 15, they visited the Nonnonomori Nature Center, Hokkaido's only forest therapy base located in Tsubetsu Town, where they learned about activities taking advantage of the forest. After that, they headed to Akan District within Kushiro City and took part in an expert-guided walking tour around the lake and forest in Akan. The experience of walking on the ice of a lake was a first for most invitees, who had the following to say: "The beauty of the lake was impressive!" and "It was a very unique experience, only possible here." At night, they visited Mr. and Mrs. Nishida, who are successors of the Ainu culture, in Ainukotan, an Ainu village. They were taught about Blakiston's fish owls which is highly considered by the Ainu culture, and as well as the Ainu lifestyle in harmony with nature. The German travel agency commented that Ainu culture is mysterious and fascinating to European tourists.
On January 16, in Teshikaga Town, invitees toured the remarkably transparent and fantastic Lake Mashu and Mt. Iou, where volcanic smoke fuming across the landscape can be seen up close.
On January 17, In Tsurui Village, they visited the Tsurui-Ito Tancho Sanctuary, a base to conserve the habitat range of red-crowned cranes, and enjoyed viewing them.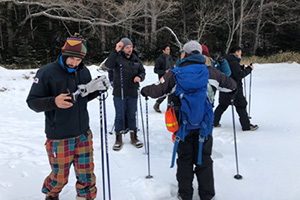 Walking tour around lake and forest in Akan
Tour of Lake Mashu
Toward sustainable growth in Eastern Hokkaido through drawing overseas companies
The overall objective of the RBC was to uncover allures of Eastern Hokkaido unknown to local people and vitalize the region through the utilization of regional resources by overseas companies. In a wrap-up meeting on the last day, in the presence of people responsible from Kushiro City and the towns of Teshikaga and Tsubetsu, invitees presented on advantages and issues in Eastern Hokkaido which they recognized through the RBC. Comments included the following: "With its Ainu culture, rich nature, excellent hot springs and sea of clouds, the region is very unique. It has potential to grow as a global tourist destination," "I can see the same potential as New Zealand, where adventure tourism is thriving," "Compared with Sapporo, the area does not have an adequately prepared culinary environment for vegetarians. We would like to request improving on this point," and "Chinese people are still not aware there are such beautiful places in Eastern Hokkaido. We believe that promoting tourist attractions through the latest technology is necessary."
Through inviting companies from various countries and regions, Eastern Hokkaido's hidden attractions and issues needing to be addressed in the future were manifested. JETRO will continue supporting the development of new business opportunities born from this RBC in cooperation with the Hokkaido Government and METI.
Sharing ideas with invitees
Outline of RBC Program in Hokkaido
Date
Tuesday, January 14 to Friday, 17, 2020
Venue
Hokkaido
Organizers
JETRO; Hokkaido Government; Ministry of Economy, Trade and Industry (METI)
Invitees
A total of five companies (from Ireland, India, Taiwan, China and Germany)
Program
Tuesday, January 14: Direct promotion by the vice governor, (Group A) tour of a ski resort and business matching talks, (Group B) tour of a furniture-related company and business matching talks
Wednesday, January 15: Direct promotion by Mayor of Tsubetsu, networking reception, tour of a nature center, outdoor activities (walking trail around Lake Akan), tour of Ainukotan Village
Thursday, January 16: Business matching talks, direct promotion by Mayor of Teshikaga, and tours of Lake Mashu and Mt. Iou
Friday, January 17: Tour of the Tsurui-Ito Tancho Sanctuary, direct promotion by Kushiro City, wrap-up meeting
* This event was implemented as a consignment project by METI.