Online Trade Fair Database (J-messe)

IJT 2017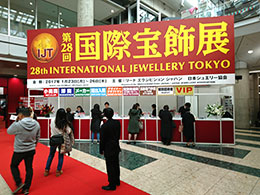 Japan's Largest Jewellery Trade Show
Tokyo Big Sight, Tokyo, Japan
January 23-26, 2017
A Global Marketplace for Jewellery and Precious Stones
International Jewellery Tokyo (IJT) is Japan's largest international jewellery trade show, featuring a vast array of products from the jewellery industry. Widely considered to be the most effective marketplace to meet high quality buyers in Japan and Asia, it also attracts extensive media attention throughout the region.
In a Bazaar-like Atmosphere, Everyone Comes to Buy and Sell
Human beings have always greatly prized jewellery and precious stones, and have been willing to make great efforts to acquire them. The market for them has never faltered, as was shown recently at IJT.
Unlike more technology-oriented trade shows, this is a show where people come from around the world to buy and sell. Said Mr. Andrzej Czajkowski, President of Amberstream (Poland), which deals in precious amber, "we come here to sell, and we make a profit. The first day was especially good, and long-term customers come to buy in quantity".
Jewellery has a way of so enchanting people that they just have to buy it. "We have a cute bracelet that says, 'Tacos saved my life!' on them," said Ms. Sakine Gulec, Creative Director of Amorium LLC (USA), "and one lady came in and bought five of them!" Mr. Tom King, Director of Opal Pacific Ltd. (New Zealand), a dealer in opals, related an even more amazing story. "This hasn't happened lately, but once at this show," he said, "some buyer came in and bought out the inventory of an entire booth!"
Many exhibitors have similarly breathtaking stories to tell. Another opal dealer, Mr. Damien Cody, Director of Cody Opal (Australia) Pty. Ltd., recounted a story of one particularly well-heeled customer. "The Japanese have a love affair with the opal, because it's valued as a good luck charm," he said. "I recall a Japanese lady who, on the spot, purchased an opal valued at probably over one hundred thousand dollars, and only wore it as an amulet, hidden inside her kimono."
Jewellery and Precious Stones from Distinctive Cultures and Regions
The stones in themselves fascinate, but part of the allure is the artistry that goes into turning them into fine jewellery, each piece reflective of a unique culture. Mr. Cristiano Scognamiglio, of M+M Scognamiglio SRL (Italy), was offering exotic cameo brooches carved from coral. "For cameos, eighty per cent of them are made in one small town, Torre del Greco, just ten kilometers from Naples, Italy," he explained. "In the old days many sailors would bring back corals and shells from their travels, so a local trade in cameos grew up there." Mr. Scognamiglio added that his firm regularly exhibits at IJT "because this is the best jewellery show in Japan, known for the high quality of the visitors."
Shoppers and buyers were able to compare products across a wide spectrum of cultures. A booth attendant at Houseki no Shiki [Four Seasons of Jewelry] (Japan), a Tokyo-based publication focused on the jewellery industry, compared Western and Japanese design styles, saying "overseas jewellery design often creates a 3-dimensional effect by raising up parts of the design, but traditionally in Japan jewellery tends to be flat, because the items are worn as decorations on the wide obi sash of the Japanese kimono."
The stories that accompany these products add to their allure and value. Mr. Hatem Ben Ali, Sales Manager of August Gerstner Ringfabrik GmbH & Co. (Germany), was exhibiting his firm's line of wedding rings. "We are the oldest and biggest wedding ring specialists in Germany," he asserted, "having been founded in 1862 and run by the same family for 6 generations. Wedding rings are an emotional purchase, a kind of cultural purchase, and our Japanese customers like the fact that they're made in Germany by a family-owned company with a long history."
An Abundance of Whimsy and Romance, but Also Geared to the Modern Jewellery Professional
However much whimsy and romance add to the charm of jewellery for the final buyer, this industry, like any other, is run by professionals, who need the expertise and knowledge to appeal to professional buyers from department stores, jewellery chains and other wholesale and retail dealers from around the world.
One firm engaged in serving the general industry was the Gemmological Association of Great Britain. Ms. Samantha Lloyd, Gem-A Instruments Manager, and Ms. Julia Griffith, Gemmology and Diamond Tutor, explained their services. "We are here to do seminars and advertise our education courses in gemology," they said. Ms. Lloyd added, "not only specialists but hobbyists and people looking to get into the business show up as well. This is a friendly show with great opportunities, and we're happy to meet some of our Japanese students here as well."
Once purchased, jewellery and precious stones, like any fine items, need care and maintenance. The Pearl Science Laboratory (Japan) provides training and education for the proper preservation of pearls, a natural product which can dull and discolor with age. Ms. Sachiko Sakamoto, working in the Pearl Cleaning Section of the Laboratory as an expert in pearl cleaning, mentioned that the Laboratory's aim was "to broaden knowledge of long-term pearl care. Pearls are at their peak of value and beauty when first purchased, but if you know how to properly clean and store them, they will keep their lustre for a very long time." As part of their service, the Laboratory teaches not only this, but also how to evaluate pearl quality, and find the best pearls to fit your budget.
EXHIBITION DATA
Exhibition Name
IJT 2017
(28th International Jewellery Tokyo)
Dates
January 23-26, 2017
Frequency
Annually (28th time in 2017)
Venue
Tokyo Big Sight, Tokyo, Japan
Exhibitor Totals
1100 exhibitors
Visitor Totals
25,779 visitors
Ticketing
Free with Invitation Ticket and 2 business cards (online registration)
Organizers
Reed Exhibitions Japan Ltd.
Japan Jewellery Association
Contact
IJT Show Management
Tel: +81-3-3349-8503
Fax: +81-3-3349-8530
E-mail: ijt-eng@reedexpo.co.jp