Online Trade Fair Database (J-messe)

Japan International Aerospace Exhibition 2016 (JA2016)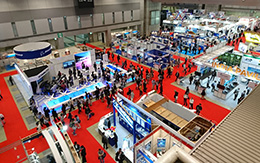 JA2016 is the best opportunity to access the latest activities and technologies in aerospace and defense and to meet with decision makers of companies and government policy makers.

Tokyo Big Sight, Tokyo, Japan
October 12-15, 2016
A Key Exhibition and Networking Event for Aerospace and Defense in East Asia
Currently held every four years, the Japan International Aerospace Exhibition 2016 (JA2016) is a major trade show for the aerospace and defense industries, held this year at Tokyo Big Sight from October 12 to 15. Featuring many global and local enterprises, as well as national and regional governments and ministries, the show is coming to be recognized as a vital venue and networking event, on par with other established international venues, with particular importance for the growing markets in the East Asia region.
Governments, Regions, the Military and Heavy Industry Come to Meet Small Niche Players in the Aerospace Industry
Some people may have the mistaken impression that the aerospace and defense industries are part of a cozy world off-limits to outsiders, but the great number of small and niche players actively interacting with representatives of governments and global corporations at Japan Aerospace 2016 disproves this notion decisively.
The exhibition featured many international pavilions, as well as pavilions representing Japanese regions eager for aerospace and defense business. As one local exhibitor, Mr. Yoshihiko Murata of Daisen Co., Ltd. (Japan) said, "we heard that a French firm was selling products similar to ours to Fujitsu, so we decided to exhibit here for the first time, thinking we might have a chance in aerospace." At the large India Pavilion, on the other hand, exhibitors were also glad to meet with local manufacturers. Mr. Vivek Verma, Joint General Manager of the Indian Ministry of Defence Ordnance Factory (India) said, "I like seeing all the many small companies focused on a specific technology or niche. They are real experts in what they do." In the same pavilion was Mr. Debabrata Shome, General Finance Manager of the Mazagon Dock Shipbuilders, Ltd. (India), who agreed, and added, "local response is very good from the many small Japanese manufacturers; it's a good introduction to local players."
Dr. Henry Hung, Program Manager of International Marketing at the National Chung-Shan Institute of Science and Technology (Taiwan), explained his reasons for exhibiting. "We concentrated previously on Europe, but Japan is the largest market in Asia," he said. "Lots of big companies like Mitsubishi are showing up in our booth."
And Mr. Jim Latson, Director of Business Development at Analytical Graphics, Inc. (USA), was happy to get good exposure for his software systems, used to track satellites and space debris, to key decision makers and stakeholders in Japan. He enthused, "even a [Japanese] Liberal-Democratic Party legislator stopped by for an explanation of our systems!"
Super Busy Show Draws Large Crowds of Industry-Focused Visitors
Many exhibitors were pleased with the large energetic crowds of visitors. Said Mr. Brian Napier, International Sales Manager at TW Metals, Inc. (USA), a specialty metal supplier, "we've got quite a stack of business cards. Our Vice President said that the first day was the best opening day of any show he'd ever been in!" Mr. Katsuhiro Nagasawa, President of Nagasawa Machinery Co., Ltd. (Japan), remarked that although this was his first time to exhibit, "we're here to collect info, and we really succeeded. This tradeshow is huge."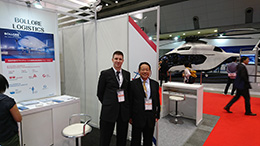 Mr. Lasse Thestrup, Customer Service Executive at Bolloré Logistics (France), had similar things to say. "It's been busy and hectic, and we've met a lot of companies looking to move into aerospace." While an exhibitor themselves, Bolloré Logistics was also in charge of moving some of its clients' products, including a massive helicopter, into the Big Sight venue itself.
Mr. Yoshihiko Murata of Daisen particularly liked the exhibition layout. "Visitors here", he observed, "are focused on their specialties, and the floor plan is clearly marked off into different categories, so our business card exchange rate with good potential leads is high. A well-designed tradeshow."
In fact, though the exhibition is held every four years, we heard quite a few calls to increase the frequency to every two years. As one exhibitor astutely remarked, "a lot can change in the market in four years."
Yet Japan Aerospace 2016 Still Finds Time to Educate and Entertain the General Public
The last day of the show was a "Public Day," when the doors were opened and the general public – with their children! – were allowed to mingle with the movers and shakers of the industry. And although the public came to ooh and aah, and snap pictures to their hearts' content, Mr. David Scotter, Director of Events and Market Development of the ADS Group, Ltd. (United Kingdom) observed that this had not proved any hindrance to the main business of the affair. "Although the public is allowed in," he said, "that hasn't stopped business discussions from continuing uninterrupted, as on previous days. The business people are still attending."
Mr. John Parker, Senior Manager of Tiltrotor Global Sales & Marketing of the Boeing Company (USA) was quite pleased with the extra visitors, even the small ones. "I especially like the Public Day," he asserted. "Our customers who came on business during the week, come on Saturday with their families, to show them what they do and explain their parents' business."
Mr. Parker has a point. There could well have been some future famous pilot or astronaut, walking the halls with toy helicopter or spaceship in hand and getting the first taste of a life-long passion, during Public Day at the Japan Aerospace Exhibition.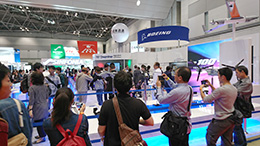 EXHIBITION DATA
Exhibition Name
Japan International Aerospace Exhibition 2016
Dates
October 12-15, 2016
Frequency
Every 4 years (14th time in 2016)
Venue
Tokyo Big Sight, Tokyo, Japan
Theme
Achieve your Business Goals in Tokyo
Exhibitor Totals
792 enterprises and organizations (Overseas: 190)
Visitor Totals
44,416 visitors
Ticketing

Trade Days: October 12 (Wed.) to 14 (Fri.)
Advance registration: JPY 2,000 (Tax included)
Registration at the Venue: JPY 5,000 (Tax included)
* Student JPY 2,000 (Tax included, requires presentation of student ID)

Trade/public day: October 15 (Sat.)
Advance purchase: Adult: JPY 1,000 (Tax included)
Purchase at the Venue: Adult: JPY 1,200 (Tax included)
* Free for student (requires presentation of student ID)
Organizer
The Society of Japanese Aerospace Companies (SJAC)
Tokyo Big Sight Inc.
Contact
The Society of Japanese Aerospace Companies (SJAC)
Japan International Aerospace Exhibition Office
Tel: +81-3-3585-1641
Fax: +81-3-3585-0541
E-mail: sjac-ja@sjac.or.jp