Established since 2000, JETRO Ho Chi Minh has provided services to assist businesses in Southern area of Vietnam from Lam Dong, Binh Phuoc, Ninh Thuan provinces to Ca Mau province.

We invite you to utilize the information on our website and to contact us to find out how JETRO can be of direct assistance to your business.
Contact us
You can contact us by email, telephone, fax or visiting at our address below:
Address:
14th Floor, Sun Wah Tower, 115 Nguyen Hue Street, District 1, Ho Chi Minh City, Vietnam.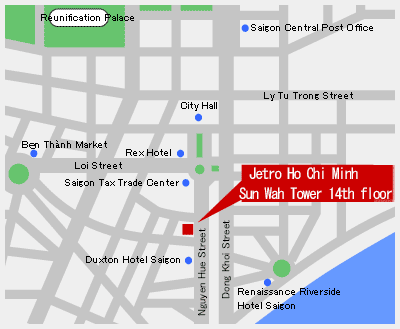 Contact
E-mail:vho@jetro.go.jp
INQUIRY FORM
Tel:+84-28-3821-9363 Fax:+84-28-3821-9362
Working hours:
Monday to Friday – 08:30-12:00 & 13:30-17:00(Except Saturday, Sunday and National Holidays)
Public Holidays (January – December 2011)
JETRO Ho Chi Minh closes the office on Vietnamese public holidays as promulgated in the Vietnamese Labor Code.
Where the Vietnamese public holidays referred to above coincide with a weekly day off (Saturday and Sunday), the Employee shall be entitled to take the following day off in compensation thereof.
Vietnamese Public Holidays
Every Year
Date
Office Closed(Solar Calendar 2011)
Solar New Year Holiday
The 1st January of Solar Calendar year (one day)
The 1st January (Saturday)
※Due to the 1st January is on Saturday,
the 3rdJanuary is a day off in compensation.
The 2nd January (Sunday)
The 3rd January (Monday)
Lunar New Year Holiday
The last day of the old Lunar Calendar year (one day)
and
The first three days of the new Lunar Calendar year (three days)
The 2nd February (Wednesday)


The 3rd February (Thursday)
The 4th February (Friday)
The 5th February (Saturday)
※Due to the 5th February is on Saturday, the 7th February is a day off in compensation.
The 6th February (Sunday)
The 7th February (Monday)
Kings Hung's Anniversary Day
The 10th March of the Lunar Calendar Year (one day)
The 12thApril (Tuesday)
Victory Day
The 30th April (one day)
The 30th April (Saturday)
*Due to the 30th April is on Saturday, the 2nd May is a day off in compensation.
The 2nd May (Monday)
International Labor Day
The 1st May (one day)
The 1st May (Sunday)
※Due to the 1st May is on Sunday, the 3rd May is a day off in compensation.
The 3rd May (Tuesday)
National Day
The 2nd September (one day)
The 2nd September (one day)