[Webinar] Regulatory Changes to Japan's Healthcare Market
JETRO San Francisco invites you attend a one-hour webinar series on emerging business opportunities for foreign companies in the Japanese healthcare market.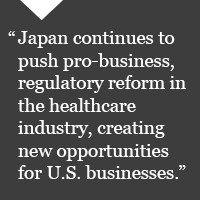 The Japanese healthcare market is the second largest in the world. Its scale, in addition to its aging yet affluent demographic, presents bio-medical and pharmaceutical companies with a large potential consumer market.
Japan is actively seeking to strengthen its international competitiveness, especially in regards to the healthcare industry. As part of achieving this, the Japanese government has pushed for new pro-businesses practices and regulation reform designed to simplify the market-entry process for foreign companies.
One particular area of focus for Japan is combating "drug and device" lag, which often plagues clinical trial and bio-medical startups. Japanese regulatory authority Pharmaceuticals and Medical Devices Agency (PMDA) recently edged out the U.S. Food and Drug Administration (FDA) for fastest approval rates. In addition, recent changes to the legal framework for medicine products now allow provisional approval before Phase III of clinical trials.
This webinar will highlight the changes and new developments occuring in the Japan market, and how foreign businesses in the pharmaceutical and bio-medical industries can utilize these changes to their advantage.
Emerging Opportunities: Regulatory Changes to Japan's Healthcare Market will run Thursday, April 28, 2016, from 11:00 a.m. to 12:00 p.m. PDT. The webinar is online and accessible from any internet-connected device.
This online webinar will be held in English, and will include both slides and a verbal delivery. The webinar is limited to the first 100 attendees, so early sign up is strongly recommended.

| | |
| --- | --- |
| 01 | The current trajectory of Japan's healthcare market as a whole, including emerging trends and market opportunities |
| 02 | Regulatory reforms: what has and will be approved in the near future (topics include first-human treatment, regenerative medicine, and orphan diseases) |
| 03 | New opportunities specifically available to foreign companies thanks to government initiatives towards commercialization of the bio-medical tech industry |
Come discover what business opportunities are available to you in Japan's healthcare industry! We look forward to your attendance at this unique event.

YOSHIAKI TOJO, Chief Executive Director of JETRO San Francisco

Yoshi TOJO was appointed to the Chief Executive Director of JETRO San Francisco in August 2014, responsible for promoting Cross-Pacific business development and technology commercialization. Yoshi has long been engaged in R&D management and technology startup acceleration, with his wide-ranging experiences in economic analysis and innovation promotion at the Government of Japan (NEDO, METI, and MOFA), the Organization for Economic Cooperation and Development (OECD), and Kyoto University.
JETRO San Francisco runs monthly mini-webinar series on the current Japanese business environment every fourth Thursday of each month. Coming seminar events are scheduled as follows:
April 28: Healthcare
May 26: Energy
July 21: Internet of Things