Matthew Rooney
Managing Director, Bush Institute-SMU Economic Growth Initiative, George W. Bush Institute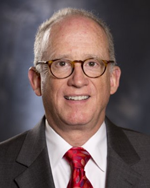 Mr. Rooney joined the Bush Center in June 2015 following a career as a Foreign Service Officer with the U.S. Department of State. At postings in Washington and abroad, he focused on advocating market-driven solutions to economic policy challenges in both industrialized and developing countries, and on protecting the interests of U.S. companies abroad.
Domestically, Mr. Rooney worked for then-Senator Fred Thompson, later he was on loan to the U.S. Chamber of Commerce in Washington, DC. Prior to the DC assignment he was Deputy Assistant Secretary responsible for relations with Canada and Mexico and for regional economic policy. Overseas, Mr. Rooney was Consul General in Munich, and Counselor for Economic and Commercial Affairs at the U.S. Embassy in San Salvador, El Salvador, he also served at posts in Gabon and Côte d'Ivoire.
Mr. Rooney studied Economics, German and French at the University of Texas at Austin and received his Master's Degree in International Management at the University of Texas at Dallas.