Hiroyuki Ishige
Chairman and CEO, Japan External Trade Organization (JETRO)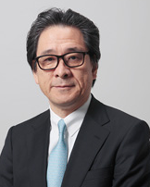 Mr. Ishige has held the position of Chairman and CEO of JETRO since October 2011. Prior to JETRO, he was Advisor to Sompo Japan Insurance Inc. following a distinguished career at the Japanese Ministry of Economy, Trade and Industry (METI).
Mr. Ishige's assignment with METI began in 1974 and he would conclude his post at the ministry as Vice-Minister for International Affairs. Other positions Mr. Ishige held at METI included Director-General of the Trade Policy Bureau, the Small and Medium Enterprise Agency and the Manufacturing Industries Bureau.
From 1989 to 1991 Mr. Ishige was First Secretary of the Permanent Mission of Japan to the International Organizations in Genève, Switzerland. He also served as Director of the GATT Affairs Office in the International Trade Policy Bureau 1988.
Mr. Ishige graduated from the University of Tokyo with a degree in economics.