[Press Release] Seminar Sees Japan's Biggest Brands Pitch Partnership Opportunities to U.S. Startups
SILICON VALLEY, CA August 23, 2016 - Plug and Play Tech Center, with the support of the Japan External Trade Organization, hosted its first reverse pitch event featuring established Japanese companies pitching partnership opportunities to local U.S. startups. The event drew nearly 200 attendees from a wide range of industries, including solar, IT, telecom, finance, and software.
Seven companies spoke at the event: NEC Networks & System Integration, Mizuho Financial Group, SoftBank Group, Systena America, Inc., Panasonic, Fujitsu, and Nissan. Representatives of each company delivered six minute pitches outlining their company's investment goals and industry-specific partnership interests.
The evening started with Shota Ushihara of NEC Networks & System Integration (NESIC). Mr. Ushihara highlighted NESIC's focus on the growing global demand for fish and shellfish products. Although demand continues to rise year-over-year, the industry faces serious complications: most fishery workers are over 60 years old and few individuals are willing or able to fill new spots due to lack of knowledge and income instability. NESIC wants to solve these issues through the use of technology; the company is seeking partners in IoT, Big Data, and AI to help develop new technology that can supplement the worker/knowledge shortage.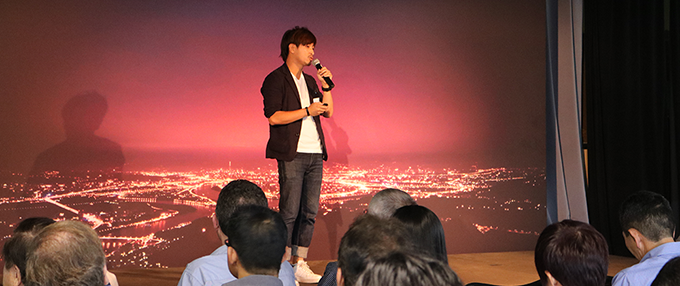 Mr. Ushihara was followed by Takahiro Maruyama of Mizuho Financial Group ("Mizuho"). Mizuho is seeking to partner with startups involved in Big Data, AI, and Blockchain technologies. The company is especially interested in technologies that focus on Trade Finance, Crowd Funding, and Robo Advisors. Mr. Maruyama noted Mizuho's successful partnership track record, which features companies including Amazon Echo, Moneytree, LINE Pay, and Facebook. Currently, Mizuho is working with Stanford graduates to develop a new voice-emotion recognition software for call center use.
Yoshiaki Tanaka of SoftBank Group spoke next. One of the world's largest telecom companies, SoftBank has expressed increasing interest in the IoT industry in the last few years. As part of expanding into the growing field, SoftBank is seeking partnerships with U.S. startups focused on IoT, Big Data and AI solutions. In particular, the company is interested in technologies that serve B2B2C and B2B transactions.
Michael Borgert of Systena America, Inc. followed Mr. Tanaka. In theme with the previous companies, Mr. Borgert expressed his company's interest in IoT and AI startups for potential partnership opportunities. He also highlighted previous successful business collaborations between Systena America and U.S. startups, including companies such as Reel Code Media, Plasma, and Strong Auth.
The next speaker was Norihiro Kondo of Panasonic. Mr. Kondo outlined the mutually beneficial relationship Panasonic shares with its startups partners. Startups that work with Panasonic are able to make full use of the company's extensive R&D capabilities, global distribution/network support system, and high-quality branding during the development and market phases of business. Startups are also able to promote their technologies to Panasonic's global customer base through its AVC Networks, Appliance, Automotive and Industrial Systems, and Eco Solutions networks. Panasonic is seeking partnership opportunities with IoT, robotics, and automation startups.
The event's final speakers included Shunsuke Imamura of Fujitsu and Vikram Krishnamurthy of Nissan. Mr. Imamura spoke of Fujitsu's ICT focus and interest in developing new technologies related to IoT, hybrid cloud, and app modernization. The company is seeking startups whose products serve these niche industries. Mr. Krishnamurthy focused on Nissan's goal of developing autonomous vehicles. Nissan is interested in producing self-driving vehicles that feature intuitive human-machine interfaces. In particular, the company is seeking startups whose can help develop technology that enhances vehicle intelligence, electrification, and connectivity (IoT).
The event finished with a Q&A session, followed by a period for startups to meet and speak one-on-one with the speakers.