[Press Release] Silicon Valley-New Japan Summit Sees Strong Interest from Startup Community
OCTOBER 4, 2016, Palo Alto, CA - The Stanford Silicon Valley-New Japan Project held the Silicon Valley-New Japan Summit 2016: Activating Silicon Valley Startup-Japan Connections event for Japanese corporations and startups seeking knowledge deepening, networking, and business matching opportunities. The event was hosted in partnership with Ishin USA and their media project, The SV Startups 100, on October 4 at Stanford University.
The event featured two panel discussions showcasing successful partnerships between Silicon Valley startups and Japanese corporations, eight startup business presentations, and an afternoon business networking session with startup booth displays.

Left to Right: Kenji Kushida, Stanford University; Nick Sugimoto, Senior Program Director, Honda Silicon Valley Labs; Yo Koga, CEO, Drivemode.
The first panel discussion featured Nick Sugimoto, Senior Program Director of Honda Silicon Valley Labs, and Yo Koga, CEO of Drivemode. Drivemode is a startup with an app interface that allows drivers to access the features on their phone while reducing the risk of road distraction.
Mr. Sugimoto highlighted Honda's permanent presence in Silicon Valley through its innovation lab as one of the major reasons for its partnership success. Mr. Sugimoto noted that corporate VC efforts by Japanese companies often fail due to a knowledge gap between Silicon Valley and Tokyo HQ. This knowledge gap occurs and is exacerbated by a lack of presence in Silicon Valley as well as a lack of company representatives who understand and can navigate both business cultures. When this link is missing, communication breaks down and frustrations occur on both sides. Eventually, these frustrations grow too great and partnerships fail as a result.
Mr. Sugimoto stressed the need for a permanent presence in Silicon Valley if Japanese corporations wish to fully understand and collaborate with startups at a pace that can satisfy both sides.
Mr. Koga also touched on the need for understanding if partnerships are to succeed, especially with regards to Non-Disclosure Agreements (NDA). For Japanese corporations, NDAs signal the desire for a committed, exclusive business relationship. It also protects big assets from unnecessary risk. Unfortunately, NDAs can also slow innovation to the point of killing it. Mr. Koga emphasized that startups should be communicative about their own needs and unafraid to discuss NDAs and contracts to ensure both sides are satisfied with the partnership. With Honda, Drivemode was able to re-write their contract to maintain an open working relationship. Although Drivemode is partnered with Honda, they are also able to partner with other companies as opportunity arises.
First Column: Ryan Pamplin, VP, Meta; Hayato Koeda, General Manager, DocuSign Japan KK; Matt Kaufman, Head of Operations, CrunchBase; Sam Rosenbaum, Head of Asia Pacific, CoinBase. Second Column: Leo Giel, CRO, YouAppi, Duncan Logan, Founder and CEO, Rocketspace; Yoshiaki Tojo, Chief Executive Director, JETRO San Francisco. Third Column: Anand Sanwal, CEO, CB Insights.
The panel discussion was followed by a series of business presentations from Meta, YouAppi, CrunchBase, and RocketSpace. RocketSpace emphasized an interest in establishing a business presence in Tokyo for the purpose of finding and supporting Japanese startups.
The afternoon session finished with additional presentations by DocuSign , CB Insights, and Coinbase, as well as a final panel discussion between General Manager Ryoichi Togashi of Komatsu and Skycatch Founder and CEO Christian Sanz. Skycatch is a startup that offers a drone data software platform for commercial purposes.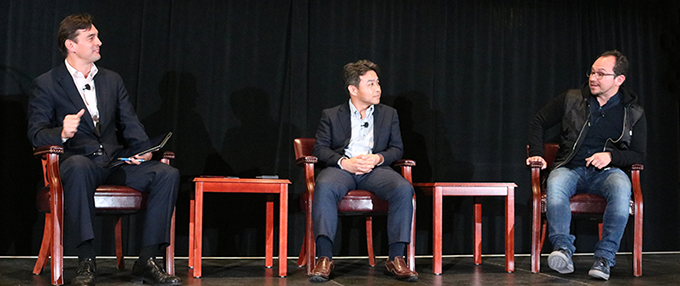 Left to Right: Kenji Kushida, Stanford University; Ryoichi Togashi, General Manager, Komatsu; Christian Sanz, CEO, Skycatch.
Mr. Sanz outlined the benefits of their partnership with Komatsu, including the company's forward-thinking methods and commitment to success. Komatsu saw the value of a partnership with Skycatch, especially with regards to land development. For Komatsu, Skycatch technology would allow it to simplify complex land development procedures by reducing reliance on human expertise and intuition. Utilizing three dimensional mapping, machines could be pre-programmed to reshape the landscape with minimal human direction.
Mr. Sanz also pointed out an unexpected benefit of working with a Japanese company: less regulation. Each year the U.S. sees increasing regulation on the use of drones for commercial purposes; by contrast, Japan's policies have remained relatively simple, resulting in more business opportunities and faster product application for Skycatch.
Both partners reiterated a commitment to communication, especially in regards to NDAs. For Mr. Sanz, success came through a piece-by-piece re-write of the contract that allowed both parties to establish a collaboration process that addressed company interests and concerns.
The final panel discussion was followed by an afternoon of scheduled business match meetings as well as an open floor of booths featuring various startup technologies.