[Review] Seattle Seminar Highlights Legal Considerations for Companies Expanding to Japan
SEATTLE, WA - Approximately 50 people from the Seattle and Bellevue areas attended the "Building a Business in Japan" seminar on November 4 at the University of Washington School of Law. The event, hosted by the UW School of Law Asian Law Center and the Japan External Trade Organization (JETRO), highlighted common legal issues companies face when expanding their business presence to Japan. This event was the first of its kind for JETRO in the Seattle area.
Four attorneys spoke at the seminar on the subjects of immigration, IP, tax, and corporate law.
Elly Baxter, an attorney for Baxter Law International PLLC and former in-house council for IBM Japan, discussed choosing the right immigration visa when bringing overseas employees to Japan.
"There are 17 work-related visas companies can choose from," said Baxter. These visas vary by length of stay and the type of work an employee performs. Common visa types utilized by foreign companies are the business manager visa, used for CEOs, managers, and executive-level employees, the engineer/specialist visa for highly skilled workers including programmers, and the intra-company transferee visa, used for transferring employees currently working for the company outside Japan.
Baxter emphasized that companies should consider their business model prior to hiring anyone, as some visas require employees to be paid by a Japanese company (K.K. or G.K.) instead of the foreign company.
Baxter was followed by TMI Associates attorney Toyotaka Abe. Prior to his work for TMI Associates (one of the Big Five law firms in Japan), Abe served as the Director of IP at Microsoft Japan. Abe discussed the value of filing patents in Japan, which is one of the top-ranked countries for IP rights.
Japan has a high patent grant rate (approximately 70 percent) and a speedy approval process of about 24 months. IP rights are well respected in Japan and help companies earn consumer trust with Japanese customers. They also have the additional benefit of providing legal protection to companies who suffer infringement.
"If you are faced with litigation, the good thing for the patentee is that once a complaint is filed, your competitor has to stop their business or stop their product. [This is] unlike the United States, [where] even if you file a complaint you will not [necessarily] be issued an injunction. But in Japan, the court will almost always issue [one]. The result of this is it almost always compels companies to negotiate before reaching a point of having an injunction issued against them."
Over 300,000 patents are filed in Japan each year, with the United States accounting for nearly 26,000 of those. The number of patent applications filed each year has remained relatively steady over the last decade.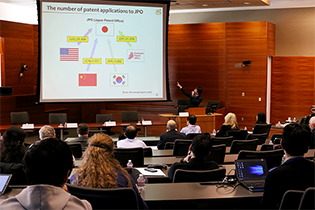 Masahiro Yoshimura, the Founding and Managing Member for the Washington International Law Group, a boutique corporate and tax-focused law firm, followed Abe with a high-level discussion on business strategy.
"You should have a global strategy about where and how you want to do business in [the Asia Pacific]. [From that, you should] come up with an optimal structure in terms of tax and other corporate situations."
Final speaker Sara Sandford, an attorney for Garvey Schubert Barer, agreed with Yoshimura and stressed the importance of planning ahead before beginning the expansion process. Companies should consider a variety of matters, including things like "how much control you have, as well as how much you have [to] invest in terms of resources, time, and energy," she said.
"Do due diligence before pursuing business activity. You really want to know your partner, evaluate your market, [and] get an idea of what your resources are going to be when you get there. [Figure out] what are your strategies for selecting, structuring, and managing your international partnership of venture. Look at the different options about how to structure your business. It will have an effect on what your risks are. [Look] at what your specific needs are to decide what [business structure] really best suits your venture, and whether you have the people and financial resources [for] that."
Most of all, Sandford stressed the need for understanding, both on a cultural and legal level: "Be prepared for understanding. When you start negotiations with somebody… remember that you are in a different place and that there are different cultural norms."
In case of legal disputes, companies should be aware that "pursuing an action in Japan is not only an expensive proposition, it's all in Japanese. If you don't have that capacity, it can be quite hard to follow what's going on. It's a time where it's key to have great local council who really know the differences in the systems and can help you understand what's going on."
For companies who are in legal conflict, arbitration is an excellent means of dispute resolution: "Often we get Japanese clients to agree to arbitration in Hawaii. Even if it's a legal U.S. proceeding. Hong Kong also works. These two areas tend to be acceptable to Japanese parties."
The presentations were followed by a panel session with open Q&A and a social networking period.
To learn more about this event, the speakers, or to request an event like this in your area, please contact JETRO San Francisco staff directly here.