[Press Release] San Antonio Kicks Off Fundraising Effort for Sister City Kumamoto
SAN ANTONIO, TEXAS - On Thursday, the City Council of San Antonio kicked off the Kumamoto Earthquake Relief Fund, a six-month fundraising effort for San Antonio's sister city Kumamoto, Japan. The event was attended by local citizens of San Antonio, as well as 17 community partners.
Between April 14 and April 16, 2016, Kumamoto was struck by a series of devastating earthquakes. The city suffered numerous losses, including the death of 49 citizens and an estimated $2.5 billion in property damage. In addition, the city's famous Kumamoto Castle suffered a series of collapsed walls and turrets, forcing its indefinite close to the public.
The fundraising event will help support the survivors and victims of the earthquake, rebuild Kumamoto's infrastructure, and help cover repairs for Kumamoto Castle.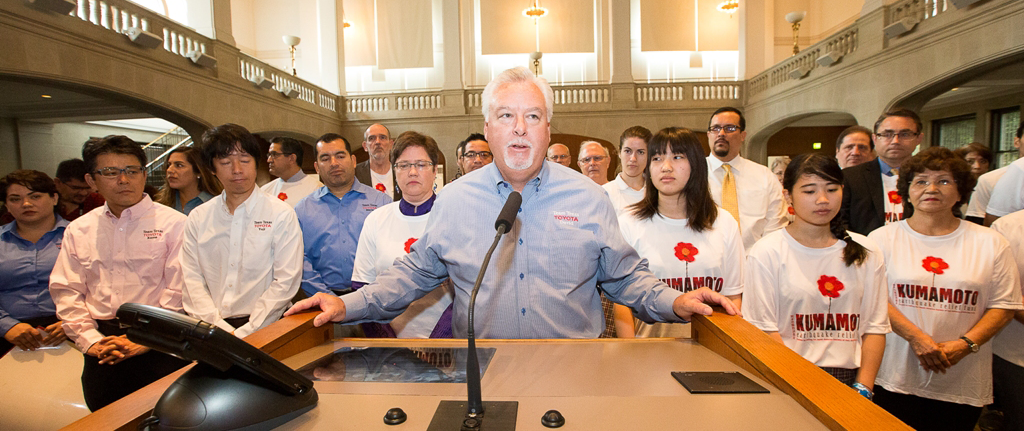 San Antonio was originally twinned with Kumamoto in 1987. Since the agreement, the cities have provided support to one another in the form of cultural and commercial ties. The event saw San Antonio Mayor Ivy R. Taylor and a number of Council Figures speak to the long-standing relationship between the communities of San Antonio and Kumamoto.
To read the full event press release, please visit the City of San Antonio official website.
To donate to the Kumamoto Earthquake Relief Fund, please visit the Japan-America Society of San Antonio official website: