[Review] JETRO Fintech Webinar Reveals Interest in Collaboration, Not Competition
OCTOBER 28, 2016 - On Friday, JETRO San Francisco Chief Executive Director Yoshiaki Tojo hosted a webinar discussing recent regulation and business developments in Japan's fintech industry. This is the seventh episode of JETRO San Francisco's monthly webinar series, which features talk on emerging business opportunities in various industries in Japan. Past webinar topics include healthtech, IoT, and energy.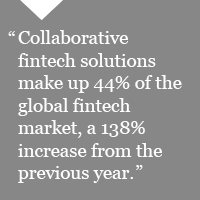 This month's webinar focused on recent shifts in Japan's fintech market. Although the fintech market has traditionally oriented itself towards competitive innovation (innovation designed to disrupt existing financial institutes), startups are shifting their interest towards collaborative solutions that work with current financial institutes rather than displace them. An analysis of last year's global fintech market found collaborative solutions comprised 44 percent of the market, a 138 percent increase from the previous year. By contrast, competitive technology solutions, although still a strong 56 percent of the total fintech market, saw a more modest (23 percent) YoY growth.
Many of Japan's largest financial institutions are interested in the shift towards collaborative fintech solutions. In the last year, Mizuho Financial Group, Mitsubishi UFJ Financial Group, and Sumitomo Mitsui Financial Group all invested in VC-backed fintech startups. The benefits of these partnerships are two-fold: financial institutions can work with more nimble startups to access new technology trends and innovation, and fintech startups gain access to large, pre-established consumer markets on a global scale.
Recent policy
changes in Japan are designed to encourage these partnership opportunities. In May, Japanese legislators changed banking laws which had prevented banks from owning more than 5 percent of nonfinancial companies (the new cap is 15 percent). Additionally, the Financial Service Agency (a Japanese government organization that oversees banking, securities and exchange, and insurance in Japan) established a fintech support desk to serve foreign fintech startups and the Experts Panel on Fintech Startups, a new entity focused on promoting a fintech ecosystem in Japan. A shift in mindset has also come with the policy changes: this August, Bank of Japan Governor Haruhiko Kuroda announced the BOJ's goal to make fintech solutions a part of its operating process. The BOJ also expressed interest in incorporating digital currency into its financial system as digital payment becomes increasingly more popular.
Japan is the sixth largest national market for fintech, with an estimated $65 million market value in 2015. The market is expected to see continued growth (so far, Japan's fintech market has grown approximately +20 percent YoY) as regulation and business attitudes shift to welcome new technologies. In anticipation of this, several fintech startups have already entered the market, including: freee, bitFlyer, Origami, One Tap BUY, metaps, Money Forward, Quoine, and more.
As Japan continues to deregulate its financial industry in preparation for fintech solutions, companies can work with JETRO to identify partnership opportunities and market entry paths that will allow them the greatest opportunity for success. To learn more about how JETRO can help fintech startups, please contact us here.