[Review] Reverse-Pitch Event Highlights Partnership Opportunities with Japanese Companies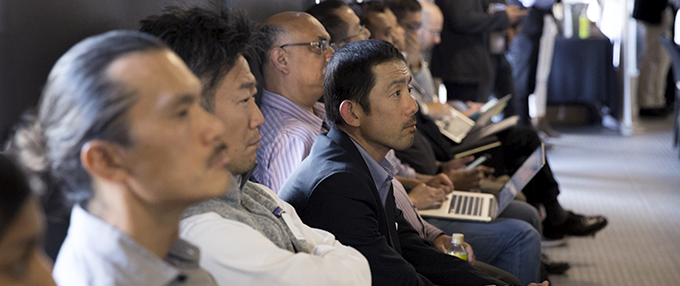 Sunnyvale, CA October 6, 2017 – The Japan External Trade Organization (JETRO), in partnership with startup accelerator Plug and Play Tech Center, hosted its second annual reverse pitch event. The event, which featured Japanese companies pitching partnership opportunities to startups, drew over 200 attendees from the San Francisco Bay Area.
Seven companies spoke at the event: SoftBank, Sumitomo Mitsui Financial Group, Asahi Kasei, Macnica Networks, Paramount Bed, Koito, and Osaka Gas.
SOFTBANK
SoftBank representative Yoshiaki Tanaka spoke first. SoftBank Group is one of the largest global technology players in the world with a portfolio of companies that include advanced telecommunications, media, internet services, robotics, and clean energy.
SoftBank is currently seeking to develop IoT technology that can be applied in corporate, retail, smart city, and smart home settings. In particular, Softbank is looking to partner with startups that can develop low-cost IoT sensors that can:
Monitor technology performance and predict maintenance needs
Track retail customer journeys through various mobile devices
Analyze and report on the conditions of a residential or commercial building
Streamline the needs of a "smart city" (IoT devices that improve education, infrastructure, disaster response and prevention, recycling, and others)
Startups who partner with SoftBank will receive distribution in Japan, the North American market, and the Asia-Pacific region.
SUMITOMO MITSUI FINANCIAL GROUP
Tanaka was followed by Tomoyuki Kimura from Sumitomo Mitsui Financial Group (SMFG). SMFG is one of the largest banking and financial companies in the world, with expertise in commercial banking, leasing, securities, and consumer finance.
SMFG is seeking to improve their mobile financial technology with new fintech solutions. At this time, SMFG is open to all different fintech innovation.
Startups who partner with SMFG will gain access to its global customer base, its comprehensive data set, and its Financial APIs. Startups are also eligible to use SMFG's free incubation office space, which is located in Shibuya, Tokyo.
ASAHI KASEI
Asahi Kasei's Masahiro Morizumi followed SMFG. Asahi Kasei is a global chemical company with products in the materials, homes, and healthcare industries. Previous products range from Saran Wrap󠅨™ cling film to AEDs that provide emergency support.
Asahi Kasei is looking to develop new technology for digital healthcare and the automotive sectors. For automotive, the company wants technology that will:
Foster a hands free, voice-activated communication system
Monitor driver's pulse and the CO2 rate in the vehicle
Improve overall vehicle response times
Increase driver and passenger comfort
For digital healthcare, Asahi Kasei is seeking to develop wearable technology that will monitor and treat patients and databases that will collect and analyze patient information and treatment responses (Big Data).
Asahi Kasei will provide investment and R&D support to partner startups. Once a technology has been developed and approved for market release, it will be produced and sold through Asahi Kasei's marketing channels.
MACNICA NETWORKS
Macnica Networks was presented by Daisuke Nishimura, Director of Business Development for Macnica Networks USA. Macnica Networks Corporation is one of Japan's leading distributors for a wide range of advanced network products and information technology.
Macnica Networks is looking for new technology in three primary areas: internal security, security operations, and external security. Specifically:
Internal Security:
New data security that will handle insider threats
Security as a Service
Attack simulation programs to handle and prevent advanced threats
IDS for enterprise IoT
Security Operation:
New solutions that can streamline SecOps
External Security:
Bot detection software
Security that focuses on clouds and containers
New identity/authority security
In addition to security-oriented technologies, Macnica Networks is also seeking startups who can support their ongoing initiatives: developing IIoT end-to-end solutions that handle everything from sensors to application, creating a one-stop manufacturing location for autonomous vehicles, and combining NLP and ML to streamline human tasks.
PARAMOUNT BED
Paramount Bed Co. Ltd. manufactures and sells beds, mattresses, and equipment for medical and nursing care environments and subsidiaries engaged in the inspection and maintenance of Paramount Bed products.
In his presentation, Paramount Bed representative Maya Hoshino discussed the company's business goals:
Share information between hospitals and homes more effectively
Indirectly monitor patients in order to receive more-accurate readings
Develop technology that assists patients with dressing, bathing, eating, and location transfer
To meet these goals, Paramount Bed is looking for:
Sensing technology that can be installed into its beds and other healthcare equipment
ADLs assistive technology
IT technology that can connect "smart beds" to the hospital (so hospitals can effectively monitor a patient's condition both in the hospital and also from a patient's house or other place of care)
KOITO MANUFACTURING
Takeshi Masuda, Project Director for Koito Manufacturing's Silicon Valley Lab, spoke next. Koito manufactures lighting used in automotive, aviation, railway, shipping, and traffic systems around the world.
Koito is currently looking to partner with startups to produce sensor-integrated headlights and smart city/smart factory mobility. With regards to sensor-integrated headlights, Koito is specifically looking for: small LiDAR, RADAR, CAMERA sensor recognition AI and sensor fusion technology. For smart cities, Koito is looking to develop intelligent intersections, technology that will provide merging assistance, and traffic-monitoring drones. For these purposes, Koito is seeking Cloud, Fog, 5G, Big Data, and business applications. Koito is also seeking IIoT predictive maintenance technology for smart factories.
Koito is a corporate member of Plug and Play and has an office in San Jose.
OSAKA GAS
Hiroaki Izuma of Osaka Gas presented last. Osaka Gas is a second-largest gas company in Japan and has 7 million gas and electric customers. Osaka Gas also has a large global presence, including 20 power plants in North America. Osaka Gas owns more than one hundred non-energy subsidiaries in home security, elderly care, fitness club, cooking school, housing, real estate, material, system integrator and 200 retail shops.
Osaka Gas is currently looking to develop new clean energy solutions for pipelines, LD (gas/electricity distribution business), gas marketing (gas solutions, marketing), IPP (power generation), and renewables. In particular, Osaka Gas is looking to:
Produce energy management solutions for residential and C&I vai AI and IoT solutions
Create a predictive analytics system and other forecasting tools to handle electricity demand, weather conditions, and machine failure
Develop technology solutions that manage energy demand
Develop and employ new technology to maintain aging energy infrastructures (such as inspection robots for gas pipelines and on-destructive inspection technologies)
Create low carbon technologies such as carbon immobilization technology
Osaka Gas has partnered with over 30 IT startups in the past, including sumologic, Marketo, SilkRoad, MuleSoft, and other companies. It also has domestic partnerships with IBM, Oracle, Salesforce, RedHat, and others.
RECEPTION
After the pitch sessions, attendees were given the opportunity to meet and network with the speakers.
Jay Akar, Owner of Movabowl, found the event to be exactly what he was looking for: "The most beneficial thing [about this event] was a lot of these companies, a lot of these high-level executives that are here representing their companies, are often impossible to reach. [They're] Very difficult to reach. And here they are, just a few feet away from us, shaking hand[s], handing out their business cards, giving their email.
Normally, trying to reach these level of these executives is impossible, very difficult. And here they are, very accessible, and you're able to get direct answer from them, saying either we are interested or not interested. [It's completely different from the normal route of] having to go through many people before you get to them."
Akar felt the event was particularly useful for his technology: "I have a specific interest in meeting [Japanese companies] that have interest in medical and technology for elderly care sector. That's why I came to meet with the specific company. Paramount [Bed], that company is the perfect fit for what I want to accomplish. Asahi [Kasei] is another potential fit. Also Sumitomo Mitsui Financing, [since] they also [showed] potential interest [towards] what I am trying to accomplish…I drove 8 hours…to get to this event."
Rick Chen, owner of an IoT startup company in the Bay Area, also found the event informative: "I learned about what I didn't know before…like what kinds of businesses [there are] in Japan right now [that] require startups to [come in] and help out."
GET IN TOUCH
To get in touch with the presenters, or to learn more about business partnership opportunities with Japanese companies, contact the JETRO San Francisco office.