[Press Release] Prime Minister Abe Kicks off FDI Seminar in New York
NEW YORK, NY September 19, 2016 - JETRO New York and METI hosted a Japan investment seminar, Investment Opportunities in Japan: Toward the New Asia-Pacific Era 2016 on Monday, September 19th in the Grand Ballroom of The Pierre in Manhattan.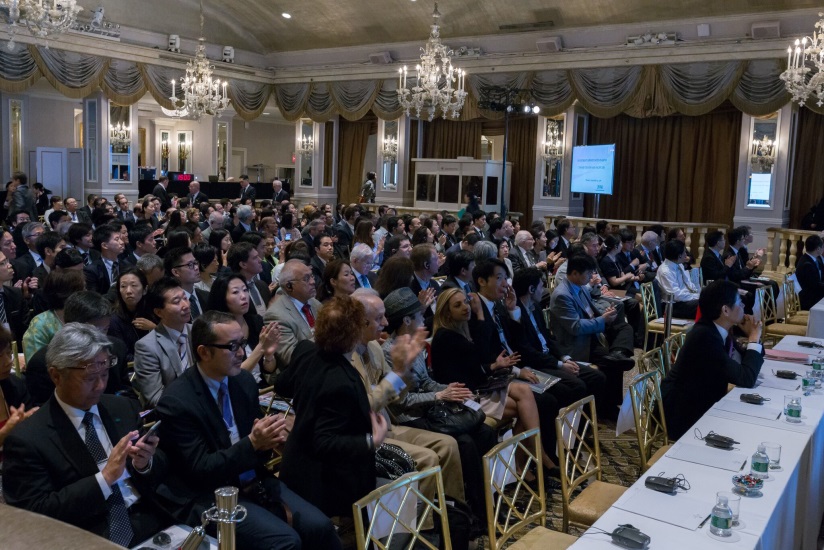 Prime Minister Shinzo Abe opened the seminar and was followed by nine speakers from industry, government and academia, including keynote speeches delivered by Professor Takatoshi Ito of Columbia University's School of International and Public Affairs, Stephen R. Volk, Vice Chairman of Citi and Chairman of Citi's Institutional Clients Group, and Akira Kiyota, Director, Representative Executive Officer, and Group CEO of Japan Exchange Group, Inc. These speakers shared their thoughts on the current state of the Japanese economy, and on the prospects for future business and investment in Japan. More than 300 guests attended the seminar, representing a range of manufacturing and service industries, including IT, biotech, finance, insurance, consulting and law.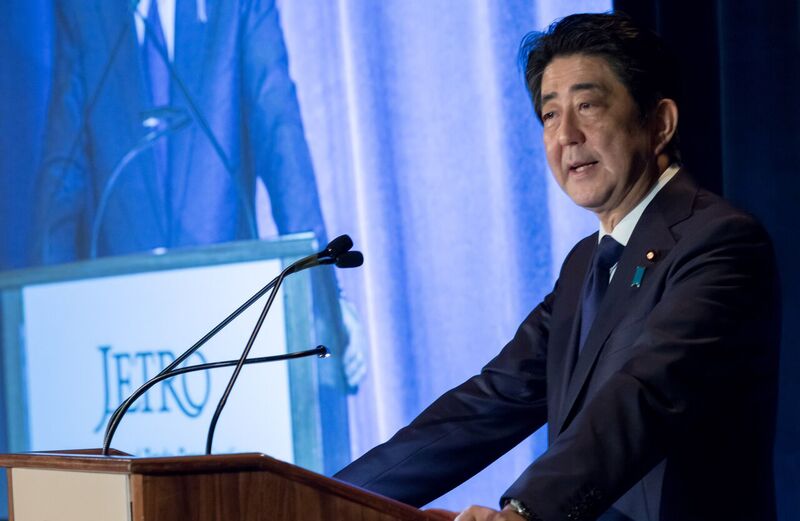 Prime Minister Abe spoke about the impact of reforms his government has undertaken, such as a faster approval process for regenerative medicine and an improved immigration system for skilled foreign workers, as well as the potential effects of the TPP. He stated that, "the new rules under the TPP will enable intrepid businesses with unique technologies or local specialties to flourish in overseas markets." He also argued that the TPP will strengthen the economies of both the US and Japan, and that the US should approve the TPP as soon as possible. Prime Minister Abe made it clear that he is working hard to make Japan an attractive destination for investment.
Prime Minister Abe was followed by Professor Takatoshi Ito of the School of International and Public Affairs at Columbia University, who spoke about the achievements of Abenomics, as well as its ongoing challenges. He spoke about continuing improvements in GDP growth and reductions in unemployment, as well as rising stock and real estate prices. He also touched on the ongoing efforts to fight deflation, stating that if the effects of lower oil prices are taken into account, deflation is already over. Finally, he spoke about several current challenges facing Japan, especially the aging population, and what Japan is doing to face these issues.
Stephen Volk, the Vice Chairman of Citi and Chairman of Citi's Institutional Clients Group, began his remarks with a brief history of Citi's involvement in Japan, before moving on to the ongoing changes to the Japanese economy. He noted increasing demand for Japanese stocks and bonds, in addition to growth in foreign direct investment. Mr. Volk also applauded a number of current government policies, including reductions to the corporate tax rate, increased efforts to improve English-language proficiency, and reforms to corporate governance. He then touched on key opportunities Citi sees in Japan, including tourism, pharmaceuticals, and technology related to senior care.
Akira Kiyota, Director, Representative Executive Officer and Group CEO for Japan Exchange Group, Inc., which operates Japan's major securities exchanges, spoke about corporate governance in Japan. He touched on the prolonged slump after the collapse of the bubble economy of the 80's and the stock price stagnation that accompanied it. He then explained how changes in corporate governance, in the form of Japan's new Stewardship Code and Corporate Governance Code, have stimulated competition and improved capital efficiency, bringing investors back to the market and boosting stock prices. Mr. Kiyota also spoke about how corporate governance can be further improved, including efforts by Japan's Financial Services Agency and the Tokyo Stock Exchange to further improve these corporate governance codes. He was followed by Hirotoshi Tanaka, President of JETRO New York, who spoke about the investment climate in Japan and about business opportunities for US companies.
In the second session of the seminar, Dr. Ziad Haider, Special Representative for Commercial and Business Affairs at the US Department of State, first spoke about TPP, and the benefits it could bring to both the US and Japan. He was followed by Dr. Marco Annunziata, Chief Economist and Executive Director of Global Market Insight for General Electric, who spoke about GE's long history in Japan, its mutually beneficial relations with Japanese companies, and the future opportunities it sees there, including technology such as advanced aviation materials and state-of-the art manufacturing. Kathryn E. Wengel, Worldwide Vice President for Johnson & Johnson Supply Chain, gave an overview of Johnson & Johnson's business, both worldwide and in Japan, before discussing current initiatives in Japan, such as their Tokyo Science Center and Chronogate, a new, state-of-the-art distribution center in partnership with Yamato Logistics. Yasutomo Suzuki, Mayor of Hamamatsu City, spoke about Hamamatsu City's many attractions, such as its central location, natural beauty, and global industries, including textiles, musical instruments, and transportation equipment, as well as the local government's support for business, including a new subsidized industrial park. Finally, Hirofumi Katase, Vice-Minister for International Affairs at METI, who spoke about responses to Japan's falling population, including the use of AI and robotics, as well as reforms to how we work, including more support for women in the workplace and for telework systems.