[Event] Nippon Gochiso Select Hosts Japanese Tasting Kiosk at Berkeley Bowl West
A TASTE OF ARTISAN JAPAN IN THE BAY
Nippon Gochiso Select Pops Up in Berkley Bowl West this Fall
SAN FRANCISCO, CA (November 2015) - Nippon Gochiso Select (NGS) is a cross-cultural project that aims to raise awareness of Japanese food culture and promote premium products. Launching this October in the Bay Area, the project encompasses a series of collaborations with local businesses, revolving around a selection of 40 artisanal Japanese food products curated by an international team of culinary professionals.
At the crux of the Nippon Gochiso Select campaign is the NGS pop-up shop, located inside Berkeley Bowl West in the East Bay. From October 29 - December 19, the NGS pop-up shop will showcase a lineup of 40 artisanal products -- most of which are not currently available in the US -- from small and family-owned companies in Japan. The product portfolio includes items such as barrel-fermented organic soy sauce, boutique rice vinegar, organic miso made using traditional methods, and top-quality roasted nori (seaweed) served at sushi restaurants in Tokyo such as Sukiyabashi Jiro.
Selected according to the NGS set of standards, the products are natural, free of harmful chemical additives and GMOs. Visitors will have the chance to sample the products, along with modern Japanese recipes developed by NGS Culinary Director Ema Koeda, at the NGS tasting kiosk, a freestanding structure that was modeled after a contemporary Japanese food stall. Additionally, a menu of NGS takeaway food specials will be available for purchase at the Berkeley Bowl Deli.
The project is the brainchild of Ema Koeda, whose lifelong dream has been to "connect cultures through food." She saw the growing interest in Japanese cuisine among food enthusiasts around the world as an opportunity to introduce a higher level of handcrafted products to markets abroad. Koeda began discussing ideas with food journalist Melinda Joe, who had experience organizing pop-up dinners in Tokyo, and the two approached brand architect CIA, Inc., to get the venture rolling. Working together with Tokyo-based organic grocers Food & Company, the core team in Japan reached out to four Bay Area chefs and invited them to join the NGS selection committee.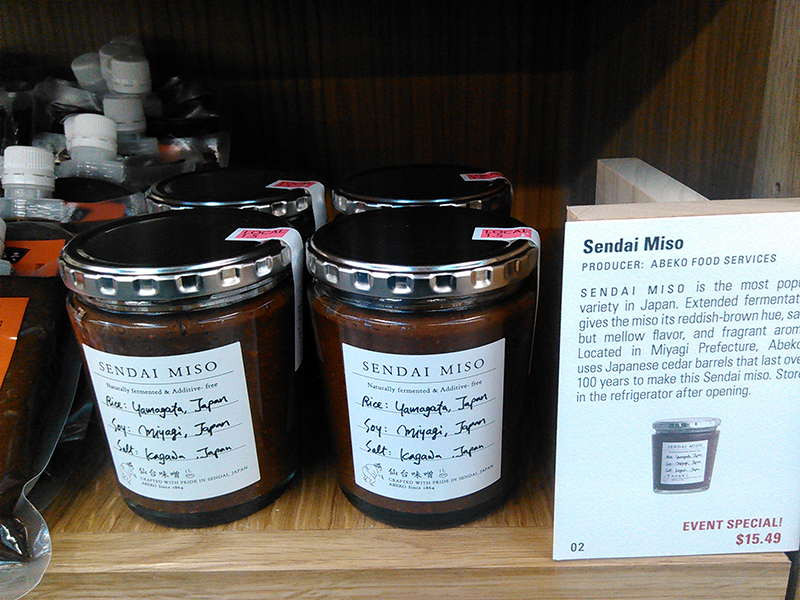 Nippon Gochiso Select has partnered with local chefs Jason Fox of Commonweath and Oro in San Francisco, Kyle Itani of Hopscotch and Chikara Ono of B-Dama in Oakland, as well as Melissa King of Top Chef and Co + Lab. The chefs have developed exciting new recipes with the products, which will be offered at selected restaurants during the promotion period. Special NGS menu items from Hopscotch and Craftsman and Wolves will also be available for a limited time via the popular food delivery app Caviar, starting November 1.
The Nippon Gochiso Select project has been made possible with the support of the Japanese Ministry of Agriculture, Forestry, and Fisheries and Japan External Trade Organization (JETRO). Nippon refers to Japan, and the word gochiso has multiple meanings related to feasting, hospitality, and gratitude. In Japan, "Gochiso-sama deshita" is said at the end of the meal to express appreciation. It's a concept at the heart of Japanese food culture – a reminder that the daily act of eating can be a celebration.
NGS Pop-up Shop: Located inside of Berkeley Bowl West from Oct. 29 - Jan. 1, 2016.
920 Heinz Avenue Berkeley, CA 94710 | Phone: 510.898.9555
For more information, visit the Nippon Gochiso Select website ngs.cia.tokyo
Project Director: Sy Chen is the founder and CEO of CIA, Inc., a progressive brand consulting company that has created successful campaigns for Japanese brands such as Uniqlo, Tokyo Mitsubishi UFJ Bank, and Peach Airlines.
Culinary Director: Ema Koeda is a concept creator, recipe developer, and food educator based in Tokyo. Raised in Japan and the US, Ema trained at the Culinary Institute of America at Greystone and provides food and wine consulting services internationally.
Creative Adviser: Melinda Joe is a food journalist and certified sake professional living in Tokyo. A columnist for the Japan Times and FOUR Magazine, she has written about Japanese and world gastronomy for media outlets such as The Wall Street Journal, CNN, and Newsweek.
Product Coordinators: Food & Company is an organic grocery store and community gathering spot located in Tokyo. Maya Yatabe and Bing Bai opened the shop as a place where people who share a love of good food and company can connect.