[Food] Matcha Finds a Home in Chicago - Guest Post by Mike Sula
Fourteen years ago, when fine tea importer Rodrick Markus, owner of Rare Tea Cellars, first began importing matcha from Japan, he found it to be a hard sell. "For the first eight years we probably threw out more than we sold," he says. "Just couldn't get a market for it. I've always started with the best and worked my way down, and the true ceremonial grade stuff from Kyoto could go up to 120 bucks an ounce. It just kind of alienated people."
That's all changed now. Today Markus brings in about a dozen different types of matcha. "With every other culture that tries to grow matcha, nothing compares to the Japanese just because of the shade grown technique," he says. of course, to the practice of shading the tea plants during the last three weeks before harvest, which stimulates more intensive amino acid, theanine, and chlorophyll production in the leaves. After they're picked and dried, they're known as tencha. Tencha can be sold as is or can be stemmed, deseeded, and ground into the fine, emerald green, talc-like powder known as matcha.
Apart from serving matcha as tea, Japanese chefs have learned to use it in all sorts of culinary applications, making everything from matcha ice cream, to pastries, to candies, to noodles, to mochi, and much more.
That's only caught on recently here in Chicago. Markus eventually had more success importing tencha, which is milder, sweeter, and more delicate tasting than matcha. It seemed less intimidating to American palates. About that time he noticed a few of his chef customers starting to experiment with it as an ingredient. "People started dabbling, but I think at first didn't really know any application beyond using it in pastry." Since then he's seen it in noodles, chips, bread, custards, cocktails, and coffee drinks.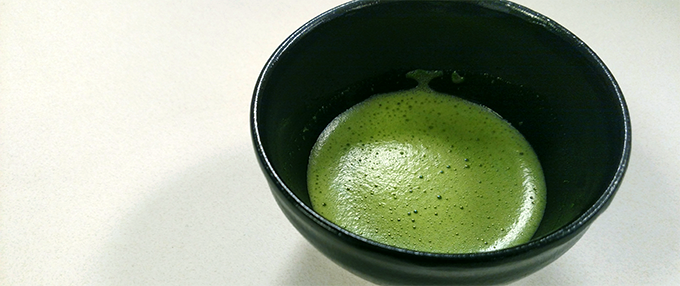 In the last year and half his sales have exploded, "900 to 1000 percent, I'd say." And more and more of those customers are cooking with it—not with the expensive ceremonial grade matcha, but with more affordable restaurant grade varieties that can sell wholesale as little as $40 to $90 a pound. Markus says culinary applications for matcha "preserve its best qualities in time. Even without the addition of heat it gives you that really amazing pure emerald green flavor. The nice thing is if you brew it the right way it's not going to be as vegetal as it could be. It's really meant to be drunk immediately and then you move on. If you're trying to get that emerald hue I've never seen anything else besides culinary applications that will provide that color and maintain the integrity and flavor of the tea. That emerald hue—it's almost like a living being."
That's true for the green tea vacherin G.T. Fish & Oyster pastry chef Andrea Bonitatibus made for the restaurant's last spring menu. She layered matcha ice cream, matcha meringue, and strawberry sorbet in a ring mold, and topped and surrounded it with fresh berries. "It pairs really well with berries," she says. "It's a good dessert element because it's not super sweet but it pairs well with sweet things."
At Izakaya Mita, owner Helen Mita makes a matcha cheesecake, by steaming the custard in the restaurant's chawanmushi steamer, garnishing the dessert with Pocky, whipped cream, and matcha and cocoa powder.
More and more chefs are creating savory dishes with matcha. Akiko Moorman a chef at El Ideas likes to roast a firm white fish like halibut in a crust of matcha powder and crushed pistachios or almonds. "Matcha has got this kind of nutty, deep, rich, slightly bitter flavor," she says. "It's very alkaline which is why you see it a lot in baking. It brings depth of flavor to a traditional nut crusting. And it's pretty." She also likes to sauté shrimp with Szechuan peppercorns, chives, and matcha. "The matcha brings a depth to it. Spicy is great but spicy without anything else is just Szechuan peppercorn." Folding matcha into gnocchi dough creates beautiful pasta. "You already see a lot gnocchi prep with browned butter and sage leaves so you're already used to that nutty flavor when you're eating gnocchi. The nice thing when you put matcha in the pasta is you're making a beautiful gnocchi and you're getting that nuttiness in the pasta instead of having to dress it with it."
Meanwhile, bartenders have discovered that the fresh vegetal flavor prolife of matcha works well in cocktails. At Momotaro the top selling cocktail is the Monk's Journey, shaken with vodka, aloe liqueur, lime and syrup made with matcha. Nearby at the Aviary, bartender Micah Melton chills a gin, chartreuse, and coriander flavored beer cocktail with ice cubes made from matcha tea, lime juice, and sugar.
Perhaps the most arresting culinary application for matcha in Chicago right now is the Military Latte, served at Sawada Coffee. It's the signature drink of latte art world champion Hiroshi Sawada. The drink is made by mixing matcha and hot water in the bottom of a cup. A small amount of white chocolate and cocoa powder is added before pouring in steamed milk and a shot of espresso. While the barista is pouring he draws a design in the multicolored liquid that resembles a military insignia. The green and brown camouflage colors complete the look. It's a particular favorite of Markus. "The Military Latte is insane," he says, appreciating just how popular the tea he once couldn't sell has become.
---
Mike Sula - A Senior Writer at the Chicago Reader and the Paper's Lead Restaurant Critic

Mr. Sula won the James Beard Foundation's 2013 M.F.K. Fisher Distinguished Writing Award.


The Chicago Reader is Chicago's largest free weekly newspaper, nationally recognized as a leader in the alternative press. Since 1971, the Reader has served as Chicago's political conscience, cultural guide, and music authority. With a highly targeted-circulation of 90,000 and a consistent return rate of less than 2%, the Chicago Reader is the city's most essential alternative media resource. www.chicagoreader.com