Managing the COVID Crisis: How Japan is Beating COVID-19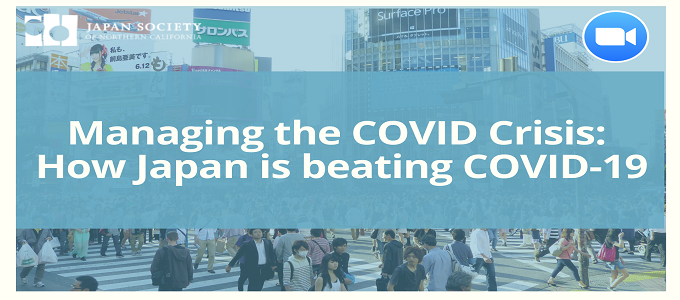 DATE & TIME
Friday
June 12, 2020
5:00 - 6:00 PM PST

VENUE
Online

COST
FREE




OVERVIEW
COVID-19 has been an unprecedented crisis for leaders around the world. As COVID infections flatten and nations begin the long journey to a "new norm," this is an opportunity to look at the actions and policies governments have taken to address the crisis. Please join us on June 12 (Tokyo June 13) for a program to hear former Japanese Consul General to San Francisco Tomochika Uyama, Director General at the Prime Minister's Office for the Coronavirus Countermeasures, who will explain how Japan was able to keep the number of fatalities down to levels far below those of Europe and the US without mandating a lockdown of the society and the economy. His presentation will be based on the findings of a recent experts' committee report that examined Japan's response to the virus to discover how the country was able to minimize fatalities and what could be done better.

The lessons Americans can learn from examples in other countries that so far have successfully managed the COVID-19 threat, such as Japan, South Korea and Taiwan, will be critically important as we enter the next phase of gradual opening up of society and the economy. Please join us for this very important program featuring a good friend of the Bay Area.

This program will be conducted in English.

PRESENTED BY
The Japan Society of Northern California

SUPPORTED BY
Japan External Trade Organization San Francisco